With her well trained and brave eye for colour and bold layered paintings, Ali McNabney-Stevens has quickly become one of the most collectible emerging artists within Australia. Ali's reputation extends internationally and she's a favourite of interior designers and interiors magazines.
Ali's beautiful abstract paintings feature bold brushstrokes and a layered technique that brings a luminous quality to her vibrant work.
British-born Ali works from a studio space in her beautiful newly built home in Melbourne, and I'm delighted to feature her here on Space to Create.
Meet Ali…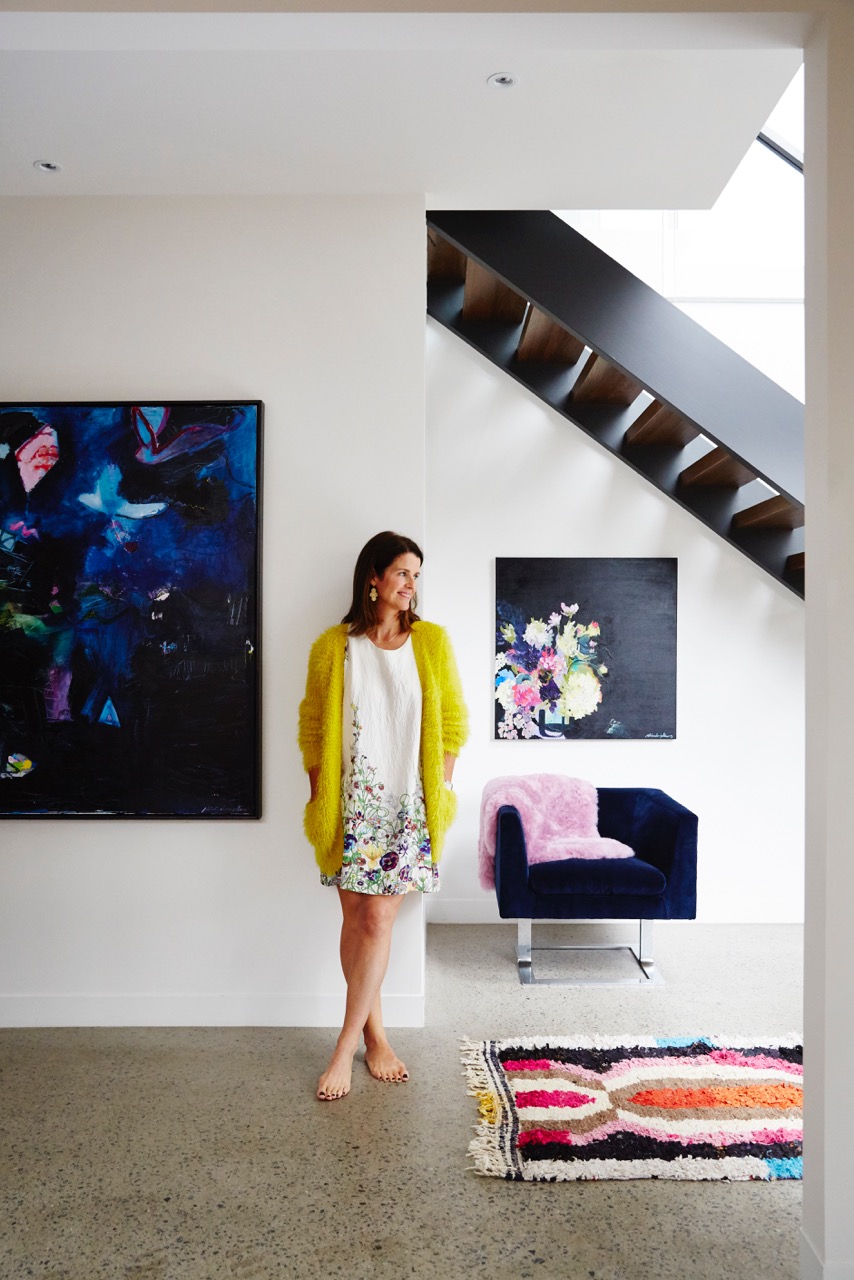 Where do you live?
I live in Caulfield South, 10kms from the Melbourne CBD. We have recently knocked down our old… extremely old house and rebuilt a very modern light filled contemporary home which we love living and working in every day and raising our three children in.
Where do you create?
We have a large second living space which I have turned into my studio for now… I'm sort of starting to out grow it already but I'm reluctant to leave and find a studio away from home…. the idea and the day to day realities of working from home can only be described as BRILLIANT!!
When do you create? Is it a full time job?
It is a full time job I am happy and lucky to say. I need to get started in the morning and work all day until 3pm… if I am not in the studio by 10am or 11am the day never quite works out. I need every bit of my time from 3 til 3:30 to tidy up the almighty mess that I have created and leave things clear for the following day.
What path led you to this creative place?
For me and from the age of 12 it was never anything other than art and the jobs that I had after art college and attaining my a BA Hons degree in Design and History of Art from Edinburgh College of Art, were the 'proper jobs' to pay the bills until the painting could begin.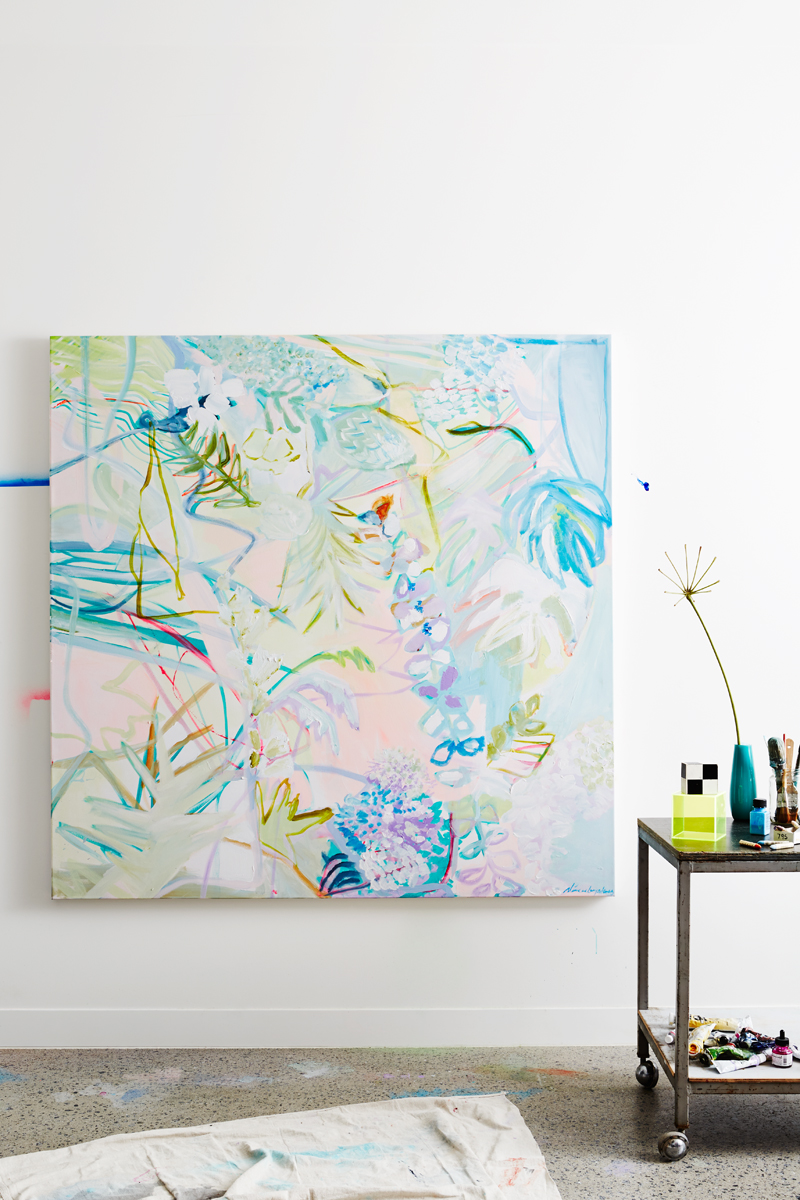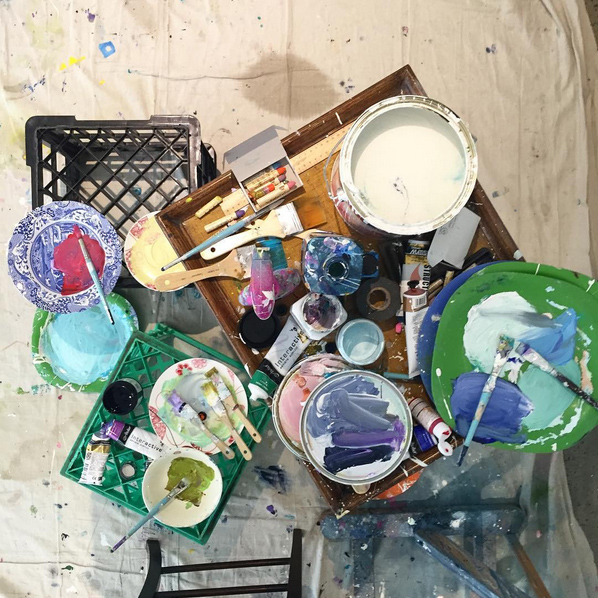 What's your elevator pitch? How do you describe what you do?
British/Northern Irish abstract artist living and working in Melbourne. My works are mostly abstracted landscapes and florals… I do love drawing too and the quickness of it and the line that it creates.
How would you describe yourself in six words?
Kind, intolerant, think too much, busy, compassionate…that's only five!
Where do you find inspiration and motivation?
A lot of the time from memory or the still life's that I have set up in front of me. I rarely work conceptually and time is fairly irrelevant in what I do so all things come together from both here and now and then from "way back when"  …it all comes out in my art practice as a jumble that makes total sense to me anyway….does that make sense??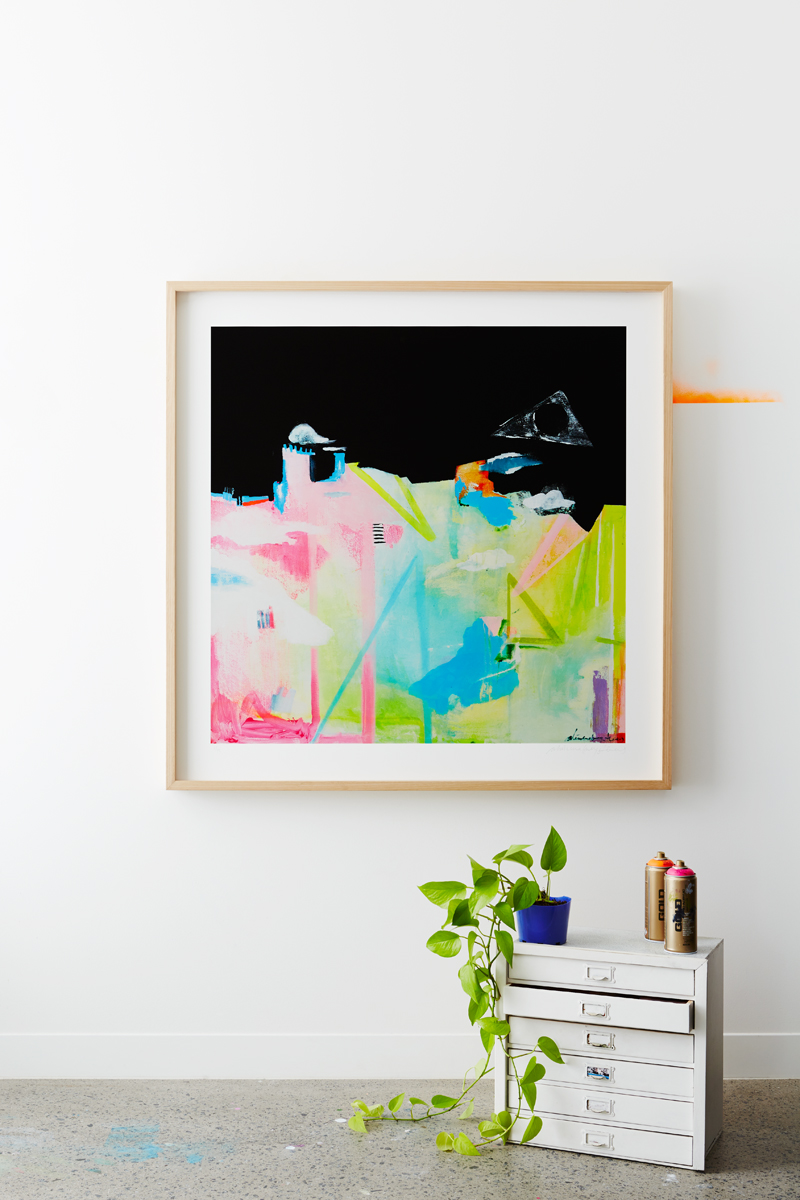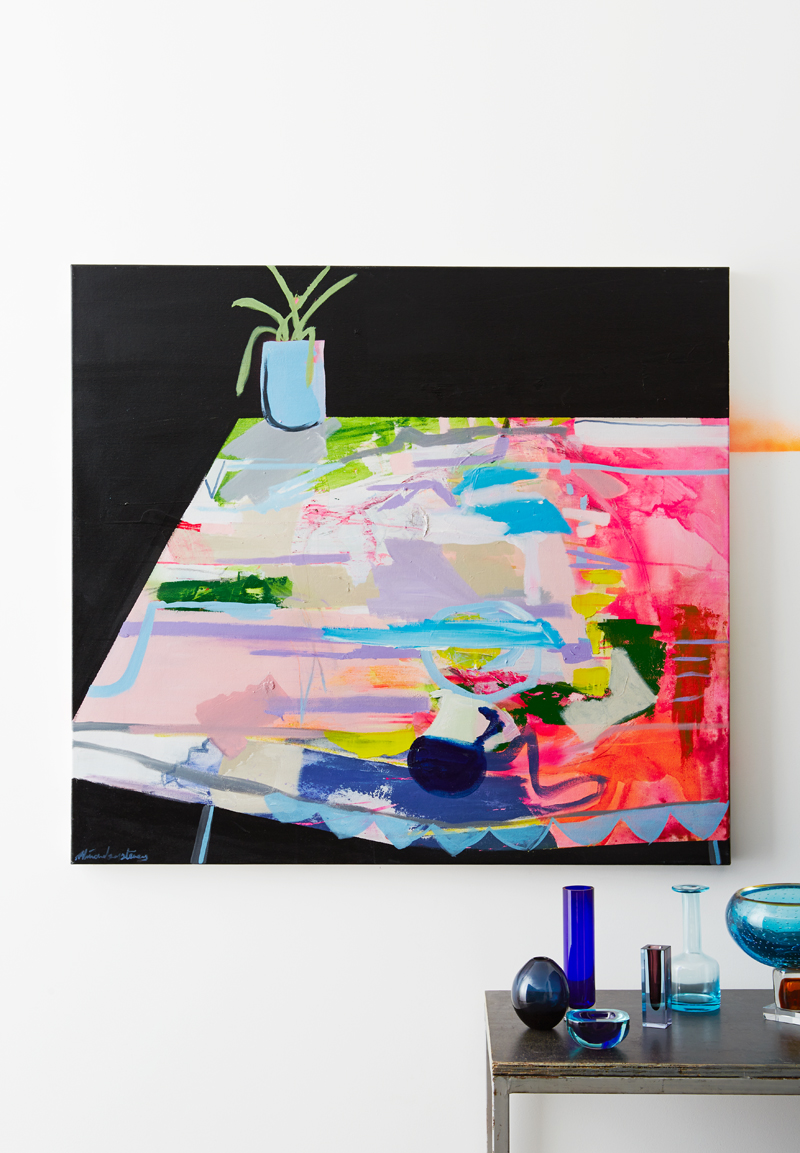 What are the essential items in your workspace?
Everything…acrylics, oils, brushes rags, easels
Do you have a favourite tool that's essential to your work?
Atelier paints are a wonderful Australian brand. It has the capability of being placed onto the canvas one day and two days later you can still move it/dissolve it/mix it….its got more movement than most other acrylics and I love that
What do you love the most about your creative space?
Warmth, light, peace and quiet and head space to listen to interesting podcasts …sometimes on a great day I can TOTALLY be removed in thought from the day to day lists of running the house/children/husband/dog and just be involved with my art practice and thoughts that hopefully lead the canvases down the road I want them to go.
Is there something you don't like, or would like to change?
The number of hours in the day.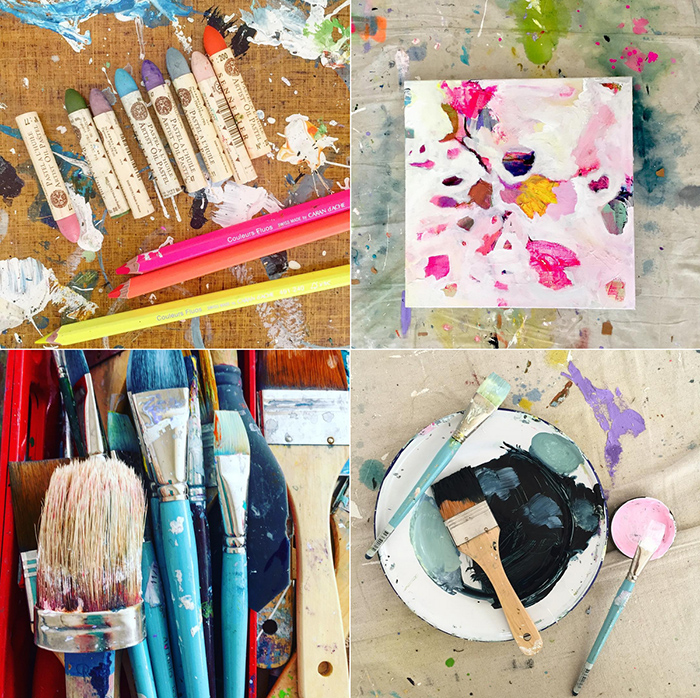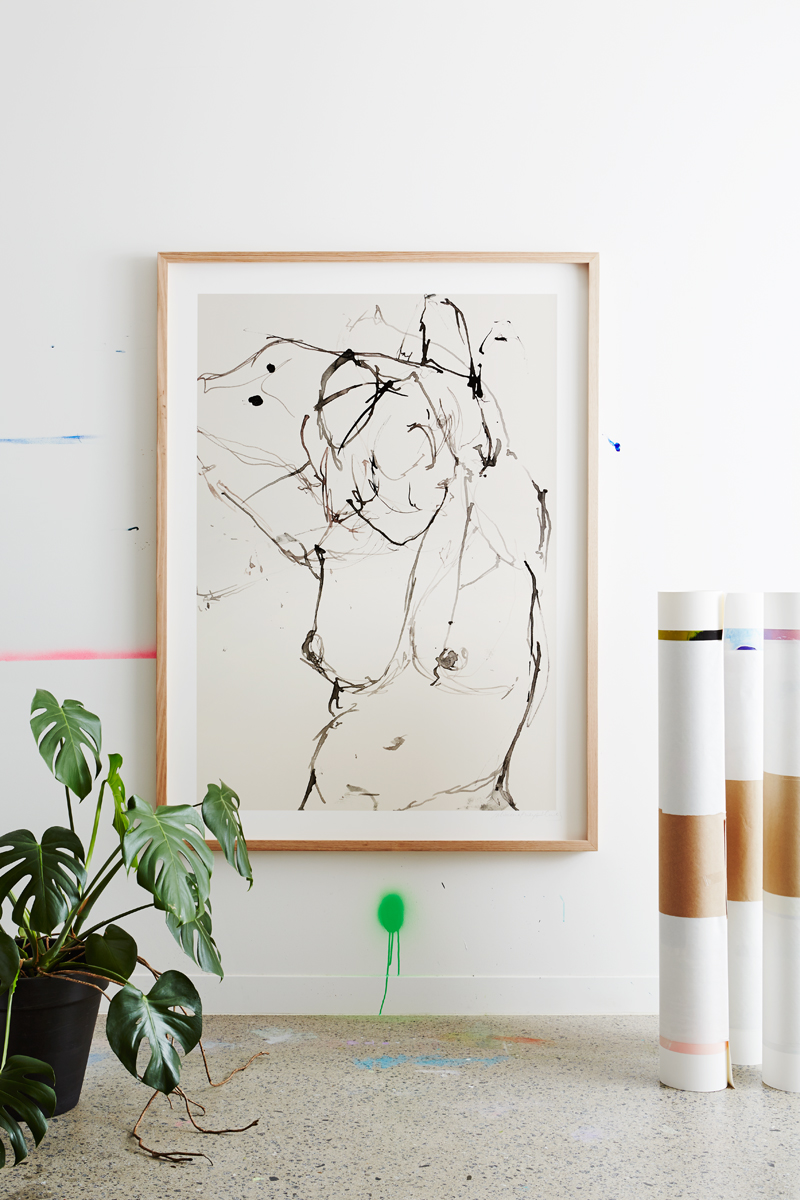 Do you listen to anything while you work?
BBC Radio four ALL the time.
Favourite work-time snack (or beverage)?
Cinnamon donut from Molly Denes Bakery…bad bad habit…must break bad habit.
What would be your dream job or collaboration?
A Liberty textiles collaboration working out of the London store and my own show totally inspired by Ulster thoughts, landscapes, memories etc and perhaps have that exhibition here and then have one in Belfast.
Who or what are your biggest creative influences?
Gosh difficult to answer that….every thing from books, other artists work, exhibitions, thoughts and if ever I hit the artists block problem I return to my default landscapes setting.
Tell us five online resources or apps you can't live without.
Instagram, BBC Radio Four podcasts, Pinterest, Zinio Online Magazines.
What's the hardest thing about what you do?
Juggling being a mother, doing mothering things, painting and size of studio…. also difficult to get free headspace.
How do you work out the financial aspects of your business? What resources, tips and tools would you recommend?
I am lucky to have the best bookkeeper/administrator/IT advisor/websitemanager/invoice drafter/finance person/friend…. the list is endless and she is all wrapped into one and she is called Nava…I couldn't do without her. I think they broke the mould with Nava but if you can find someone to help you with the things that you aren't so good at and potentially could take you away from the thing you are good at then you need a Nava!!!
What advice do you have for aspiring creatives?
Do what you love surround yourself with people who are like minded and keep going even when you think you should just give up on it all.
Do you have a dream that you'd love to fulfill?
I'd love to be able to write a substantial cheque that both my children and I could go and give to a person, organization or charity that we could see help them and have follow ups with them to see how the funds helped and grow a relationship…. what an amazing feeling that would be.
Love Ali's paintings? You can purchase prints and original works from her website and from Greenhouse Interiors.
To connect with Ali McNabney-Stevens:
Visit her website here
Connect with Ali on Instagram @alimcnabneystevens
See what Ali is pinning on Pinterest, and follow her tweets @alimcnabney
If you'd like to take a look into a whole range of other artists' and creatives' lives and studios, visit the Space to Create archives.
Save
Save
Save
Save
Save
Save