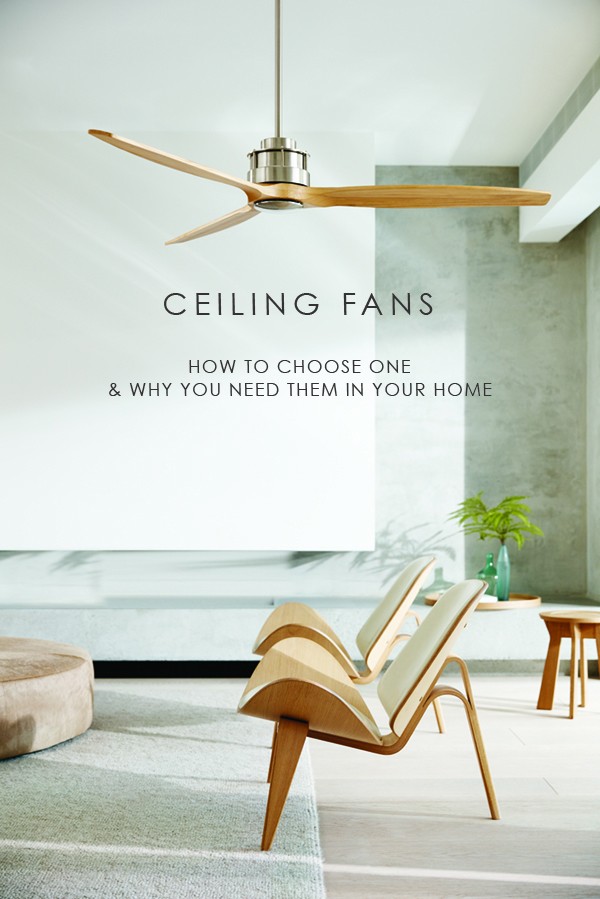 Think of ceiling fans and a picture of a timber cottage in the tropics may come to mind. But you might be surprised to know that a ceiling fan can increase comfort and dramatically reduce your energy bills in both summer and winter.
With the help of Beacon Lighting we've put together this guide to help you choose the best ceiling fans for your home, and to share the cost saving benefits of using ceiling fans throughout the year.
Ceiling fans and energy savings
Ceiling fans are super economical to use. Most ceiling fans cost just 3 cents an hour to run – the same as a 60 watt light bulb. In dramatic contrast, air conditioners use 2000+ watts an hour!
We all know that in the heat of the Australian mid-summer a fan just won't cut it on its own. But if you use a ceiling fan in conjunction with an air conditioner you can make a saving of up to 40% on power costs to cool your home. Think of the savings for the environment too!
Ceiling fans and cooling
The breeze generated by a ceiling fan will make you feel up to 8 degrees cooler.
Summer has just passed into autumn – although you wouldn't know it here in Sydney just yet as the temperatures are still very summery and above 30 celsius most days. I have my ceiling fan on during the day while I work and I've been able to significantly cut back on the use of our air conditioner since researching this post.
Ceiling fans and heating
This was an eye opener for me. Did you know that if you have a reversible fan you can change the blade direction to anti-clockwise and reduce your heating costs in winter? The reverse motion of the blades pushes the warm air from your heater up to the ceiling and back down the walls, recirculating the warm air and resulting in energy savings of 10%.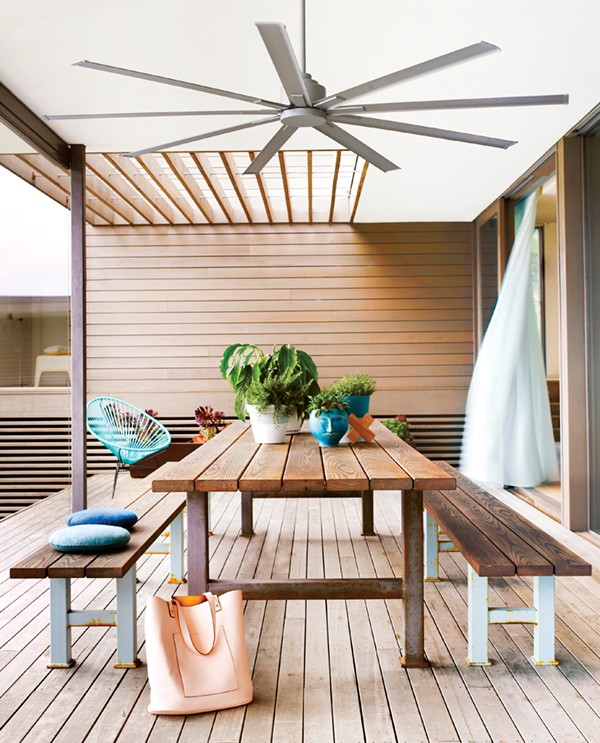 Things to consider when buying a ceiling fan
The size of the room determines the size of the fan
For a large room – 6 x 6 metres (20-30 square metres or 225-400 square feet) – you'll need a fan with blades of 132cm or more. Smaller rooms up to 4 x 5 metres (20 square metres or 225 square feet) only require 122cm blades.
Consider the use of the room when choosing the type of fan
Timber ceiling fans are quieter than those with metal blades because they move less air. If you're looking for a ceiling fan for a quiet zone in your home like the bedroom or home office, choose timber. Metal blade fans will serve you well in areas that are generally noisier like living spaces and the kitchen.
How many blades?
There is actually very little difference in the performance of fans with three, four or five blades. So base your choice on the aesthetics of the design and your taste.
Will the fan replace the room's main light source?
If the answer is yes, choose a ceiling fan design that has an integrated light. Otherwise you'll need to install new lights along with the ceiling fan.
How high is your ceiling?
Ceiling fans should be installed at least 30cm below the ceiling and a distance of at least 2.1 metres from the floor. If your ceilings are more than 3 metres high you may need an extension rod.
Design
The fun part! Once you've worked out what size and material best suits your space you can start looking at the various designs available.
Head to Beacon Lighting for designer ceiling fans to suit any interior style. Beacon's design and buying teams gather inspiration from around the globe, including the Milan Fair and Maison & Objet to ensure their own designer product range is current and comprehensive.
There's so much to choose from, with the humble ceiling fan elevated from purely utilitarian to a style statement in itself.
Photos courtesy of Beacon Lighting.
Disclosure: This is a sponsored post in collaboration with Beacon Lighting. We only partner with brands that are a good fit with our blog, our aesthetic and what you, our readers, enjoy. Words and opinions are all our own. Thanks for supporting the brands that enable us to keep on Scouting.