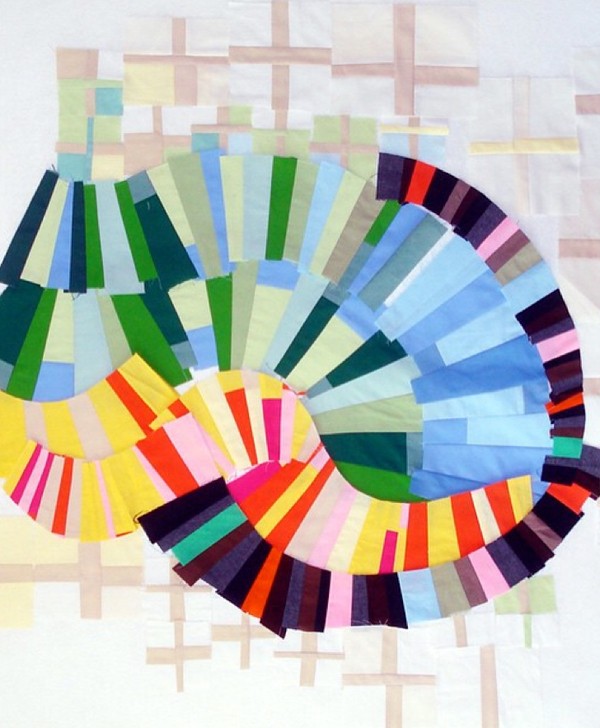 Many of the creatives I interview for Space to Create are – or were – graphic designers. It seems that the pull of creativity without the constraints of a client's brief is a strong one among many of us. Quilt artist Drew Steinbrecher is no exception, and his creative roots in graphic design are immediately obvious in his vibrant textiles.
Drew's art quilts are gorgeous – his use of colour and perfectly resolved composition are an inspiration – and his mid-century furniture collection is covetable. Come with me as we get an insight into Drew's creative process and a tour of his home and studio.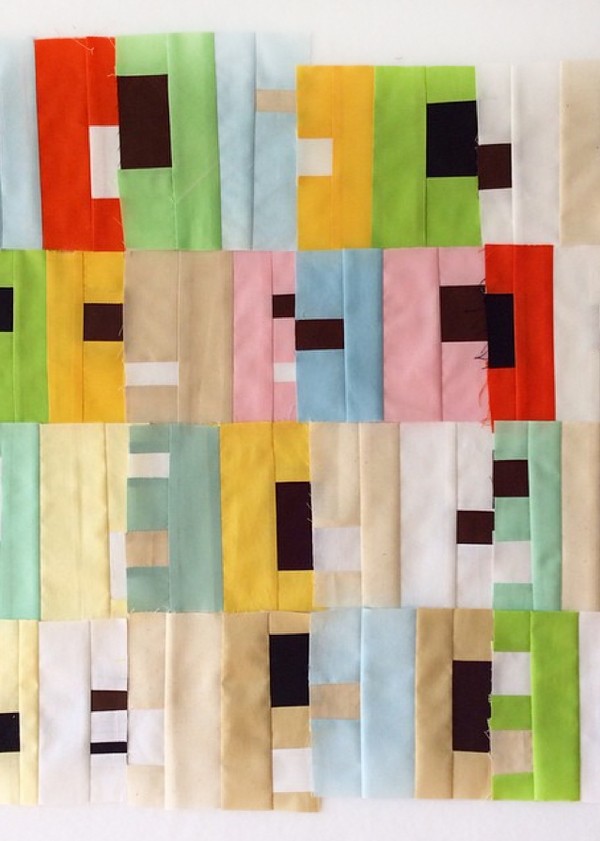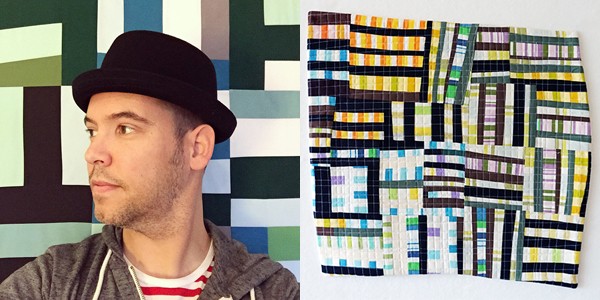 Meet Drew…
Where do you live?
I live in an old neighborhood in Cincinnati, Ohio called the Clifton Gaslight District. My apartment building was built in the 1930s and has lots of character. I've lived in the same apartment for 10 years. The area is very walkable with local shops, restaurants, a few coffeehouses, an organic grocery and an independent movie theater very close.
It's very easy to live in Cincinnati; I appreciate the historical atmosphere, uniqueness, potential and affordability. The low cost and easy living allow me to live a more bohemian life, have a savings account, and travel, which are all important to me. I wouldn't be able to do that living in California or New York.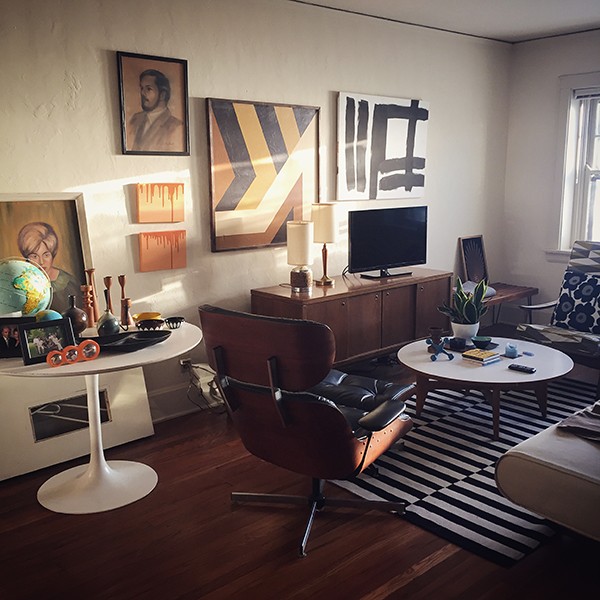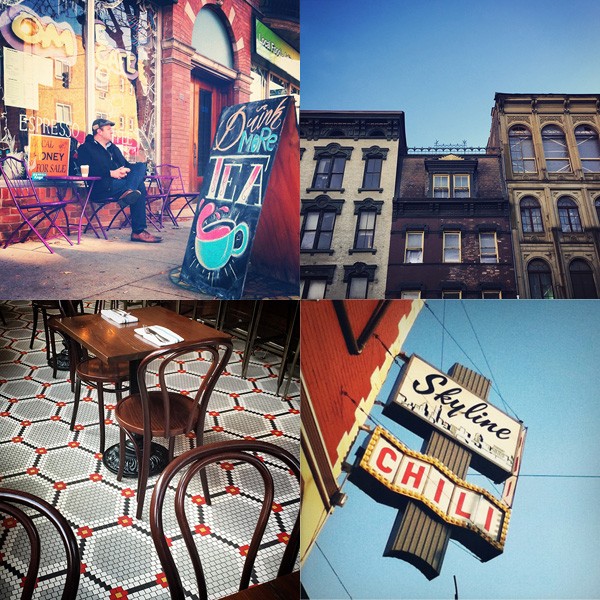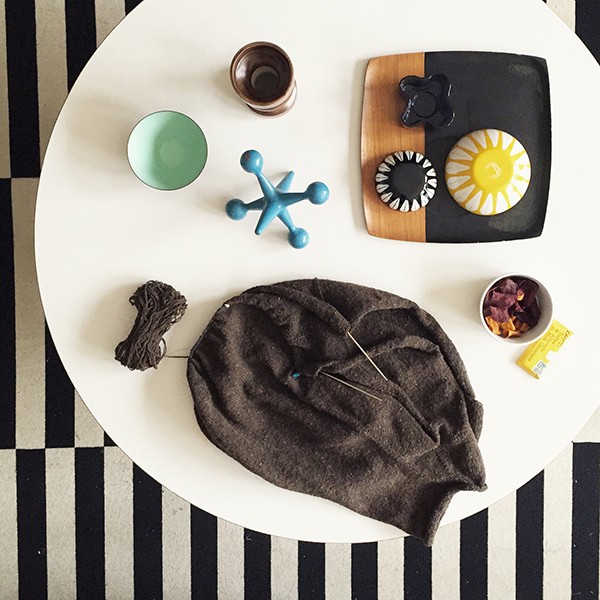 Where do you create?
My apartment has a separate dining room which I have turned into my studio. My father built a work table for me that I also use as a desk. I thrifted a mid-century table with hairpin legs that I use for my sewing machine. There's a design wall in the living room that I use to layout my quilts. Someday, I'm hoping to move to a rented studio outside of my apartment.
My apartment is mostly thrifted furniture. I started collecting mid-century 15-20 years ago before anyone else was interested, so I was able to find some good stuff at thrift store prices.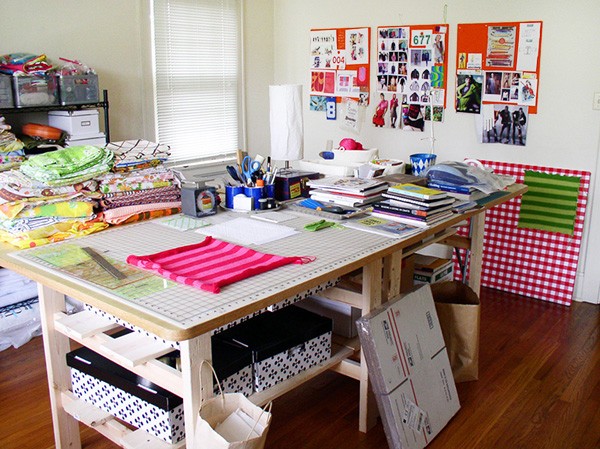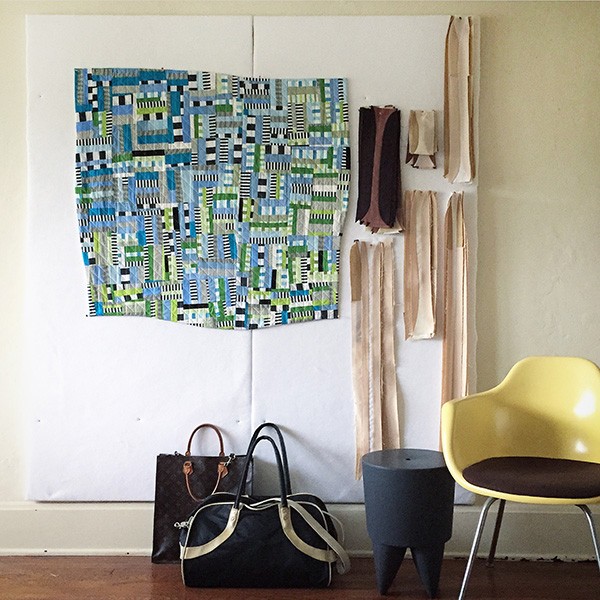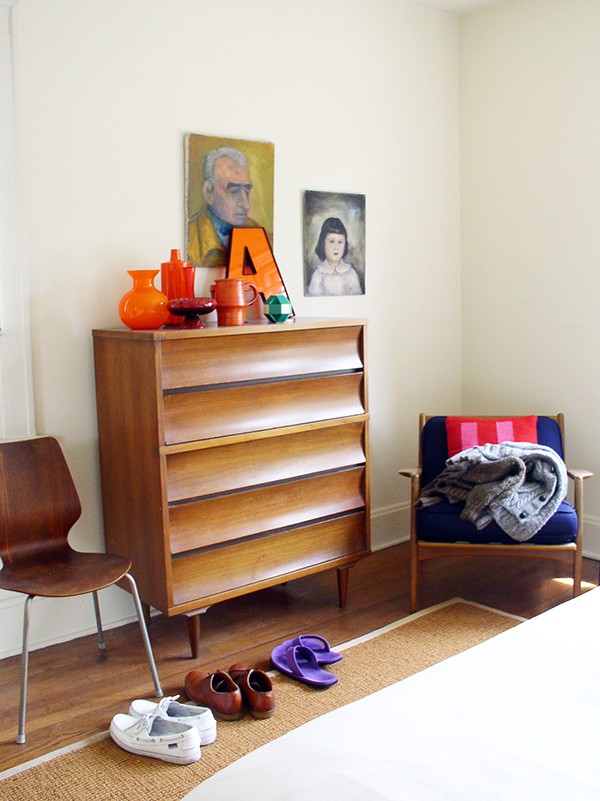 When do you create? Is it a full-time job?
I am a graphic designer and work part-time in the mornings. I also have a seasonal job teaching a high school performance group. Depending on the time of year I usually have 3-4 weekday afternoons, 1-2 weekday evenings and Sundays to create for fun.
What path led you to this creative place?
I have been crafty all my life. I was always cutting and pasting and making things. In high school art classes I discovered I had an interest and talent for design. I wanted to study fashion at university, but someone dissuaded me saying it's a difficult field (I shouldn't have listened). So graphic design was the next choice.
At some point 5-10 years ago, somewhere on the internet, I discovered art quilts. Their deceptively simple aesthetic created by fabric caught my crafter/designer's eye.
I knew the basics of sewing and using sewing machine, but art quilts scared me. I wanted to make one but didn't know where to start and was too worried it would go horribly wrong. One night, after a few years of self-doubt, I decided to just shut up, let go, and finally do it. What I began that night became my first art quilt titled "Letting Go" (in the photo below).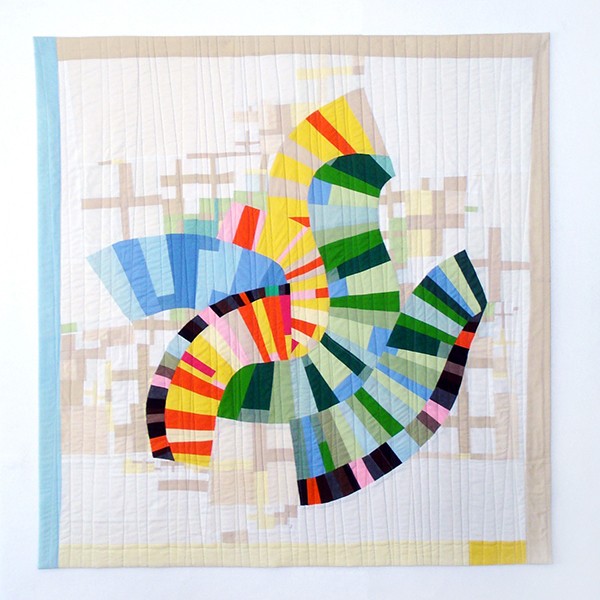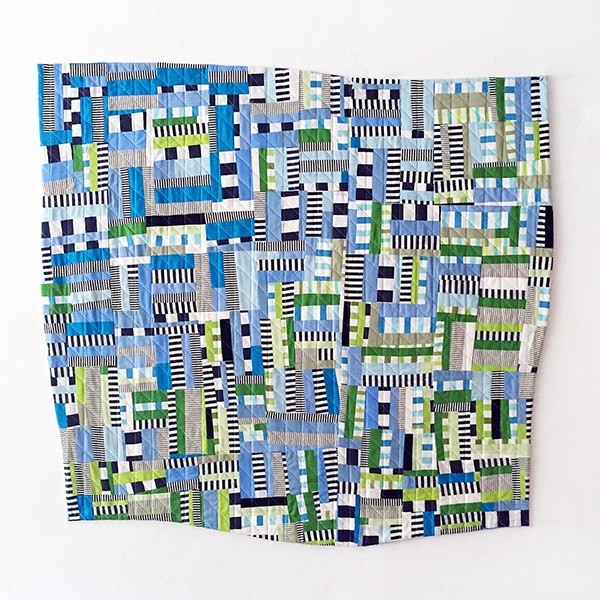 What's your elevator pitch? How do you describe what you do?
I'm a graphic designer by day and a quilt artist by night.
How would you describe yourself in six words?
I thought forever about this and couldn't come up with anything, so I asked my boyfriend and this is what he said… introverted, knowledgeable, creative, quiet, daring, listener.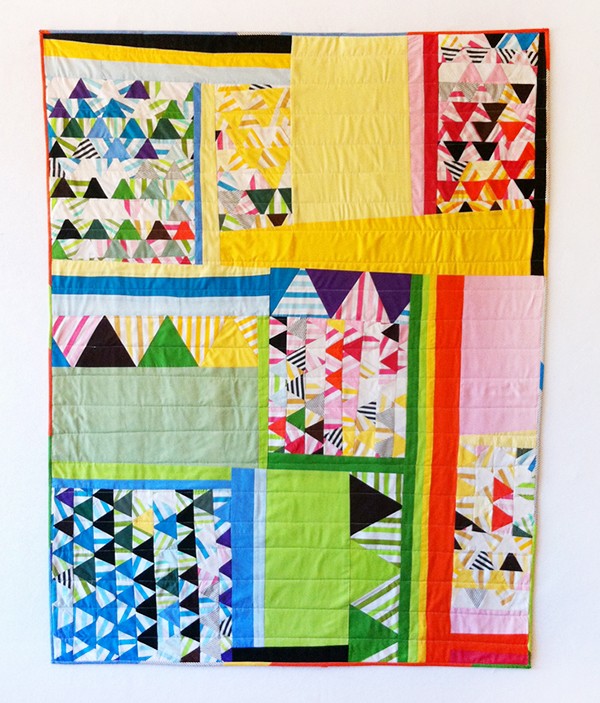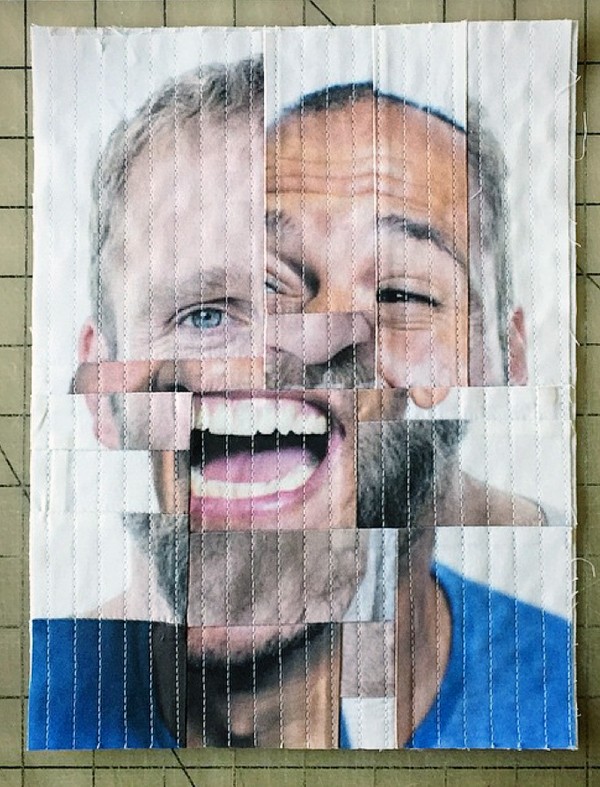 Where do you find inspiration and motivation?
Traveling, urban decay, music, autumn, rainy days, Europe, dramatic coastlines where mountains meet the sea, mid-century modern, coffee and espresso, window shopping, world class cities like London, Paris, New York, Los Angeles.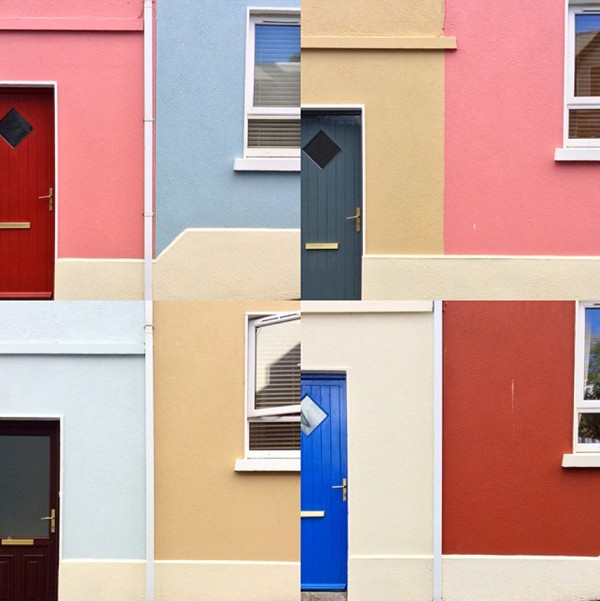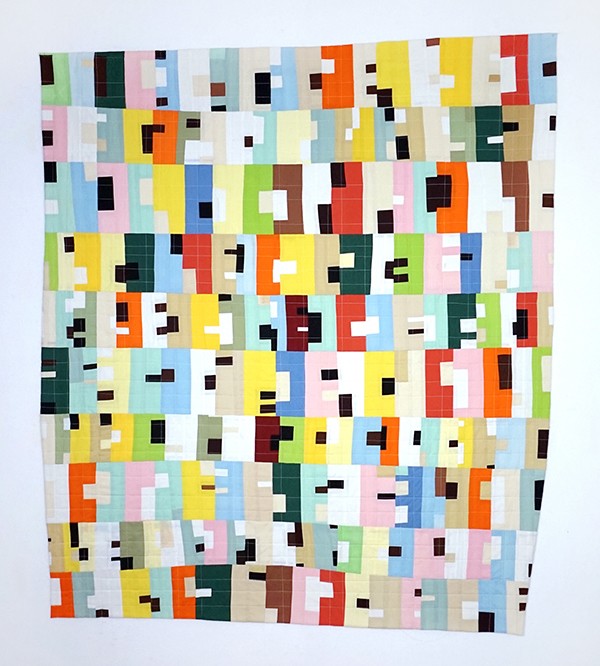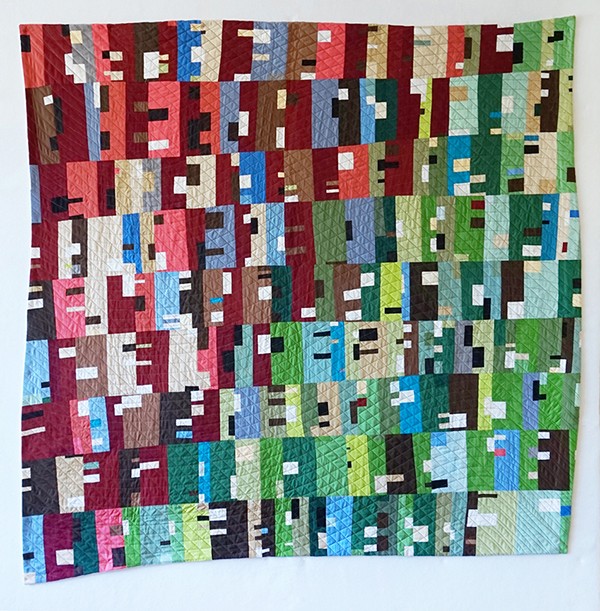 What are the essential items in your workspace?
Fabric and thread, work table, sewing machine, ironing board and iron, design wall, coffee, iPad, music and podcasts.
Do you have a favourite tool that's essential to your work?
The design wall is very important to me. It's simply a piece of felt stretched across styrofoam that I nailed to the wall. Static allows fabric pieces to "stick" to the wall so I can arrange and rearrange before I decide on the final layout for a quilt.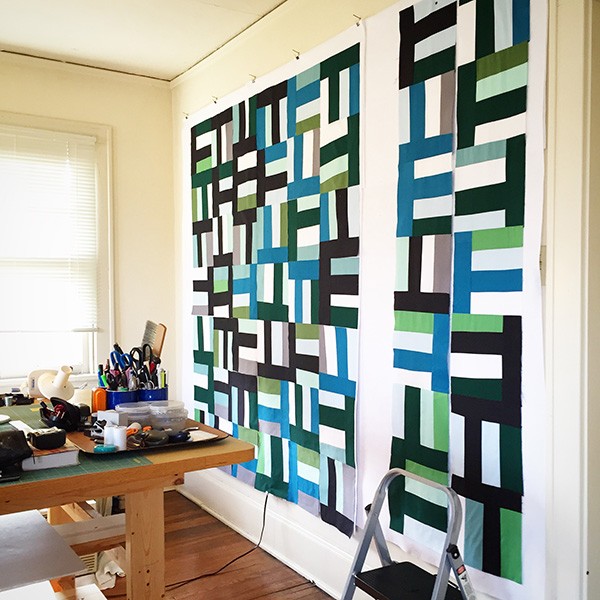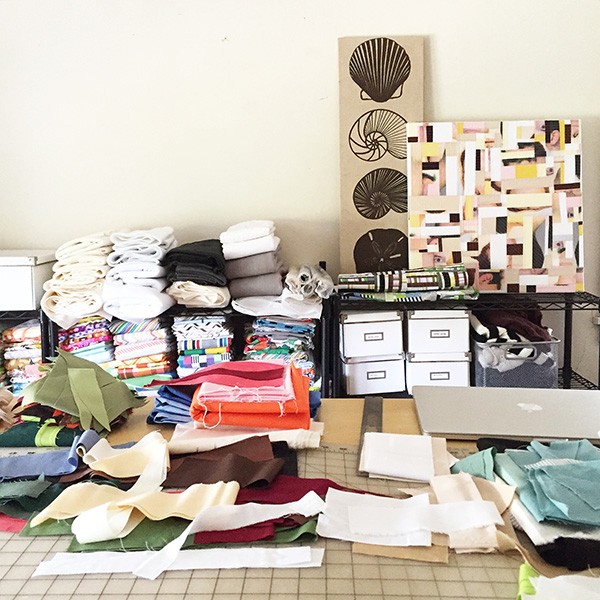 What do you love the most about your creative space?
The natural light, the view, hearing people walk by my building when the windows are open, it's my own space where I can work alone.
Is there something you don't like, or would like to change?
Since my studio is in my apartment, things like the TV and household chores can be distracting. I'm looking forward (I think) to having a studio outside my apartment.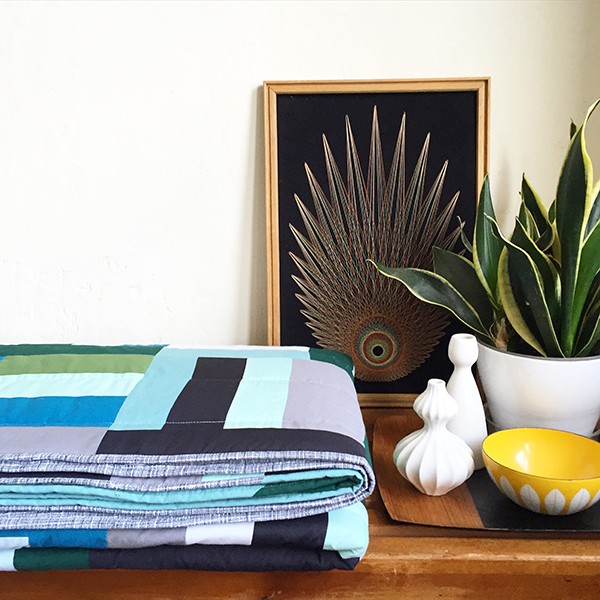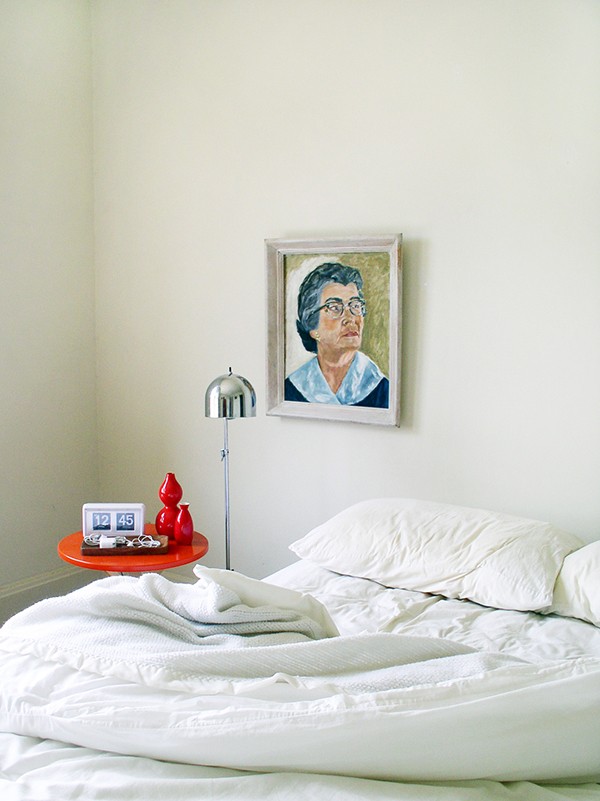 Do you listen to anything while you work?
One of my favorites is a Pandora station I created that plays old French folksy music, like Édith Piaf, Stéphane Grappelli, and Django Reinhardt. Some of my favorite podcasts are RadioLab, The Moth, Monocle 24: Section D and TED Radio Hour.
Favourite work-time snack (or beverage)?
I love hot coffee on a chilly afternoon… my mother gave me her old Chemex which I use most days I am working in the studio. In the summer it's homemade cold brew. I also have a sweet tooth and love fancy dark chocolate and British chocolates like Smarties and Aero bars (which are hard to find in the US).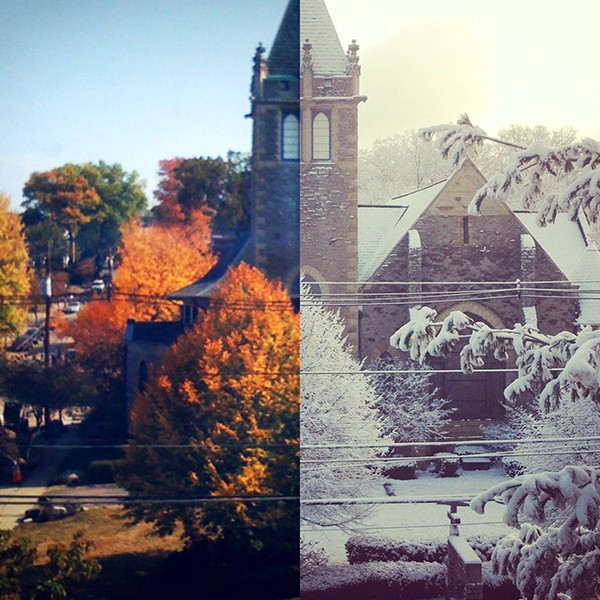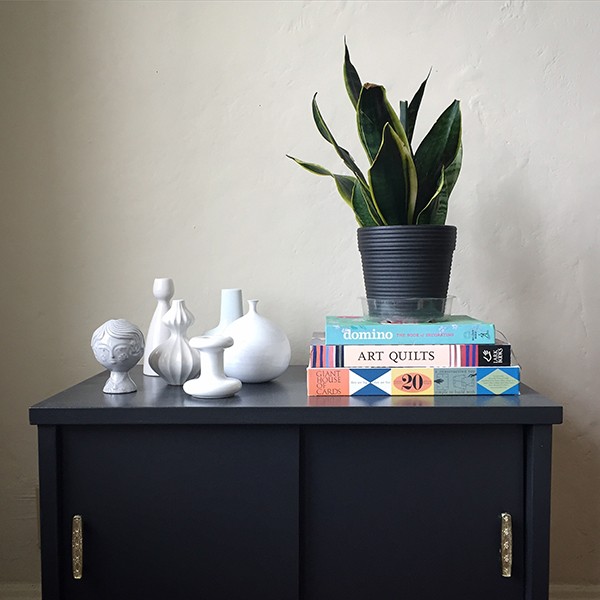 What would be your dream job or collaboration?
Creating a small series of bed quilts for a boutique hotel.
Tell us five online resources or apps you can't live without.
Instagram, www.freundevonfreunden.com, Bloglovin', Pandora, Monument Valley, Google Maps streetview for armchair "travelling" through foreign cities and countrysides.
What's the hardest thing about what you do?
I have trouble with procrastination. Some afternoons the time flies and I feel I've wasted valuable "free" studio time by either having to put "real life" before studio time or getting lost on the internet.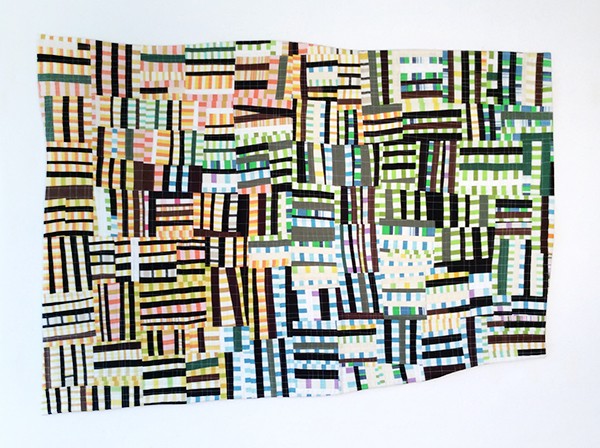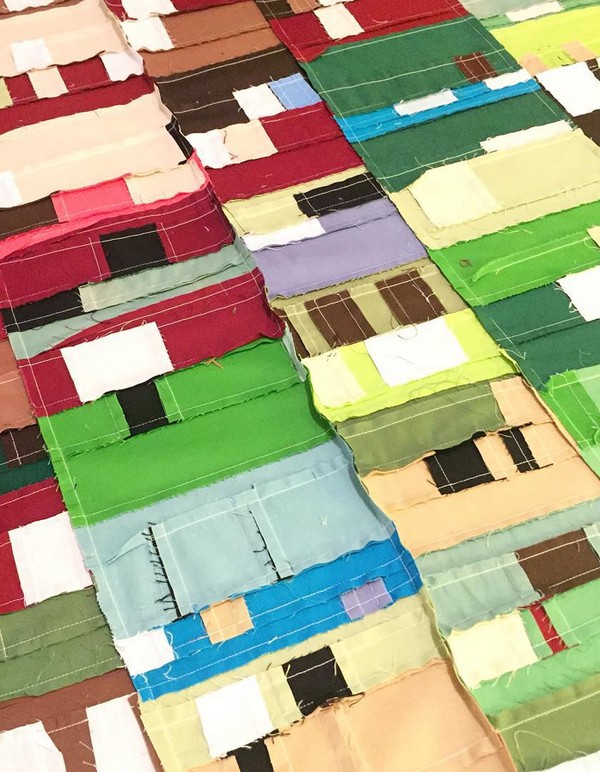 How do you work out the financial aspects of your business? What resources, tips and tools would you recommend?
I don't make a living from my work; right now it's just a hobby. When I do start selling my quilts I will be sure to set up a proper business and have a real business plan instead of winging it. I'm learning that successful artists are also successful business people who also understand the importance of marketing.
What advice do you have for aspiring creatives?
Just go for it and start. Don't worry if it's not good. Nobody has to see any work you don't want them to. Don't compare yourself to other artists… remember that you are seeing everyone's self-edited best work on social media… you don't see their mistakes or disasters.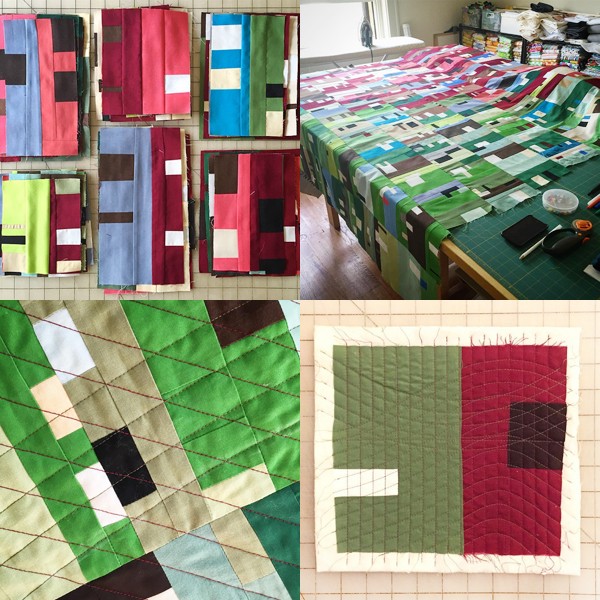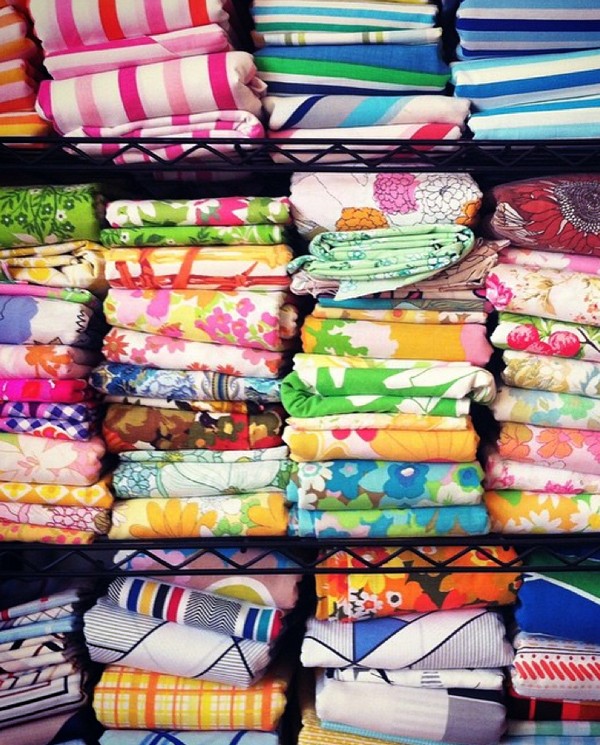 Do you have a dream that you'd love to fulfill?
To be chosen for an artists residency program in some exotic location. Maybe go back to school to get an MFA. Live and/or retire in Europe. See the Northern Lights. Travel internationally as much as possible.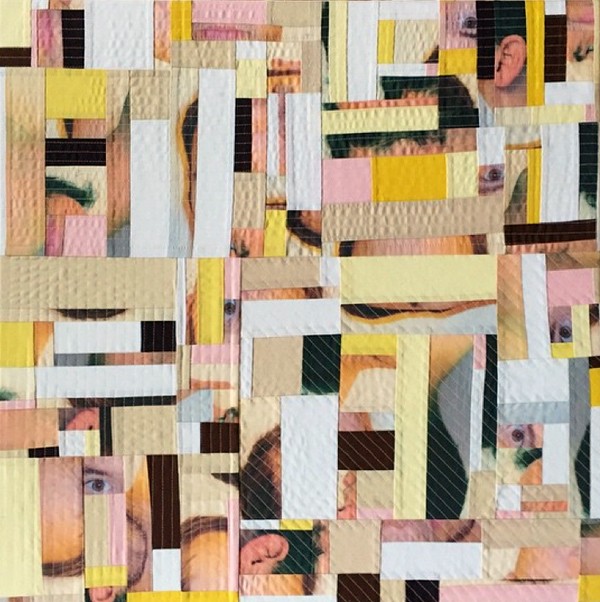 All photos courtesy of Drew Steinbrecher.
You can connect with Drew on Instagram @drewsteinbrecher, visit his blog, and see more on his website.
Stay tuned for another post in our Space to Create series next week. In the meantime, you can catch up on previous posts in our Space to Create series here.