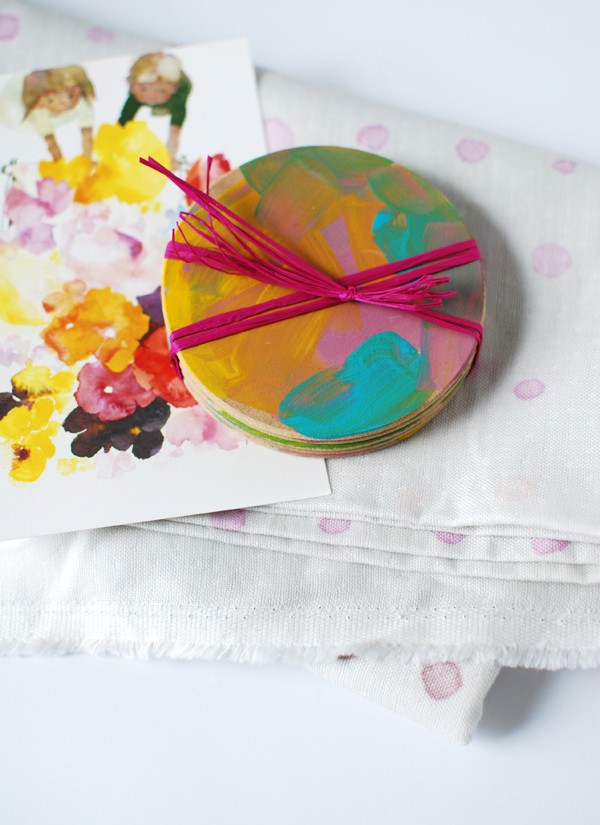 We've all been given the delightful handmade gifts that are sent home from preschool or kindy – things that you absolutely love because your child made them especially for you. But the problem is that sparkles and glitter are not really something you'd actually wear out of the house.
With that in mind, I've come up with three gift ideas that are easy and fun for children (well, anyone really) to make, and as a bonus they are things that you and Grandma will love to use and wear.
These lovely last-minute Mother's Day crafts for preschoolers are low in budget dollars but high in style. We've gone with abstract painterly brush-strokes which just happen to be beautifully on-trend in fashion and homewares right now. And the look of pride and delight on your child's face when you wear your hand-painted jewellery, and use the coasters they decorated will be priceless.
The key to ending up with gifts you'll love is to choose the colour palette for your child to work with. I chose aqua, violet, pink and yellow. There's no right or wrong, just encourage your child to cover the whole surface.
You'll need
Plain wood coasters (I got mine from Spotlight)
Unfinished wooden beads
Unfinished wooden bangles (I got mine from Spotlight)
Acrylic paint
Mod Podge
Paint pallete or mixing tray
Raffia in a complementary colour
Cord (for the necklace)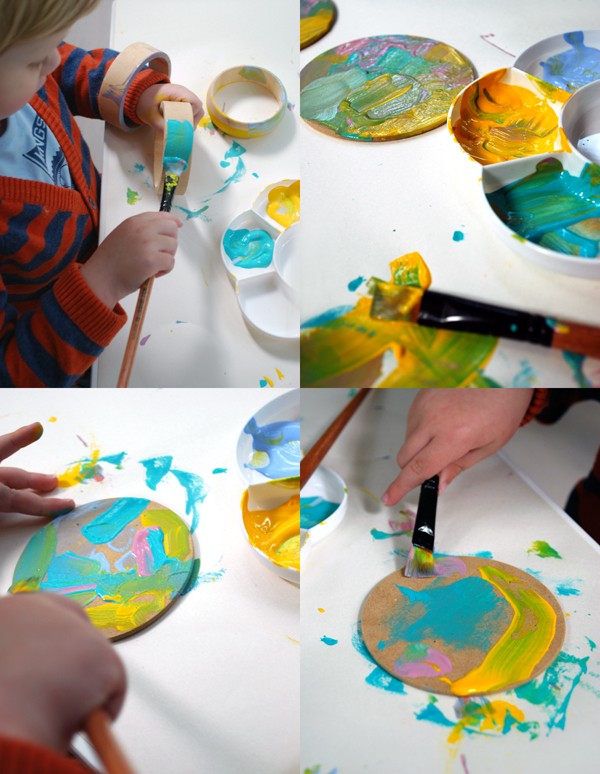 Make abstract art coasters
These mini works of art are super-easy and they'll be something that your child can see you using every day.
After the coasters are dry, seal them with a layer of Mod Podge. It will look cloudy when you apply it, but will dry clear to protect the paint.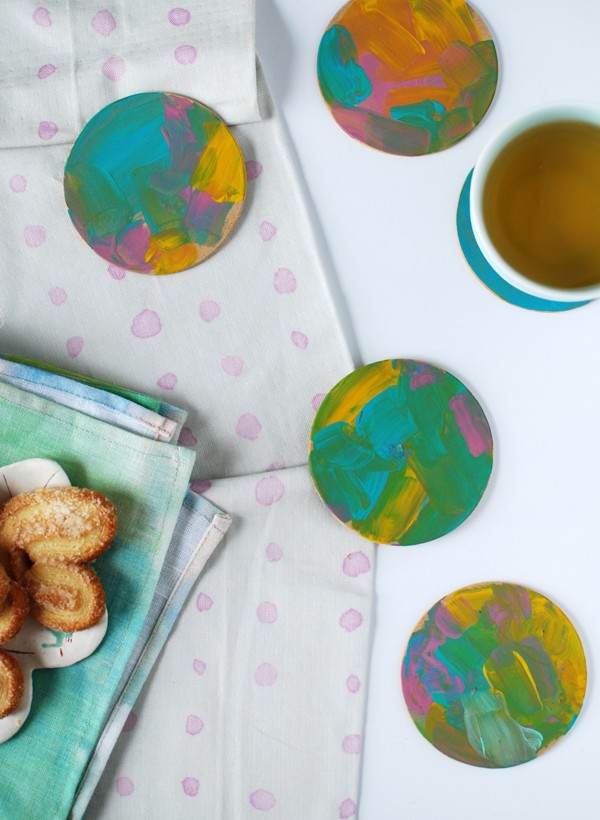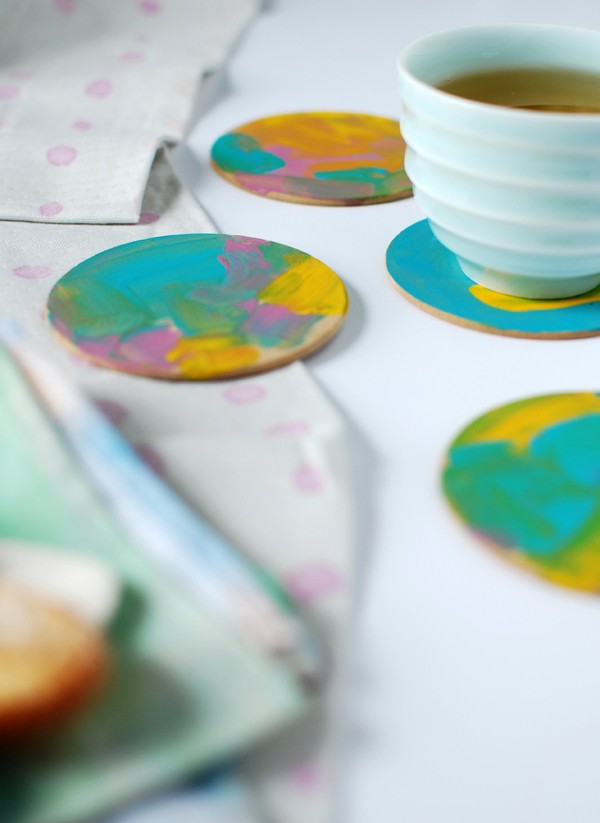 Make fabulous chunky bangles
Contemporary jewellery that you'll love to wear!
As with the coasters, anything goes. Encourage your child to use short brush strokes and to cover the entire surface with paint.
Once the paint is dry, apply a protective layer of Mod Podge so you can actually wear your bangles.
Tie a painted wooden bead to the bangle with some raffia in a complementary shade. Fold a few pieces of raffia in half and thread them through the bead. Pass the folded raffia under the bangle, back over the top and over the bead. Pull the ends tightly and push the bead up close to the bangle. Then tie a couple of knots under the bead to stop it falling off.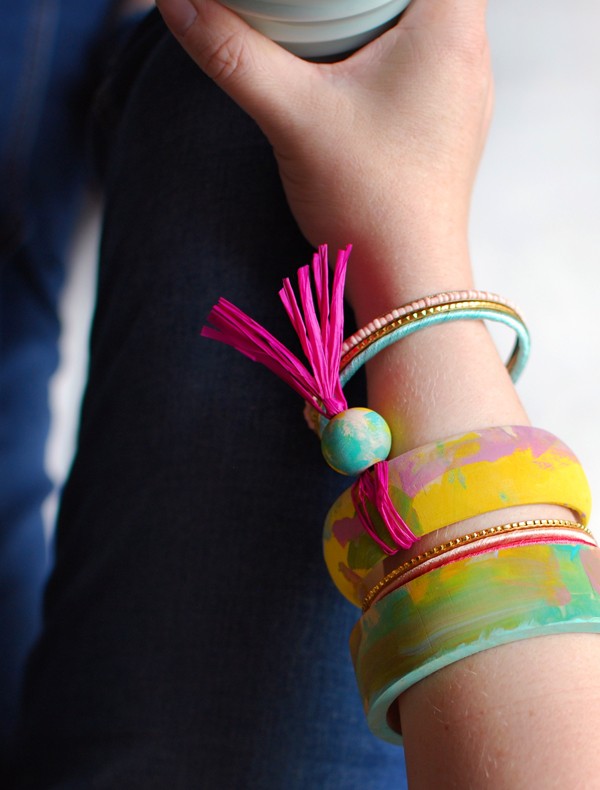 Make an on-trend necklace
The beads can be a bit tricky for little fingers to hold, so you might need to help, or thread them onto a skewer and use little pieces of Blu-Tack to keep them in place.
Don't forget the Mod Podge – you don't want paint running on Grandma's clothes when it rains! Mix up the sizes and colours of the beads and you'll have a gorgeous necklace that looks like it comes from a cool designer brand.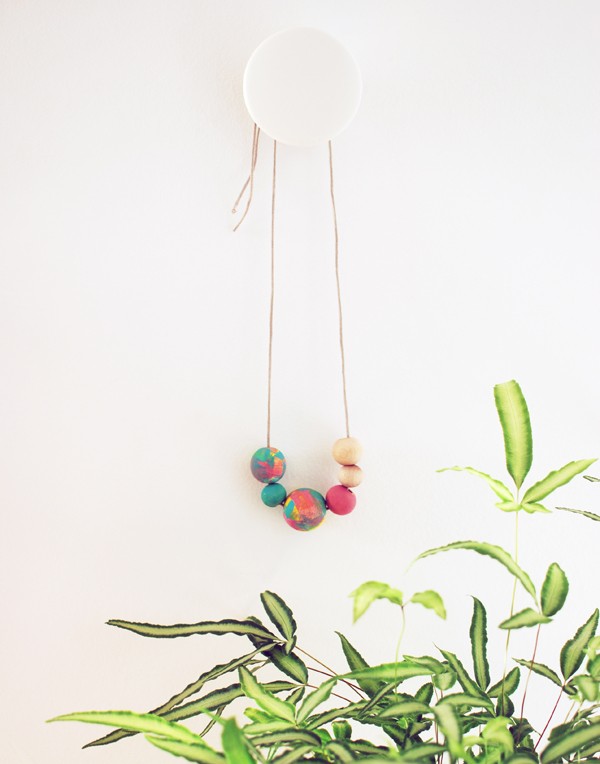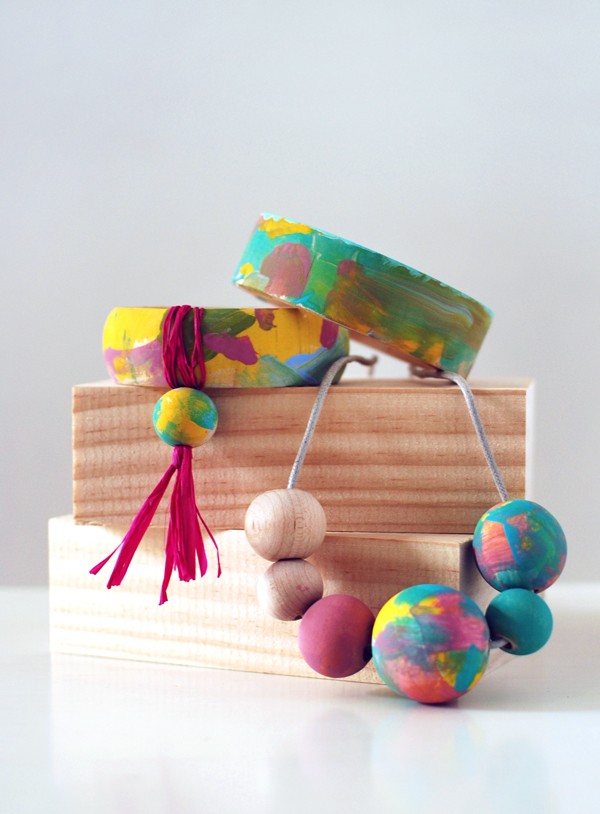 You're done! And look at the amazing results: three simple and beautiful Mother's Day gifts that can be made in an afternoon that are fun for the kids and lovely for you! Gift them to Grandma or other special friends.
You might also like to read 20 best (and non-naff and actually nice) Mother's Day craft ideas; and our Mother's Day Gift Guide to Online Charity Shops.
Photography and styling by Lisa Tilse for We Are Scout.