Hello! I didn't mean to leave you for so long, but I've been caught up in life and must admit I got out of the blogging habit. So far this year I packed (with the help of a few wonderful friends) and moved everything to storage, we house minded, stayed with generous friends, and finally moved into our new apartment a couple of weeks ago.
And we are so happy! I had been feeling down about the small boxy 1960's apartments that were on the market in my price range, when all the while I was day dreaming about something with white walls and floors, big windows and high ceilings. Like this:

Photo (above) Mark Seelen via Desire to Inspire
Photo Morten Holtum via Emmas Designblogg
Then very serendipitously I came across something really special in a nearby suburb that I fell in love with. (I'll quickly add that it's not nearly as grand as the photos above!)  I knew it was 'the one' from when I first saw a photo. I saw it on a Monday for half an hour, did the usual checks etc on Tuesday, made an offer and exchanged contracts the following day. And despite concerns from friends that I may experience 'buyer's regret' on making such an impulse buy, I haven't felt anything except joy. I just knew it was right. Roxy loves it too, which of course is a huge thing. It's our new beginning.
The apartment is in a lovely old building – built in the 1880's which is pretty old by Australian standards – and we are on the top floor with high ceilings, huge windows and a beautiful verandah. I didn't even imagine I might find a home in Sydney and within my budget that was anything like my daydreams… but I did. The floor plan is very open with the living area opening onto the huge bedroom via big double doors, which in turn opens onto the verandah. The only drawback is that Roxy's room isn't so grand – in fact it's tiny – but with the high ceilings she's keen on getting a loft bed.
Before we moved in I had the wallpaper removed and the walls painted white (Lexicon quarter strength), and I took the carpet up in the hope of finding lovely wide floorboards to lime wash. But instead I found only about half the floors had boards and too many were missing to try and patch them. So I researched lime washed floors that I could have laid. I came up against: too expensive; not being able to find the exact look I was after; and between 6 – 8 weeks waiting time. So, I had bamboo floating floors installed within a week in dark – but not too dark – satin finish. I love them!
The photo below is looking from the kitchen through the living area into the bedroom, and the verandah beyond. The walls had been painted in this shot, but not the doors and wardrobes.  Are they the widest the skirting boards you've ever seen?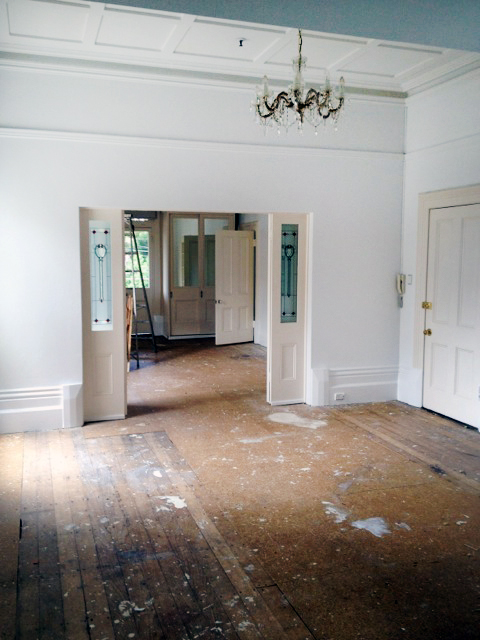 Looking back the other way.  There are things about the kitchen I'd like to change, but I can live with it for now. My desk and work space are under that big window in my bedroom.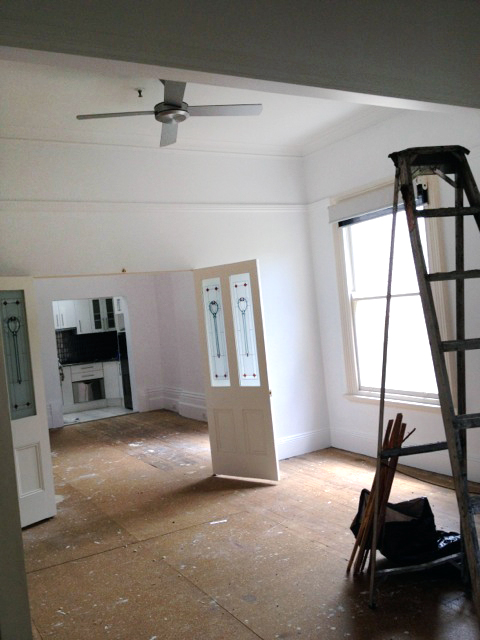 The verandah, which now has lots of plants and comfy seating.
I still have a list of things to be done, like replacing the fake lead light glass in the interior doors, replacing door handles and light fittings, and most importantly, getting built in storage which I desperately need. There are still lots of boxes in various parts of the apartment that I can't unpack because I have nowhere to store the contents.
I'll keep you updated on my progress and share more photos soon. I want to get a few more things in order first.
I'm very busy designing and with some wonderful new opportunities that have presented themselves. Life is great!
Thanks for your comments and emails and my apologies again for being absent for so long. See you soon.
Lisa
x
Save
Save
Save