In the true spirit of community bloggers are rallying to help out the Queensland flood victims. Toni from Make It Perfect is organising blogger auctions.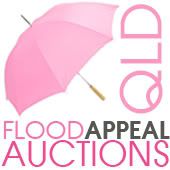 There will be an auction here at the red thread, which will go live on Monday morning. I'm gathering lots of goodies to put together to make one big auction item which I'm sure you'll love. 100% of the money raised will go to the Flood Appeal (the auction winner will pay the winning bid amount directly to the official Government Flood Relief appeal). The auction will be open to both Australian and international  bidders (sorry to my overseas readers, but the inclusion of a large item to the prize pool makes the cost to send overseas prohibitive) and I will pay for the delivery. So please dig deep for the poor Queenslanders who are facing many tough months ahead.

Edit: I have had some generous offers from others who want to contribute to my auction prize, including one really fantastic item – so exciting. The total value of the auction prize will be over $1000… stay tuned!
The master auction list will be up on Monday and I'll post a link to it, so if my auction items don't take your fancy I'm sure somebody else's will. International readers will be able to bid on other auction items, so make sure you check out the list on Monday if you'd like to help out.
.