I'm sure I'm not alone in falling for a piece of secondhand furniture and thinking "Oh I could just reupholster that!" But how many of us have actually done it? Last week, not only did I upholster an ottoman, but I actually built it from scratch… with the help of a fantastic designer DIY kit from super skilled furniture designer and maker Maaike Pullar of studioMAAIKE.
Maaike invited to me to attend the live workshop launch of furnish.ed – a new home for online learning and professional DIY projects – and her Atomic Ottoman Kit. After over a decade of teaching Maaike has put her favourite workshop – the Atomic Ottoman –  into a box which includes all the components and instructions to build and upholster your own ottoman at home. The elements of the kit are well considered and designed so the process is actually not as scary as you might think (it's really not scary at all) – and it's so satisfying to have new skills and a piece of furniture that you made yourself. I couldn't be more thrilled with how mine turned out!
The Atomic Ottoman Kit from furnish.ed
The evolution from Maaike's in person workshops to DIY kit makes professional upholstery tuition available to people beyond Sydney and even abroad. With the inclusion of step by step video tutorials learning will be even easier.
I can imagine that it's pretty daunting to start a Kickstarter campaign, but Maaike has taken the plunge and done just that to get make her passion project available. Pre-sales of the Atomic Ottoman Kit have launched – click through to find out more.
"We've selected quality materials to ensure a premium product, and we're developing custom packaging to make sure all those things arrive at your door in pristine condition. We've done our best to keep the Atomic Ottoman Kit production in Australia, where we can meet our contractors and know their working conditions are fair," said Maaike.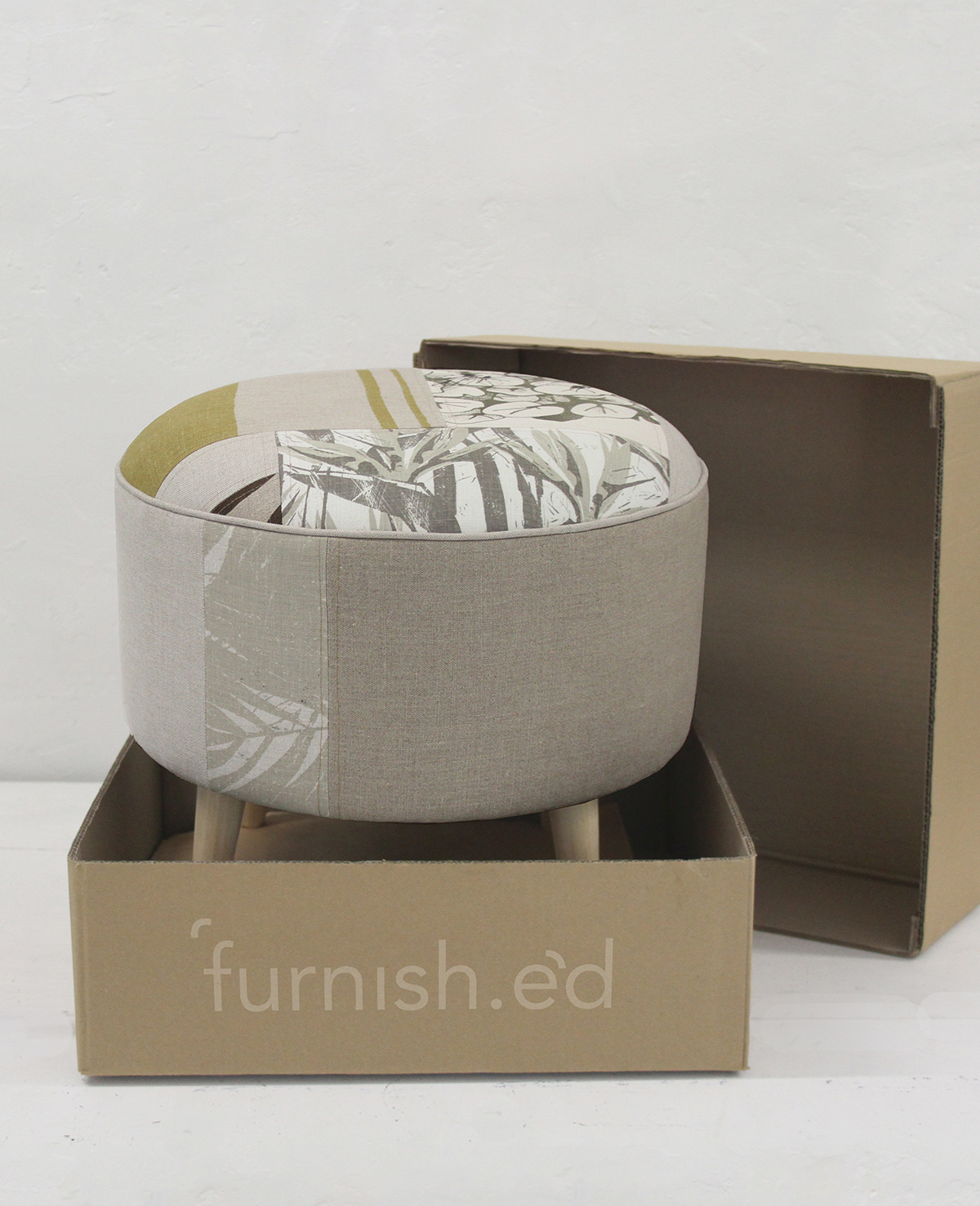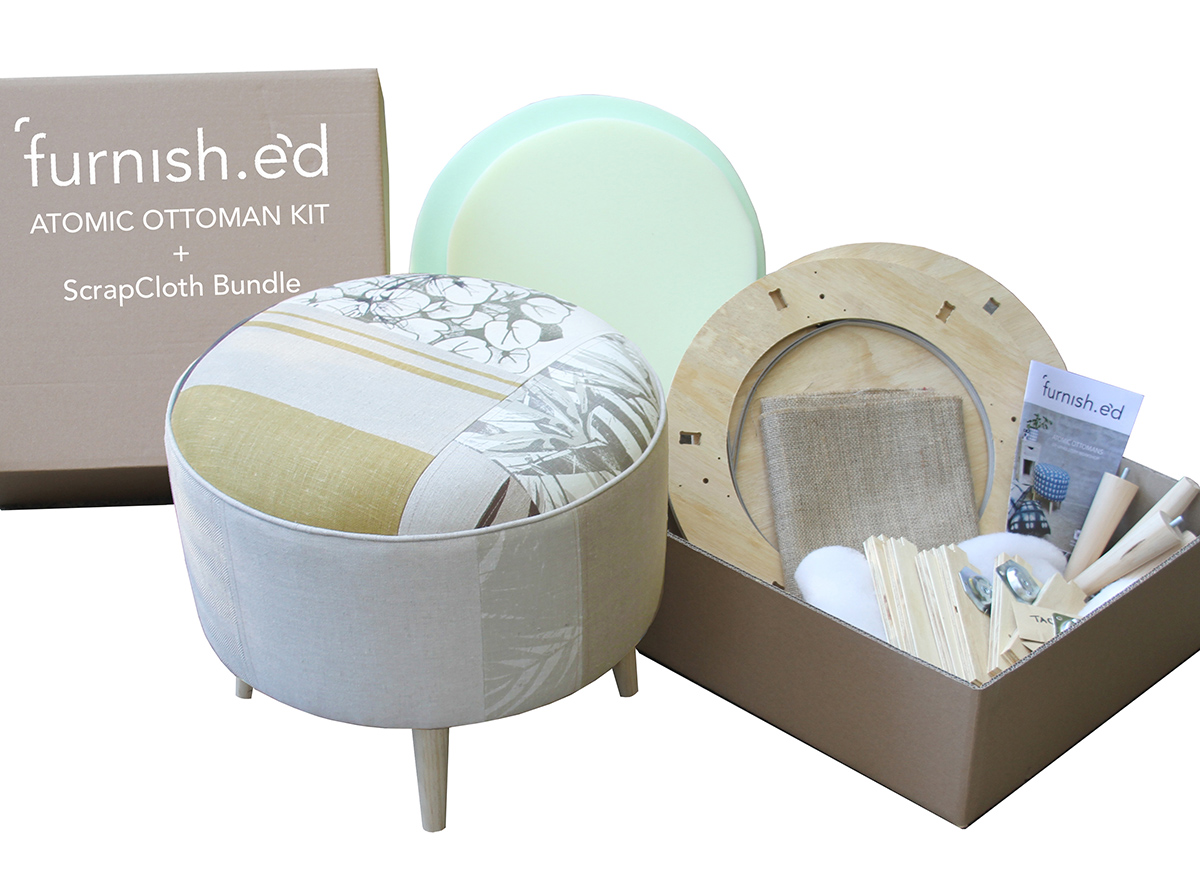 The workshop
I spent last Sunday at The Happenstore with Maaike and a small group of keen women, and at the end of the day there were 10 very professional looking, and very different, ottomans taken home.
One of the workshop participants said that she chose to use ikat fabric as she thought the busy pattern would hide her shoddy workmanship. She soon realised though that the making process is foolproof, so she could've been more ambitious. The straight forward step by step process and the professional looking end results had everyone excited. It also left me feeling confident that Maaike's personable and fun teaching style will translate well to the video series for anyone making the kit at home.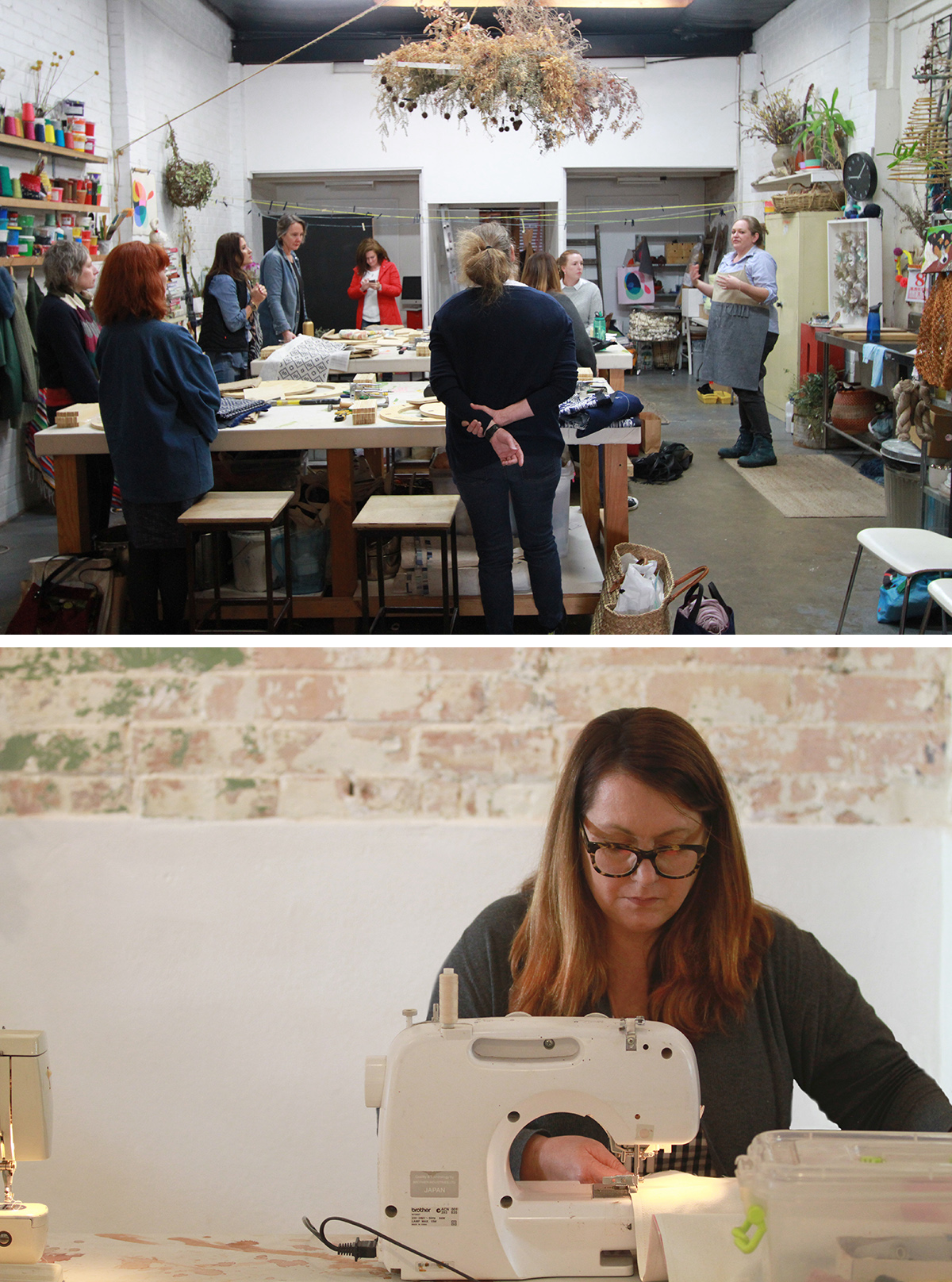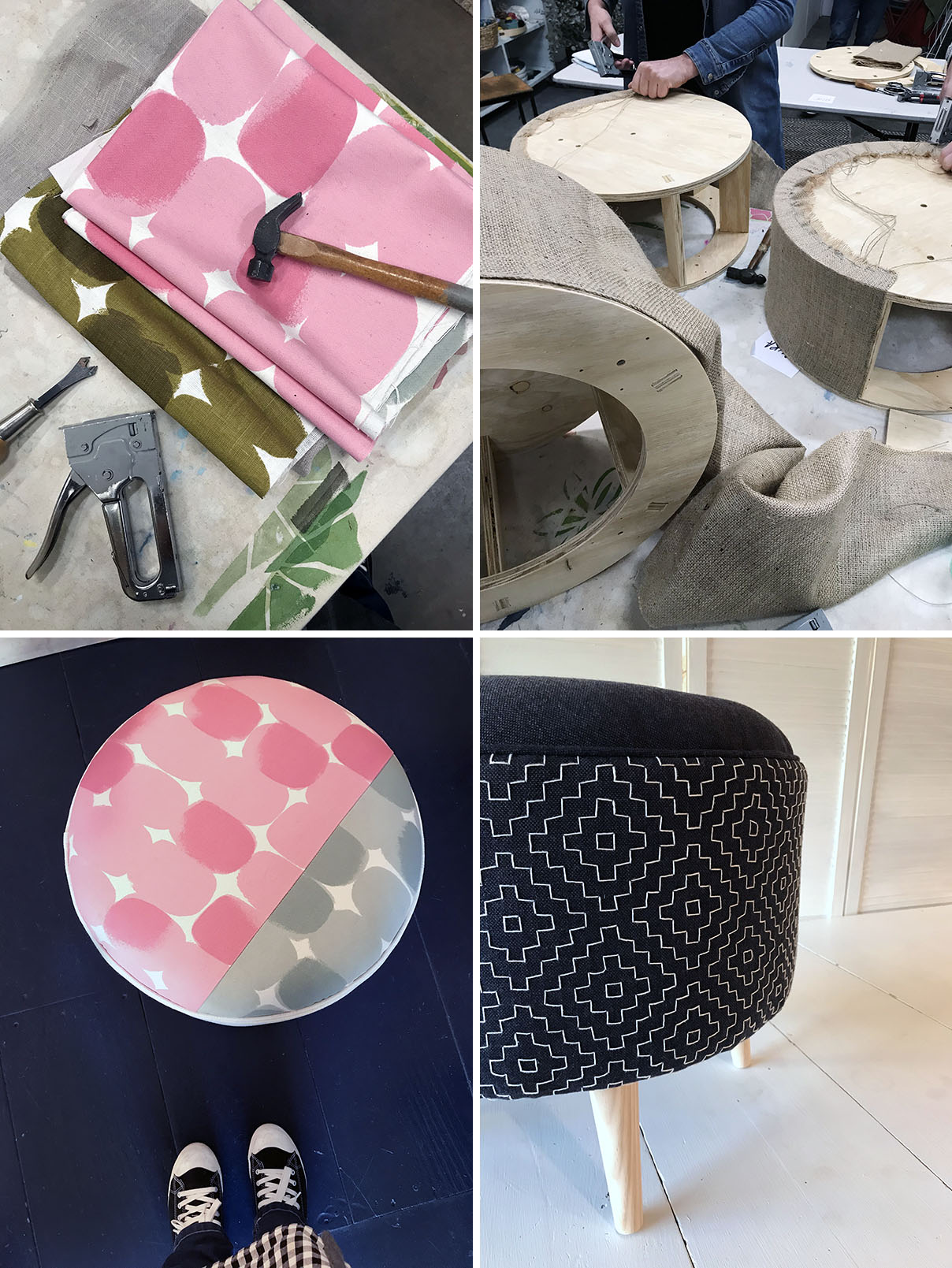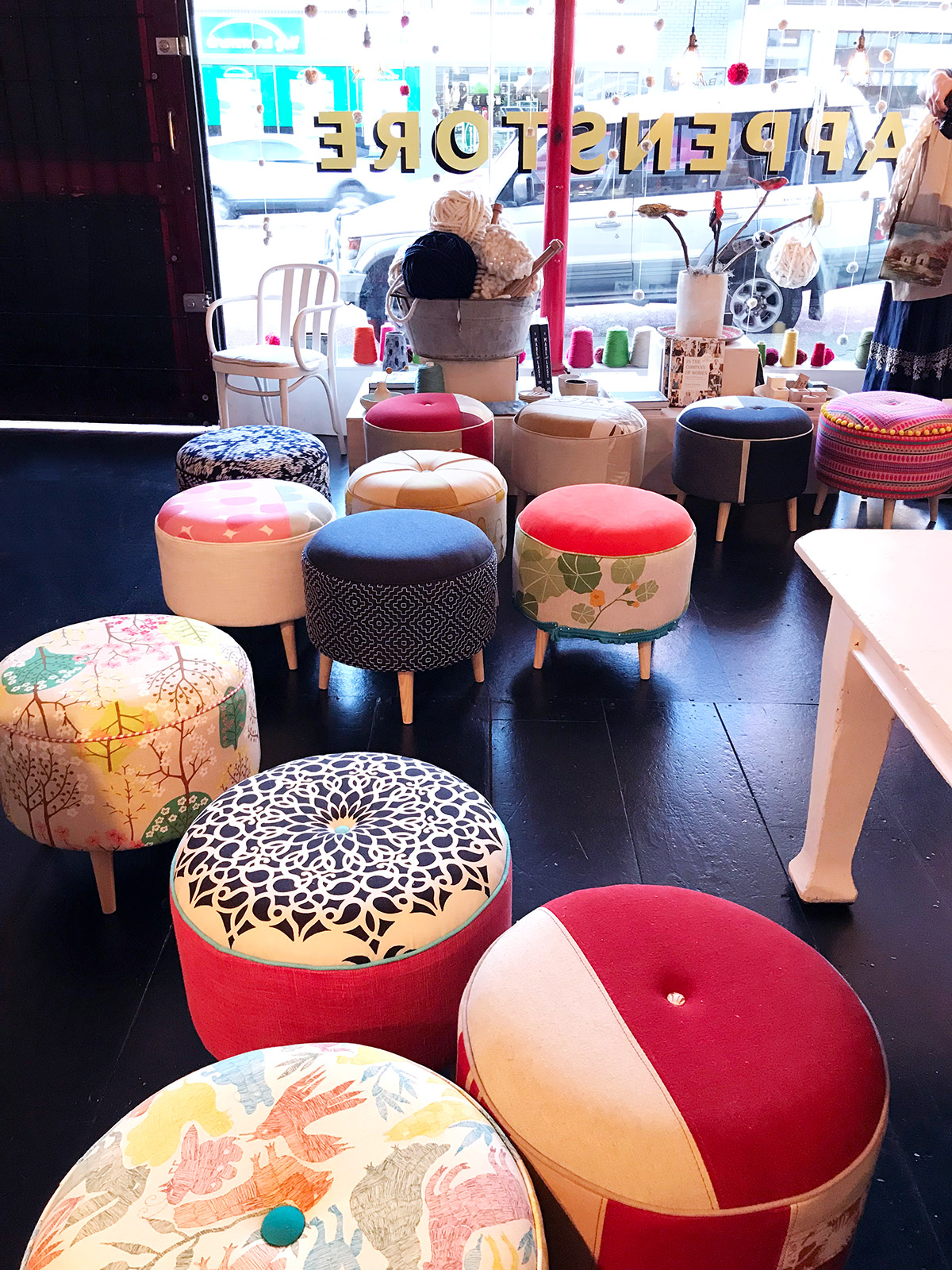 The Kickstarter
Maaike has developed a variety of options for people to engage with furnish.ed via the kickstarter campaign. You can simply purchase the video tutorials, or an ottoman base kit, or a ScrapCloth Bundle which is a special collaboration with Julie Paterson of Cloth Fabric. You can even buy one of Maaike's finished ottomans or band together with friends to bring her to your town for a private workshop class.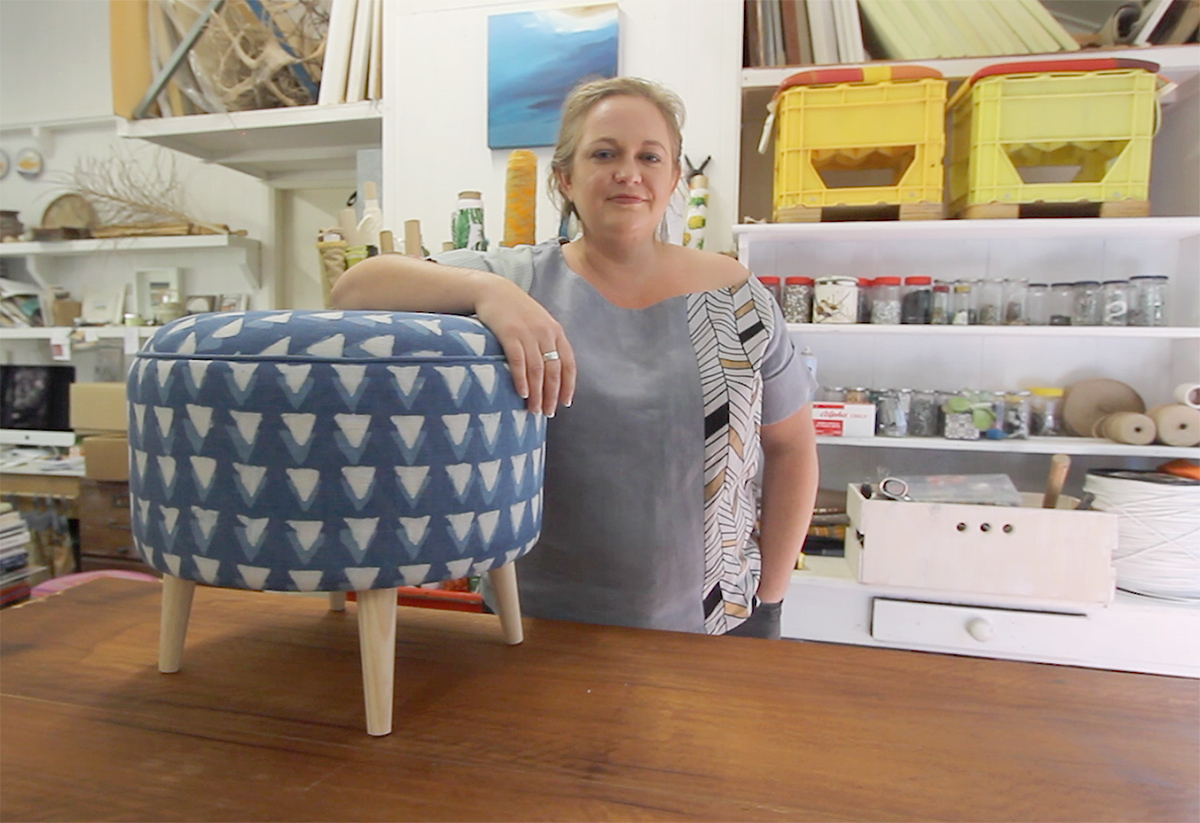 Head to the furnish.ed campaign on Kickstarter to support this innovative and beautifully designed Atomic Ottoman Kit – it finishes on 11 August 2018. The Kickstarter video is great, BTW. Check it out and support local small business makers!