Do you often look at homes styled to perfection on Instagram and Pinterest and wonder how people actually live there? The truth is they don't live like that. It's not real life. IKEA's latest initiative, IKEA + You, is turning that unrealistic perfectionism on its head, instead focusing on designing real homes that are both beautiful and a true reflection of the people that live there.
Perfectly styled, on trend, and often ultimately impractical spaces go against IKEA's design ethos. "IKEA + You is about igniting creativity and inspiring people to buck the trend rather than create a perfect space. It's about designing a space that looks the way you want it to, works the way you need it to and is a space that you love," explains Tiffany Buckins, Head of Interior Design for IKEA Australia.
Visiting around 500 homes around the country each year, and interviewing families gives an understanding of the real aspirations and frustrations everyday people experience in their homes. Some of the biggest interior design problems faced by Australians include how to work with an open plan layout, how to get a coordinated look, how to personalise a space and how to conquer storage and clutter. Can you relate?!
The IKEA interior design team has co-created 10 stylish living rooms for real Australian families that address these frustrations with real solutions.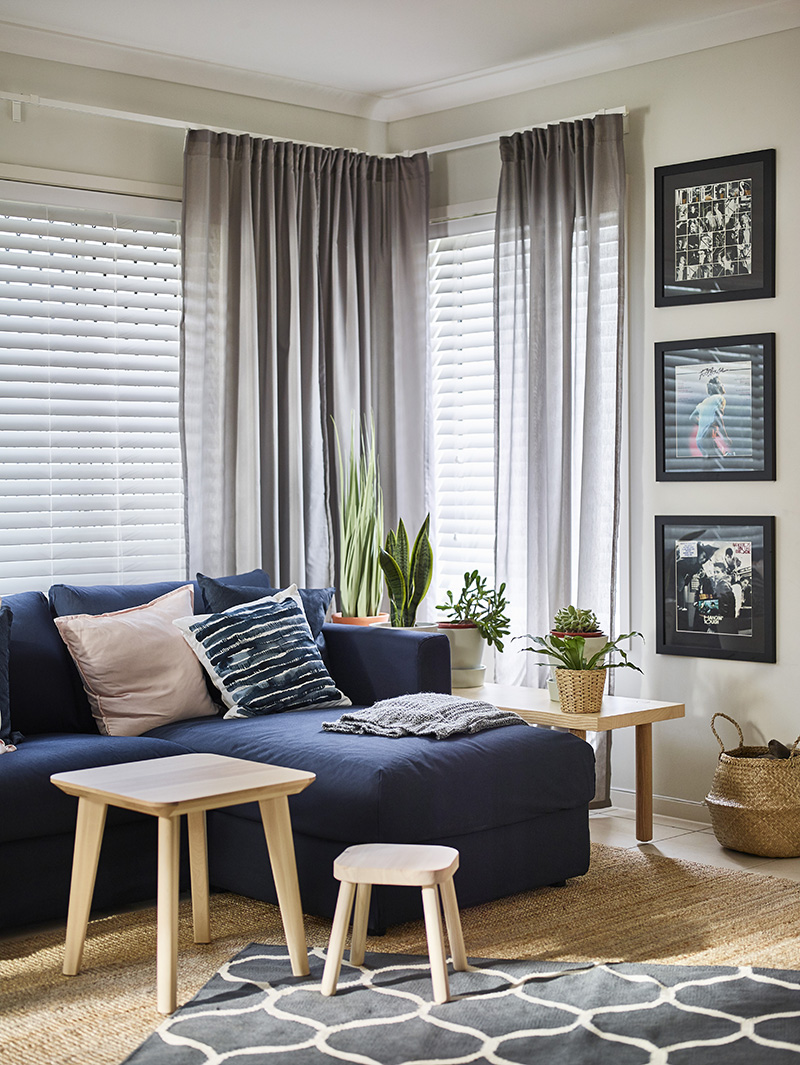 IKEA + You: Calamvale, Queensland living room makeover
Problem // The living room is always full of family activities and the open plan layout was far from functional or practical.
Goal // The owners were looking for a way to create separate, functional areas where the family could all come together while doing different activities.
Solution // IKEA's interior designers spent lots of time asking questions to get an understanding of the activities that take place in the room, what the owners' dreams for the space were and what currently frustrates them. To achieve the best layout the seating needed to be more modular and flexible to allow the family to easily shift, move and separate it. This will allow family members to do different things in the room at the same time without compromising the flow of the room. It will also be useful for when additional guests came over.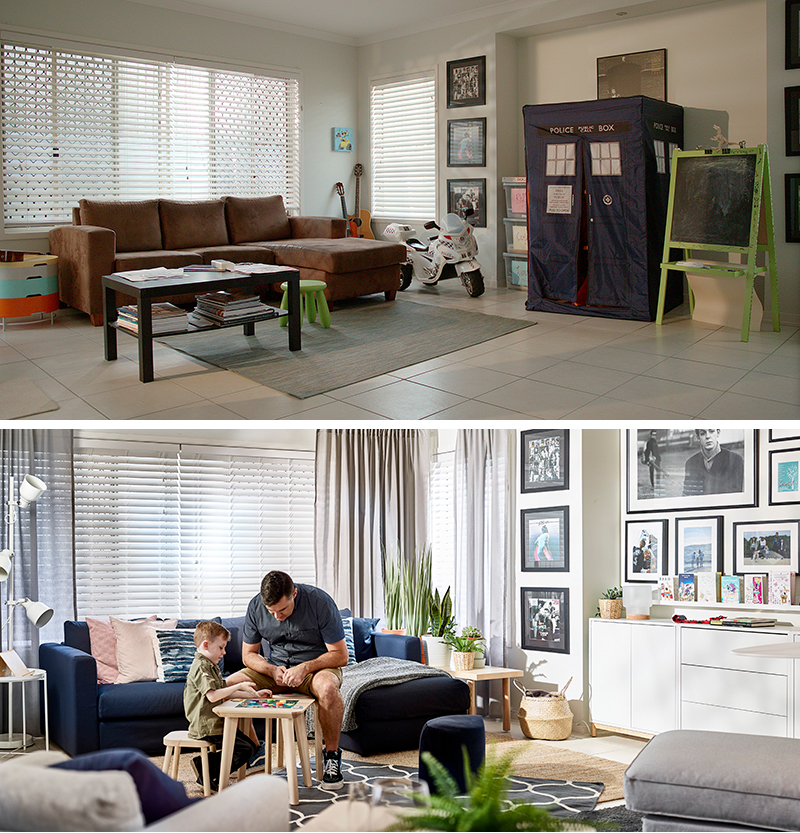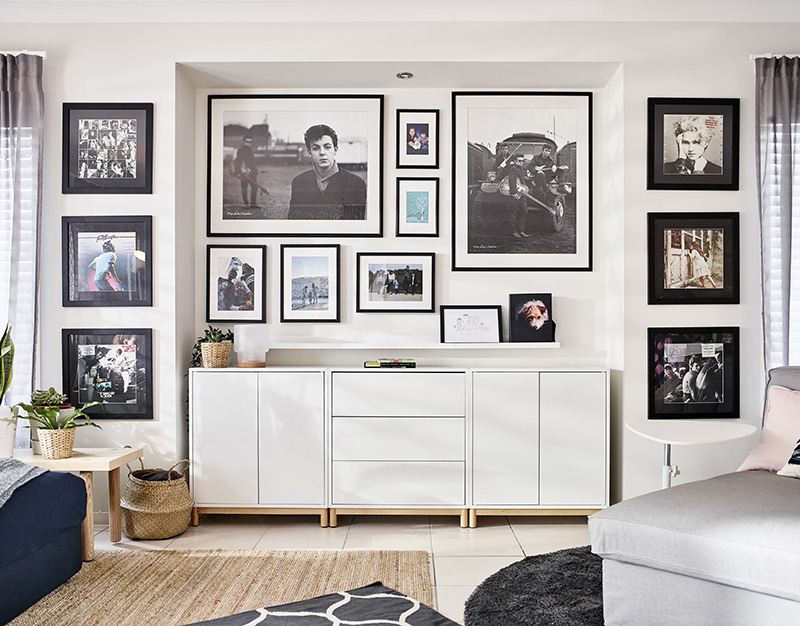 Problem // Keeping the mess under control. The family didn't seem to have a place in their home for everything to be stored, so more often than not things would end up in the living room.
Goal //To maximise the space so that effective storage solutions could solve the issue of mess and accumulation of belongings in the room.
Solution // The best option for this family was to invest in multifunctional storage that can be easily customised and then later modified to suit their changing needs. Working vertically up the walls not only extends storage solutions and options, it can also become a decorative element in the room. Guitars and framed album covers are stored and displayed on the walls and the storage system adds colour to the space. The glass door cabinet showcases travel mementos and sentimental items while hidden storage in the modular sofa adds extra space to hide toys and board games and to store extra pillows and throws.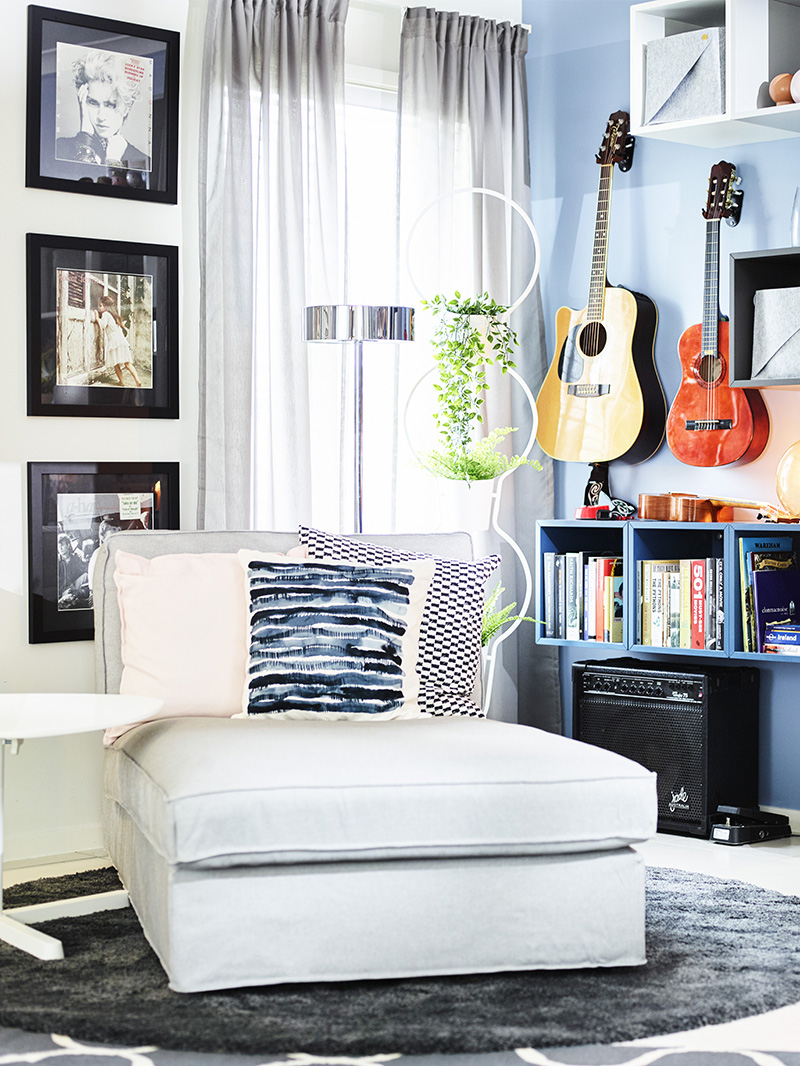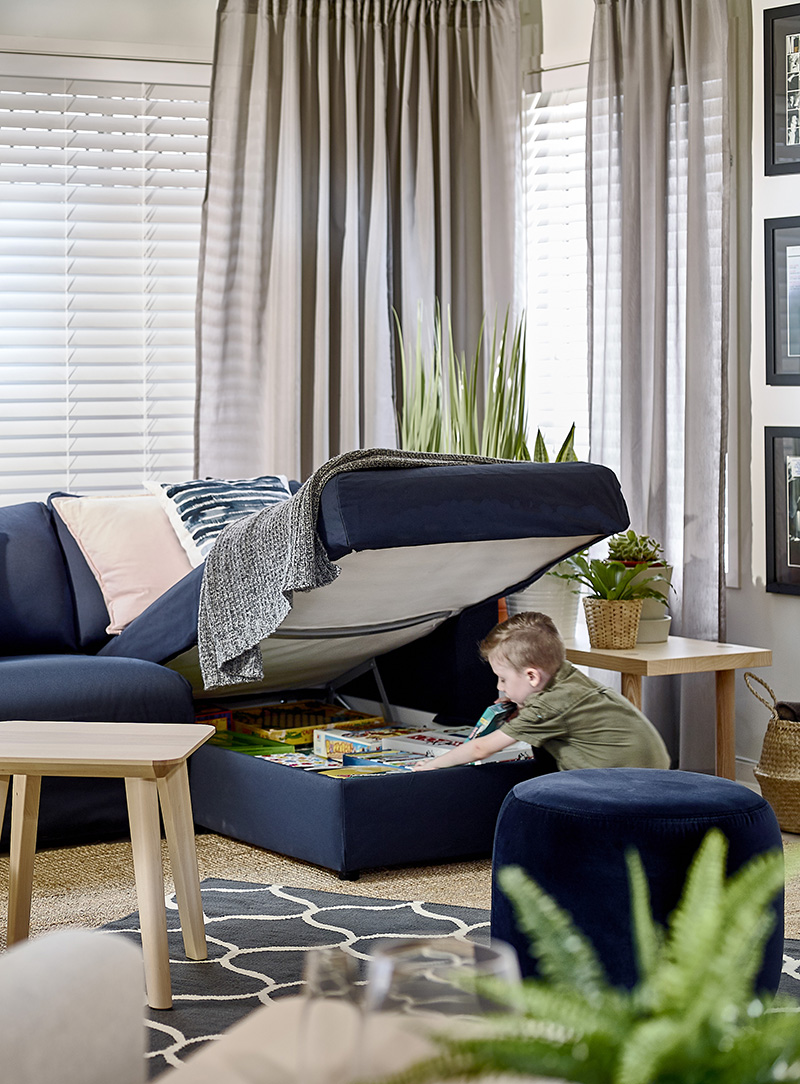 IKEA + You: Hunters Hill living room makeover
Problem // The owners of this open plan home were struggling with the coordination and feel of their living room and were unsure how to add vibrancy and harmony to such a big space. There was a lot of mismatched furniture pieces in the room. The sofa in particular was outdated and both it and the configuration of the space are impractical.
Goal // To make every square metre of the space useful and multifunctional – to achieve this you have to first take the time to consider how you actually use your space.
Solution //  To begin with, the IKEA design team assessed the layout of the living room to create a friendlier, functional layout. Most of us incorporate many varied activities into our living room – the secret to making this work is to choose furniture that is flexible and can serve more than just one purpose. The new seating is modular and moveable so the family can choose whether they want to hang out together or be apart in the same space. There are flexible options for all activities happening in the space, like playing, reading and working. Footstools create extra seating and they're in the perfect spot to take some time out to unwind.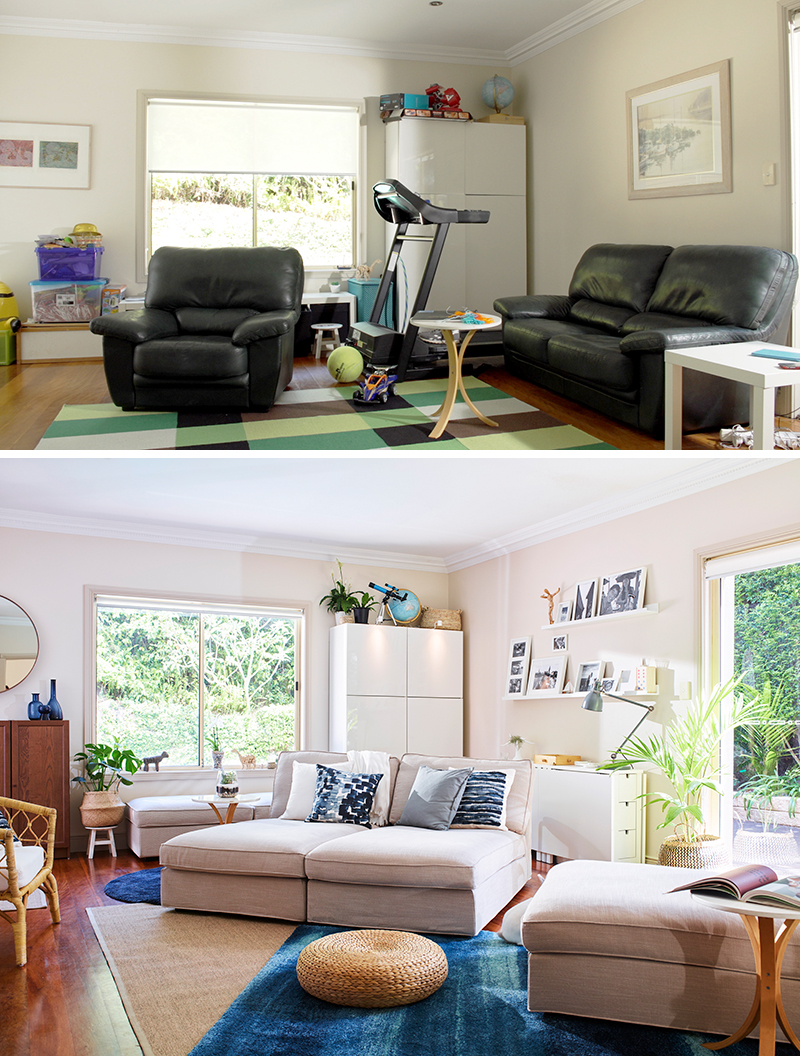 Problem // Like most families, this family struggles to control clutter and organise their belongings. Things are often pushed up against the wall to create space for their son to play, and as a result things start piling up.
Goal // To increase and create storage in a smart and functional way that works for the family's lifestyle.
Solution //  The storage cupboard is fitted out with boxes and magazine files so everything is organised and perfectly tucked away. Cork trivets are stuck on the doors to pin up notes and photos, and a small rack hung for small everyday items. This way things can be found easily and each storage cupboard is personalised for the children. The gateleg table makes the ideal desk for this room. The owners can flip out the desk for work, study or crafting and it packs away neatly when not in use and the small built in drawers are great to hide things away. [I have this table at home for Roxy to do homework on – it's perfect for apartment living!]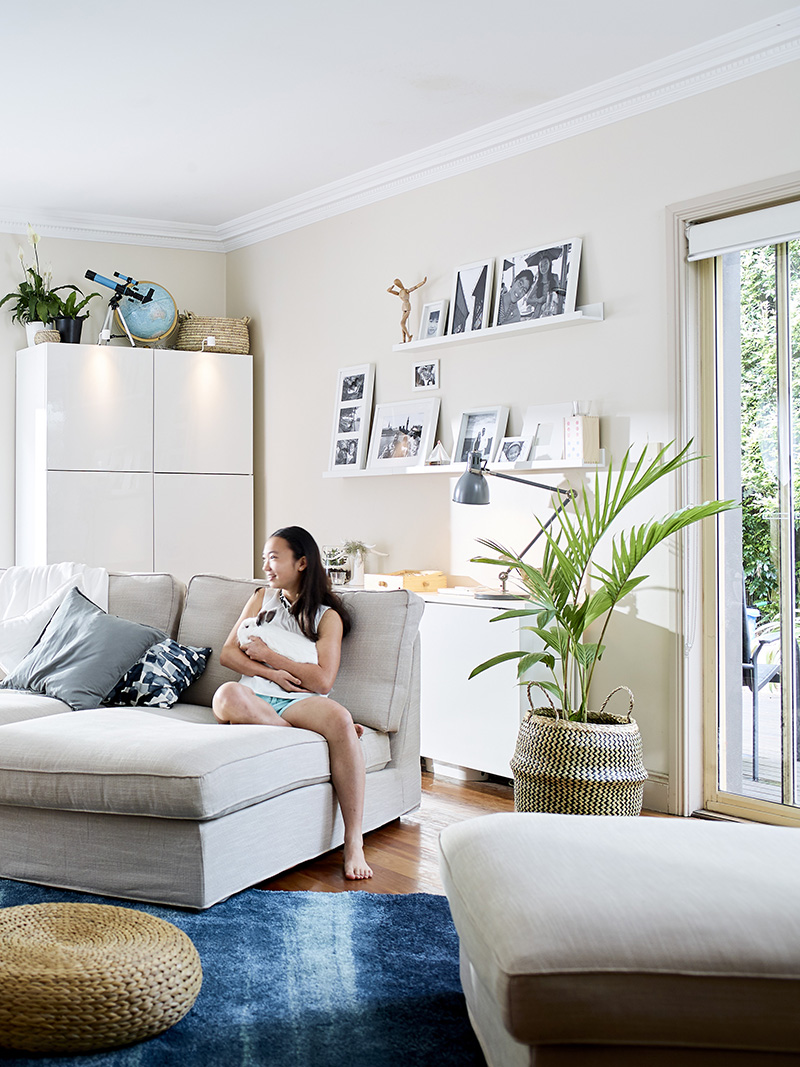 Tiffany Buckins continues, "It was so exciting to be able to work with real families, and put our skills to the test, to tackle some of the trickiest layouts and overcome the most common problems faced by our customers, and essentially families across Australia.
"I hope that the solutions we have brought to life, inspire everyone to unleash their creativity. We want everyone to embrace their own style, their own needs and find solutions that work for them. IKEA + you embraces the art of not trending, and instead following your personal interior design instinct to create a look that truly represents you and the people you live with."
Click through to see the other 8 real Australian living spaces that received a makeover for the IKEA + You initiative. The before and afters and creative solutions to real interiors issues are truly inspiring, and best of all they're totally achievable!
Disclosure: This post was produced in partnership with IKEA. I only partner with brands that are a good fit with We Are Scout, our aesthetic and what you, our readers, enjoy. Concept, words and opinions are all my own. Thanks for supporting the brands that allow me to keep on scouting.