Welcome to the bohemian chic Artists' Houses, a collection of five holiday homes in Port Douglas, here in Australia. The homes are truly eclectic and soulful and are the antithesis of pretentious, over styled high end resorts.
Full of art, mismatched furniture collections, pattern and colour, the Artists' houses invite you to truly relax and exhale and let the good vibes in. Surrounded by empty beaches and ancient rainforest, its the perfect location for a chilled out North Queensland experience.
The holiday rental homes reflect the hard work and passion for collecting of chef Matthew Wild, his wife Tina, an artist, and their sons Pablo and Hugo. There's the five bedroom Artists' Beach House, on the beach path in Port Douglas, the charming three bedroom Artists' Treehouse, which is in town, the Artists' Nook – a two bedroom bungalow, and the one bedroom Artists' Cottage. The Artists' Beach Front is right on the beach a little further north of Port Douglas.
The Wild family are seasoned travellers – living six months of the year in Port Douglas and travelling the remainder of the time. The Artists' Beach Houses are a reflection of their carefree boho spirit. "Our houses aren't fussy or pretentious, but they are all about charming you, making you feel great, and most importantly about love and celebrating the creative spirit! We travel the world a lot, and we know whats needed to make a holiday a memorable one," said Tina.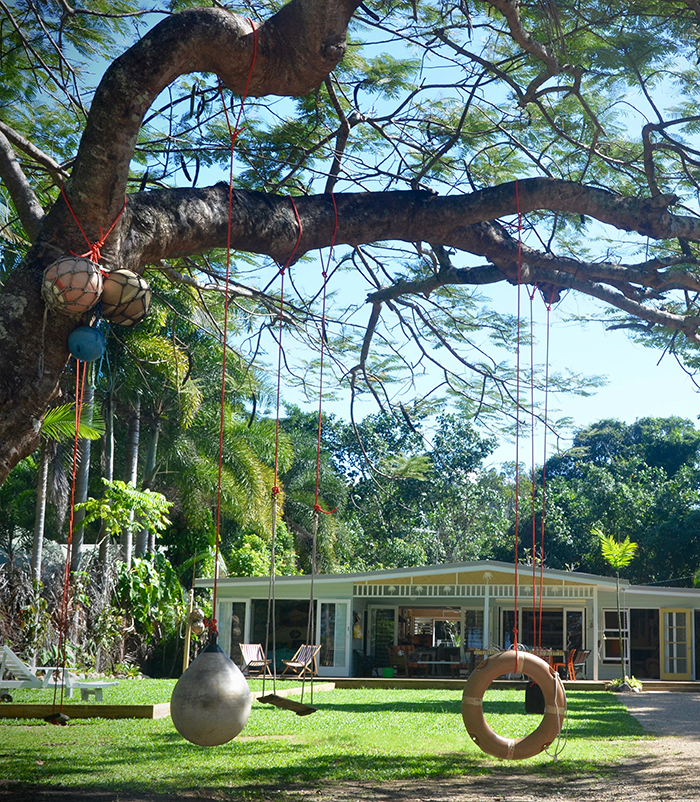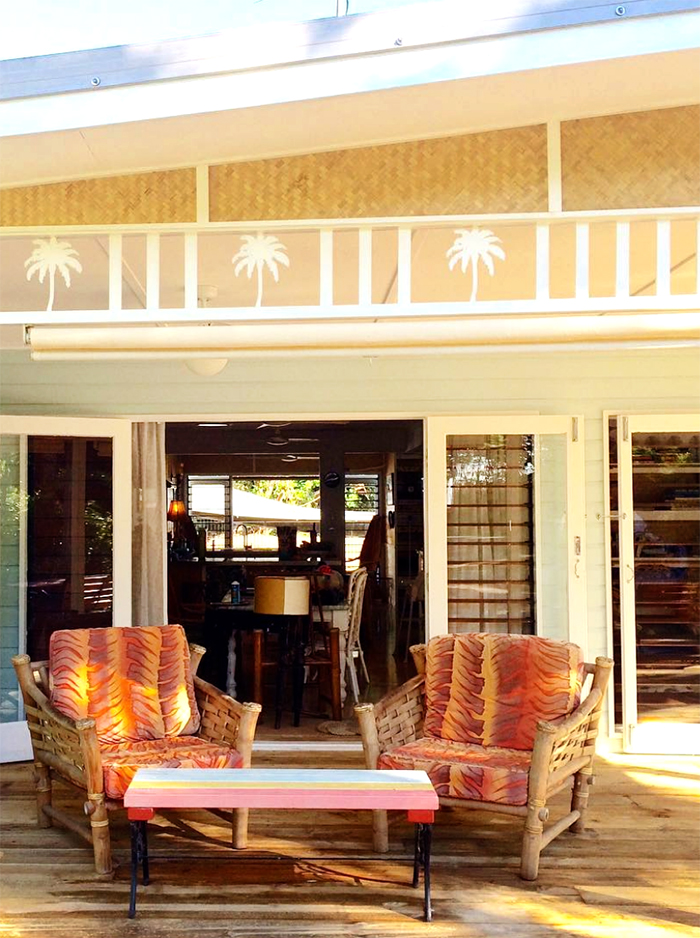 "I like things to look lived in and inviting, and in the vernacular of the tropics. I love the old  houses of the seventies – the simple layouts and old cane furniture. I like finding unusual objects and juxtaposing them together to create an energy.  I don't want things to look like they're from a magazine, or too designed, or uptight.  I want people to walk in and be comfortable, curious and the feel is a little off beat," explained Tina.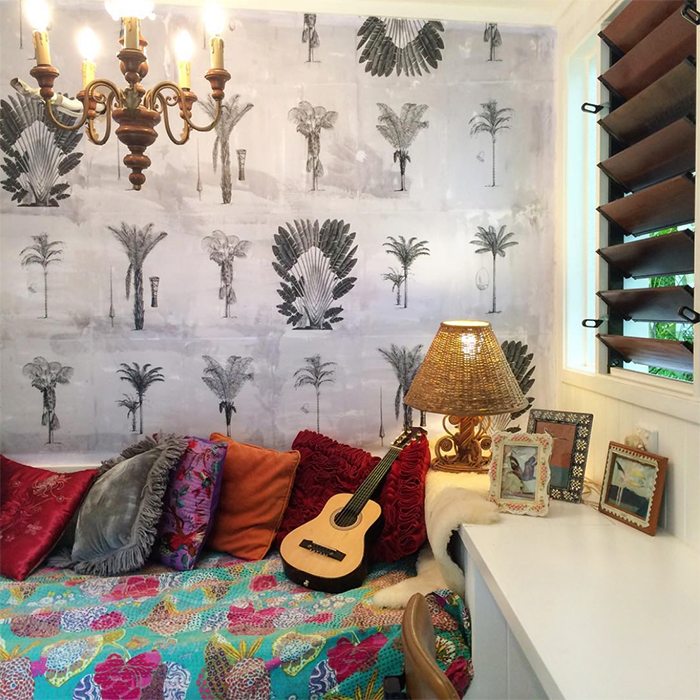 Can you tell us a bit about the Wild family and your enviable lifestyle?
We love travel. Matt and I have been traveling with our work for a long time. We have two kids, Pablo (9) and Hugo (2), so they have grown up around the world. Matt is a chef who gets invited around the world, and I am an artist who has spent much time doing artists residencies, projects and exhibitions internationally. Now, as a mum, I love the time I get to spend with the kids when we travel. At home, we are pretty busy, but when we are overseas, we just get to think about our day and the kids, and we have no idea where its going to lead. I love being away from routine, and I love seeing my kids experience the wonder of the world. I get so much time to talk with them, hold them and enjoy their company. I love being on the adventures together, and that the kids are seeing a bigger world, and many ways to live a life. We home school Pablo when we travel, and often put him into school in India as well.  We also collect a lot for our houses when we travel as well. We are always on the lookout for interesting finds.
What are your favourite places to travel?
If you ask Pablo, he would say India. Its a magical country filled full of colour, creativity, and great people, and so easy to travel around. Its shocking and awe inspiring. We love traveling through Asia – as we love the unexpected and the energy. We spend a lot of time in Berlin which his an incredible feeling to it. We just had an amazing time in Cuba, Brazil and Morocco on our last trip. In a few weeks I am taking the kids to Japan, USA and back to Europe and Asia for another six months adventure.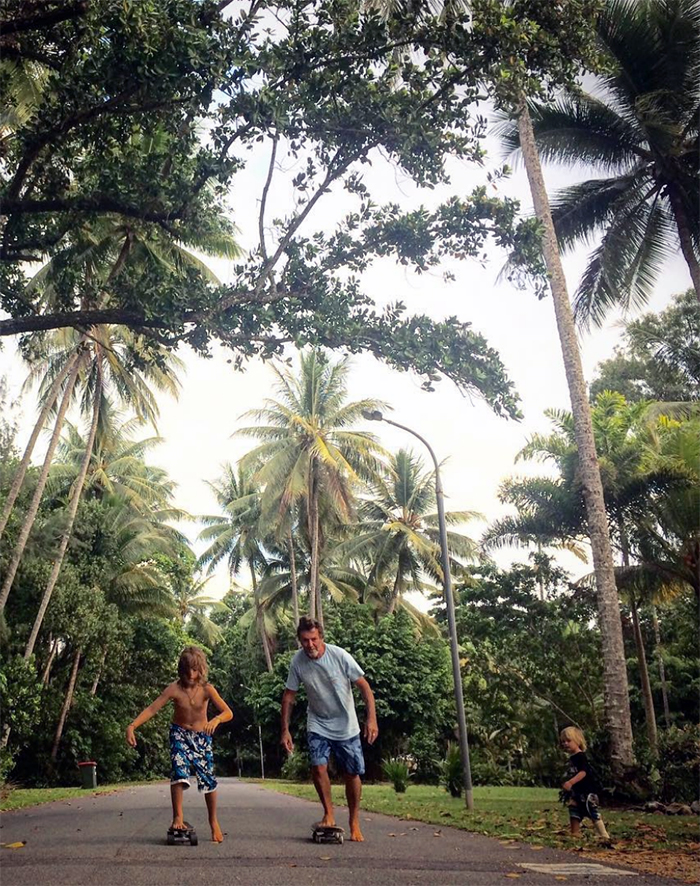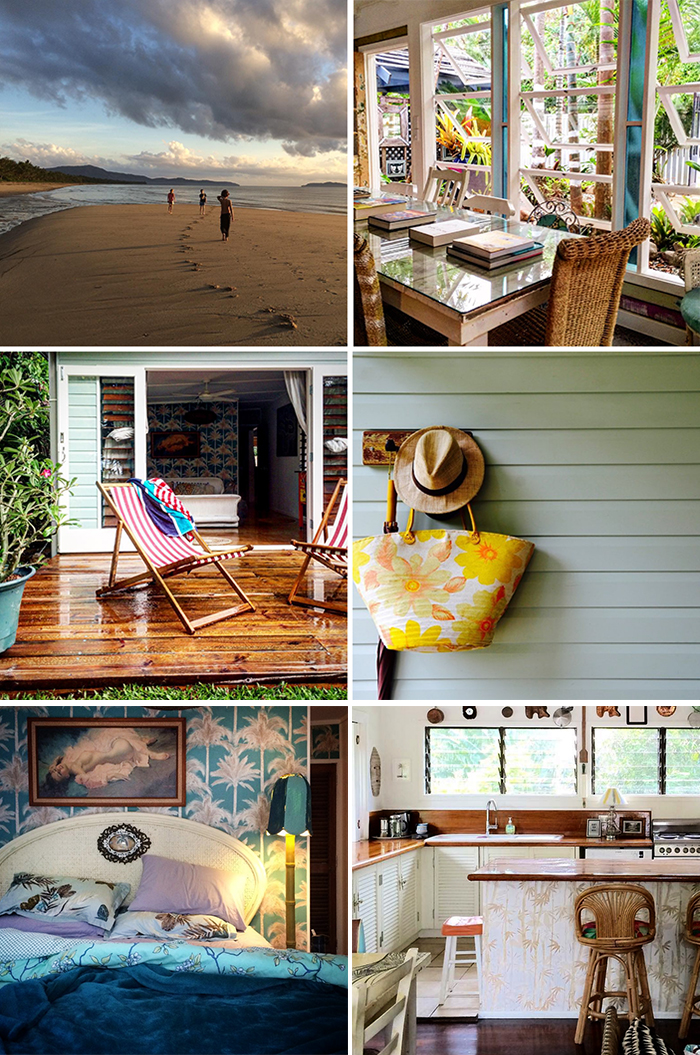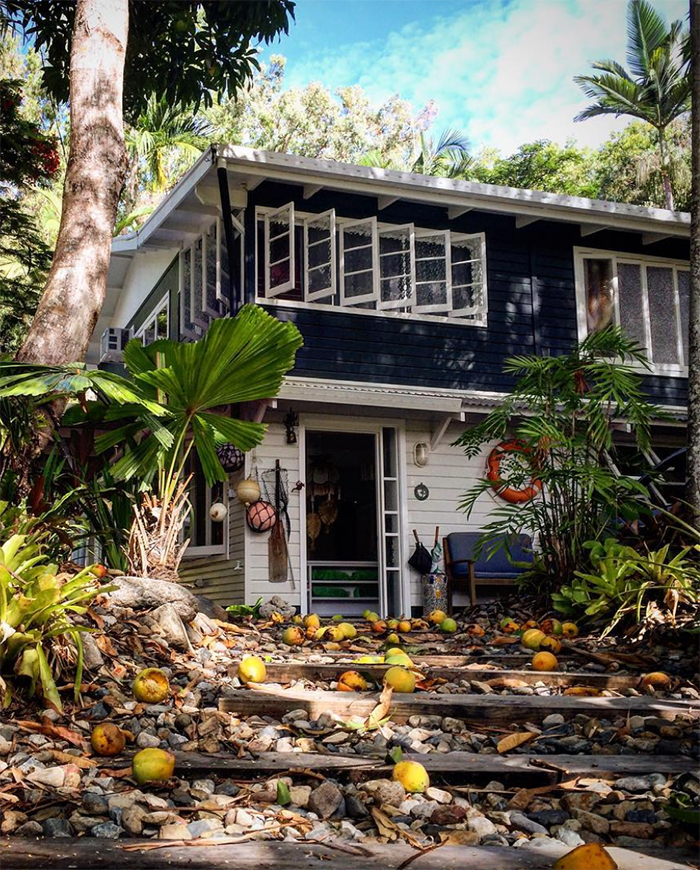 How long have you had the Artists' Houses? Why Port Douglas?
Our families came to Port Douglas in the early eighties – mine from Sydney and Matt's from Melbourne. Port Douglas was a small fishing village then. We love the beauty of North Queensland and the tropical climate. We started with the Artists' Cottage (one bedroom), which was our first home with Pablo about ten years ago, and then, when that got too small, we moved on to the Artists' Treehouse (3 bedrooms). We bought a base in Europe – in Berlin – when I was exhibiting a lot in Europe, and we now holiday rent this too. We were traveling a lot at the time, and when we started holiday renting, and they were so popular that they were too busy for us to live in.  So we then bought the Artists' Beach House (5 bedroom), then  the Nook (2 bedrooms). Last year we found a beautiful old fishing shack on the beach just north of Port Douglas, and this is our new home, the Artists' Beach Front. We wake up with a view of the water and sleep to the sound of the ocean. We love it.
A lot of hard work and passion has gone into creating the beach houses, can you tell us about that?
Where we can, we collect all recycled materials – a lot of windows and woods from old Queenslanders that are being demolished. So a lot of our houses are a renovation from serendipity – it all depends on what we find, and this guides the design. We then scourer op shops and garage sales and upcycle a lot of our furniture. So the renovations are a lot of physical work. We try to do as much as we can ourselves. Surprisingly, its a creative process – I like looking at a space and watch it become a space that makes people feel good, promotes good conversations and inspire bit of wonder in the kids.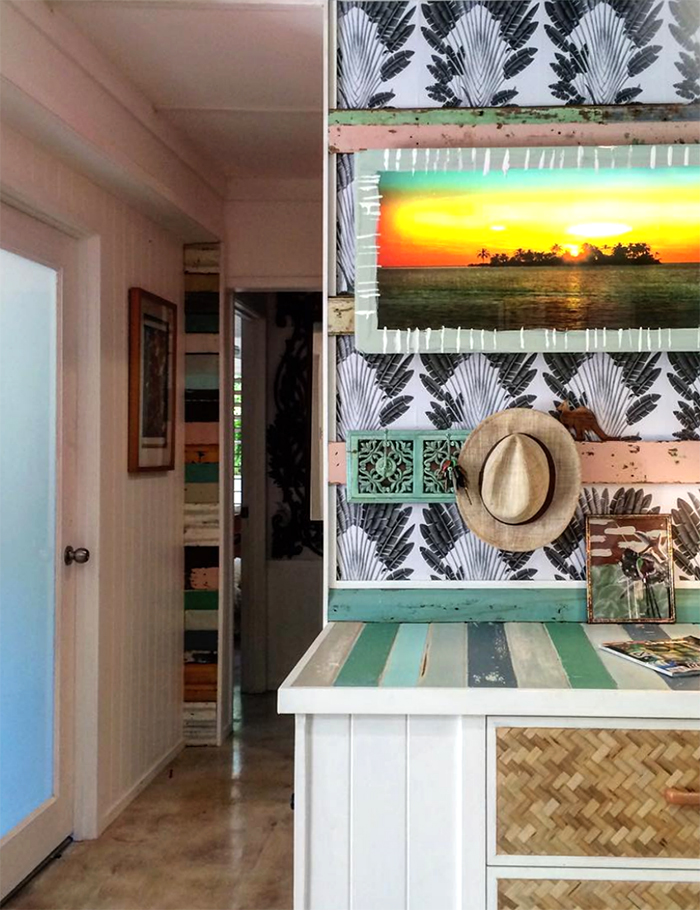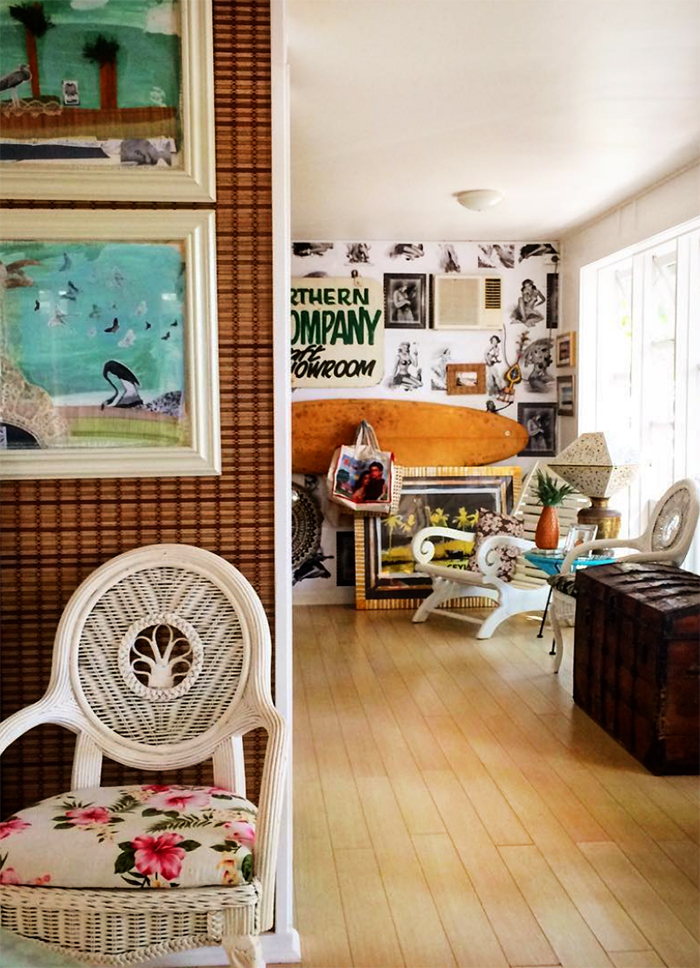 It seems that they are always evolving – do you think you'll ever get to a point where they'll be finished?
The houses are evolving – they need a lot of work – the humid climate of the north means that all houses demand a lot of attention up here. It takes a while to understand interiors and exteriors and the best way to capture light and breeze to work with the tropical environment. Cross breeze is incredibly important in the tropics.
Nothing is ever finished, and everything needs work! We are always moving things about and changing things around. We are always on the look out for interesting furniture and artworks. Each house is much like an artwork – you constantly look at it, and then work with it, change it – and then one day you think its fantastic, and the next day you think it needs work. Its a great creative process.  I also create a lot of artwork – its my relax time – so if its a piece I like, that goes up on the walls too, which always changes things.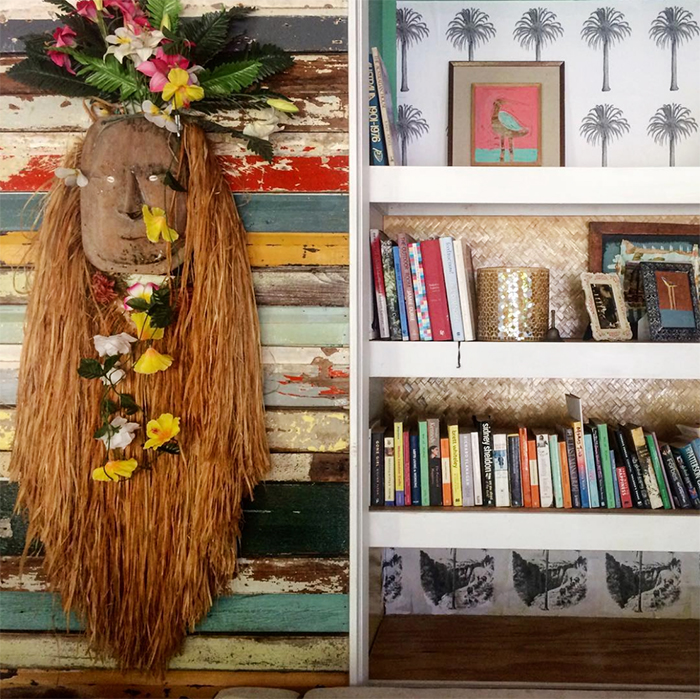 What sort of experience would you like visitors to have there?
A lot of our guests come with huge plans to see the region and they love the houses so much they never leave. I want our guests to chill out, take time out to make a few good dinners and enjoy the lifestyle of the tropics. I like our homes to be an environment that allows people to relax, but also inspires peoples creativity.
What are the top things to do when staying in Port Douglas?
When visiting Port Douglas, you need to dive into the magic of the reef, the incredible rainforest rivers, and mountains, get lost driving through the cane fields, and enjoy the local markets and produce.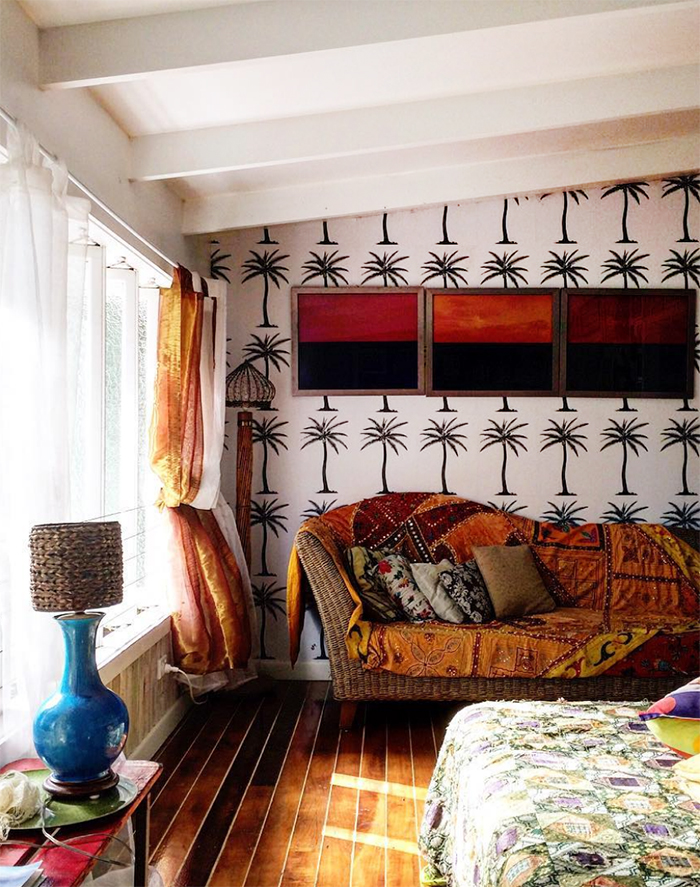 I hope you loved that virtual tour of the Artists' Houses. Ready to book your stay? I know I am. Head to their website to find out more. You can also find the Artists' Houses on Airbnb.
Keep up to date with the Wild family's travels and goings on at the Artists' Houses on Instagram @artistshouses, and on Facebook here.
Save
Save
Save
Save
Save
Save
Save