I love Instagram – despite the much maligned algorithm mucking up the status quo – because I'm always discovering wonderful creatives there. That's how I came across the work of multi media artist Fleur Woods. Then, browsing Inside Out mag one morning recently  I was stopped in my tracks by the most beautiful embroidered and painted backdrop, which turned out to be Fleur's handiwork.
Fleur's signature form of mark making is stitching on painted fabric, which creates intricate, detailed and precious pieces. She says she loves it because it "reflects beautiful the qualities of nature – my favourite subject matter and a great source of inspiration".
Let's pop over the ditch to New Zealand to visit Fleur in her glorious blush pink studio which is flooded in soft light from lovely big windows.
Meet Fleur…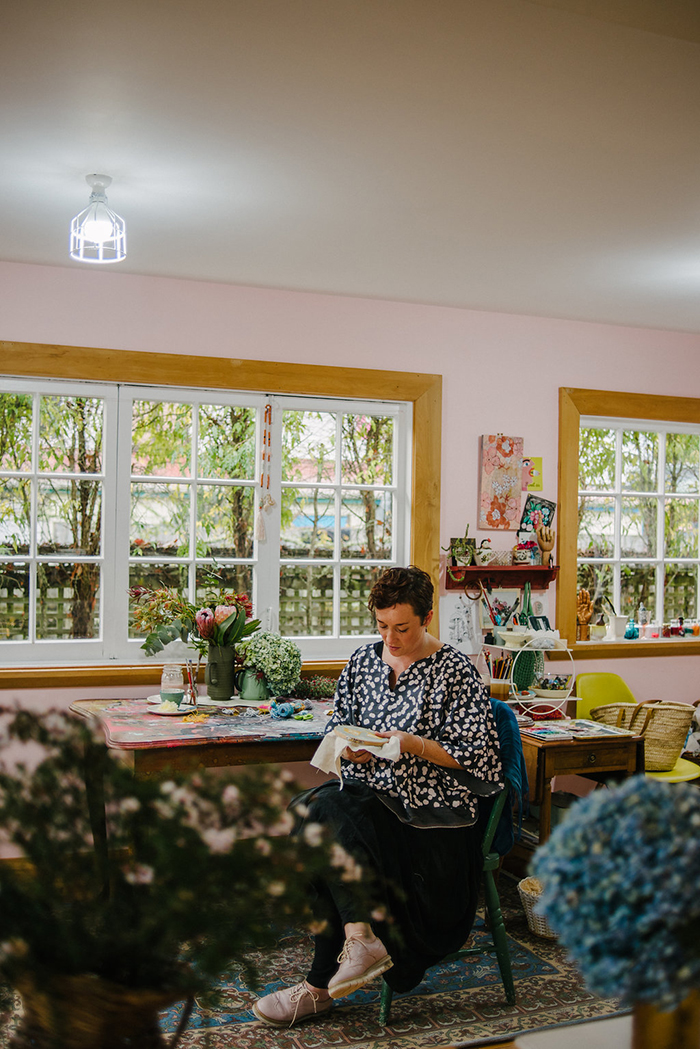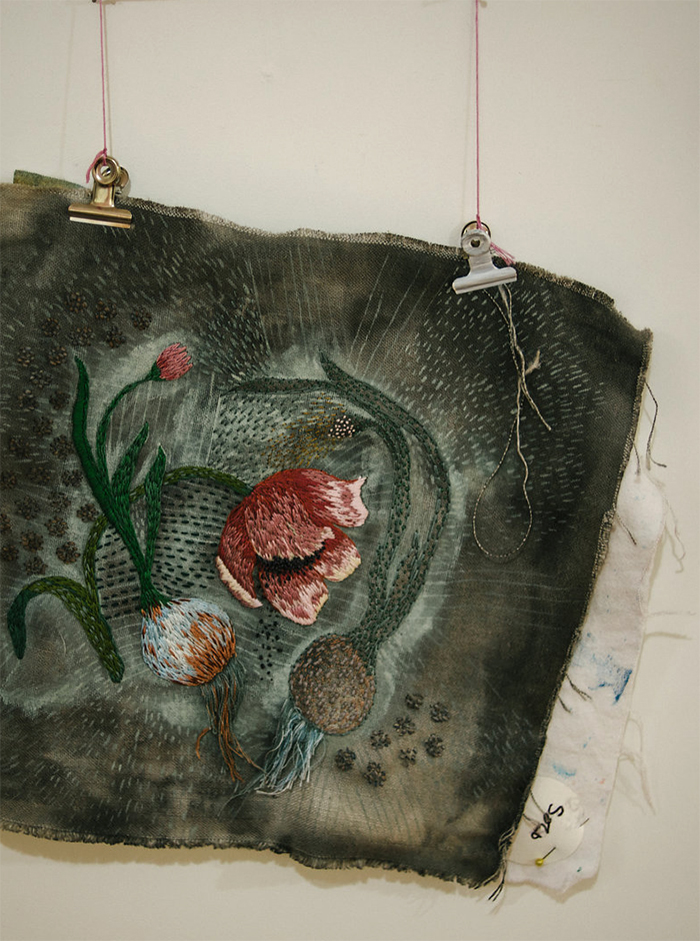 Where do you live?
We live in a lovely little 1950's (ish) farm cottage in rural Upper Moutere, 30 minutes from Nelson at the top of the South Island, N.Z. Our outlook is of rolling hills out to the ranges. Home is also my husband Cam and our girls Lil 8 & Saffron 6, our kitten Peaches, a couple of bunnies & chickens.
Where do you create?
Mostly at my studio-gallery space Woods & Co in Upper Moutere Village however our lounge, garden, garage and friends kitchen tables have all been invaded by my paints & threads.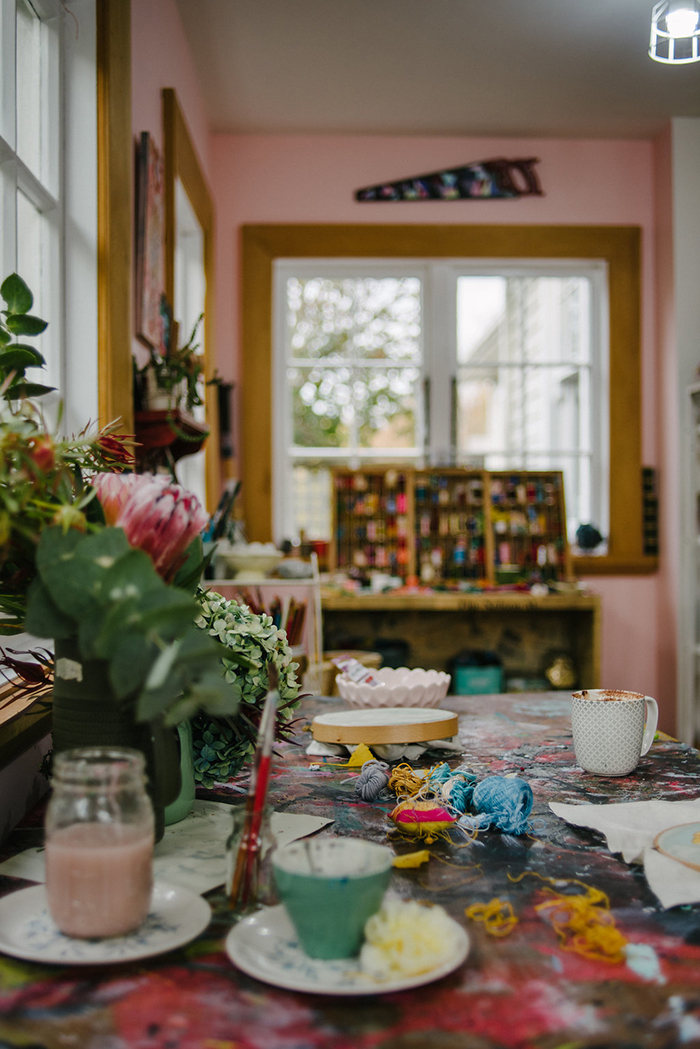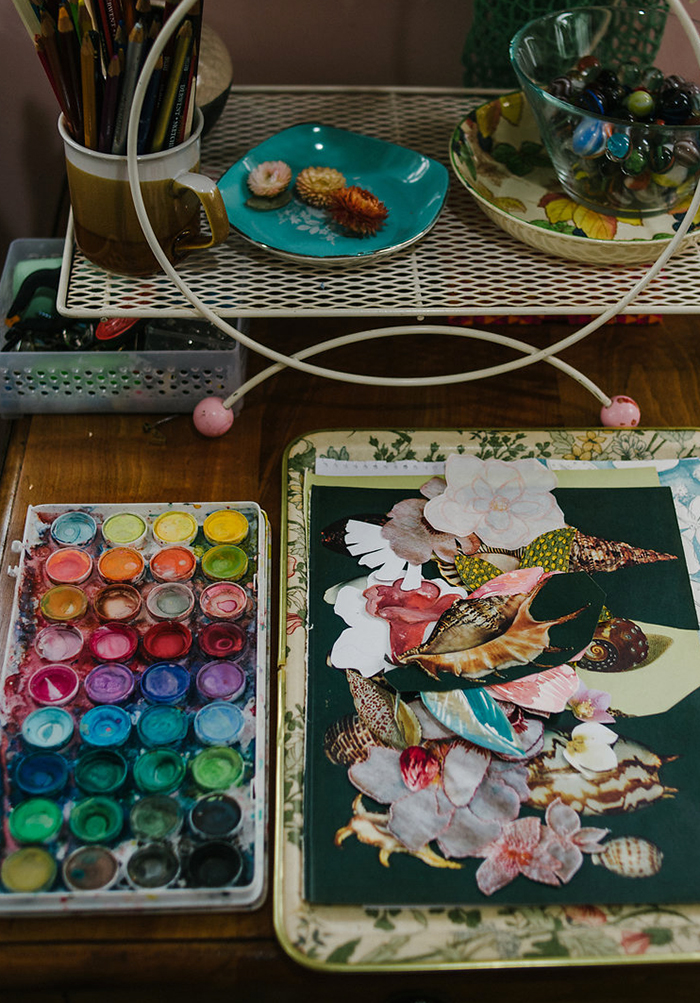 When do you create? Is it a full time job?
It's full-time +. I juggle work with being a Mum, so like most Mums I know am constantly trying to fit work in around the kids, so school hours & evenings are my most productive times. My work is very time consuming so I'd never want to actually add up the hours I spend creating plus running the business side of things.
What path led you to this creative place?
I like to think I was born to make stuff and tell visual stories. Art class was my haven in school. I worked in the corporate world for most of my 20s & had a couple of brief stints at Art & Design School but never completed a degree.
My 20's where also largely consumed by Crohns disease which was debilitating at times. Having an illness was a blessing in disguise as it gave me regular pause for thought and was probably a big part of me valuing my creativity as an essential part of my lifestyle. Becoming a Mum has also been really influential in leading my direction, trying to balance life family and work has made me take my creative time seriously and become a lot more business like.
There have been lots of twists & turns along the way but ultimately I'm here physically & creatively because I have some key people in my life who back me & my creativity 100%.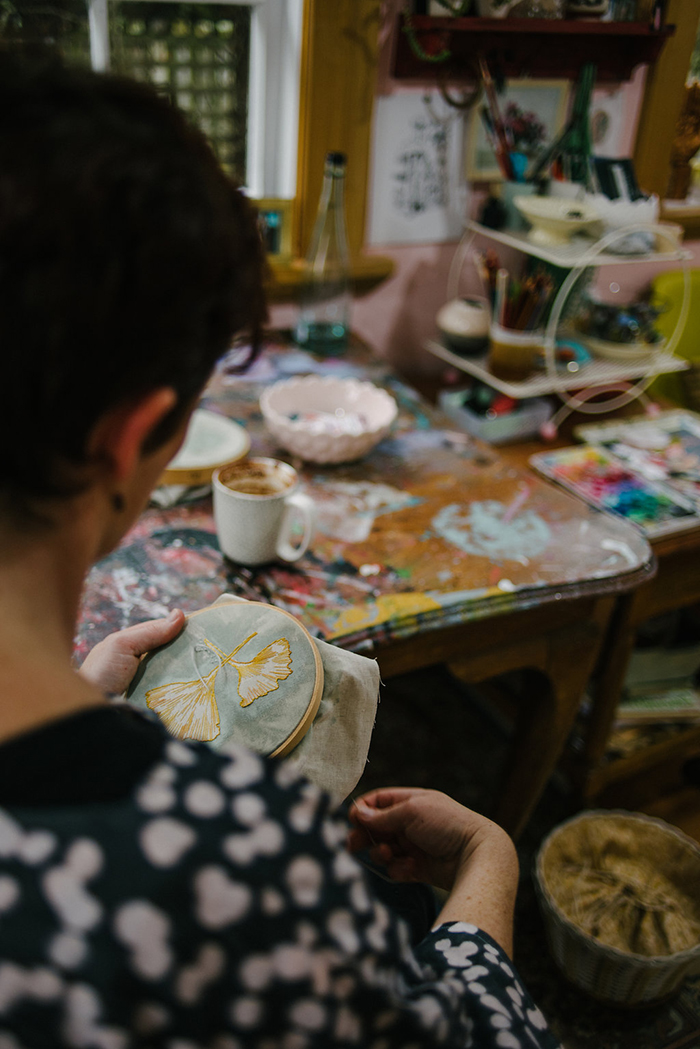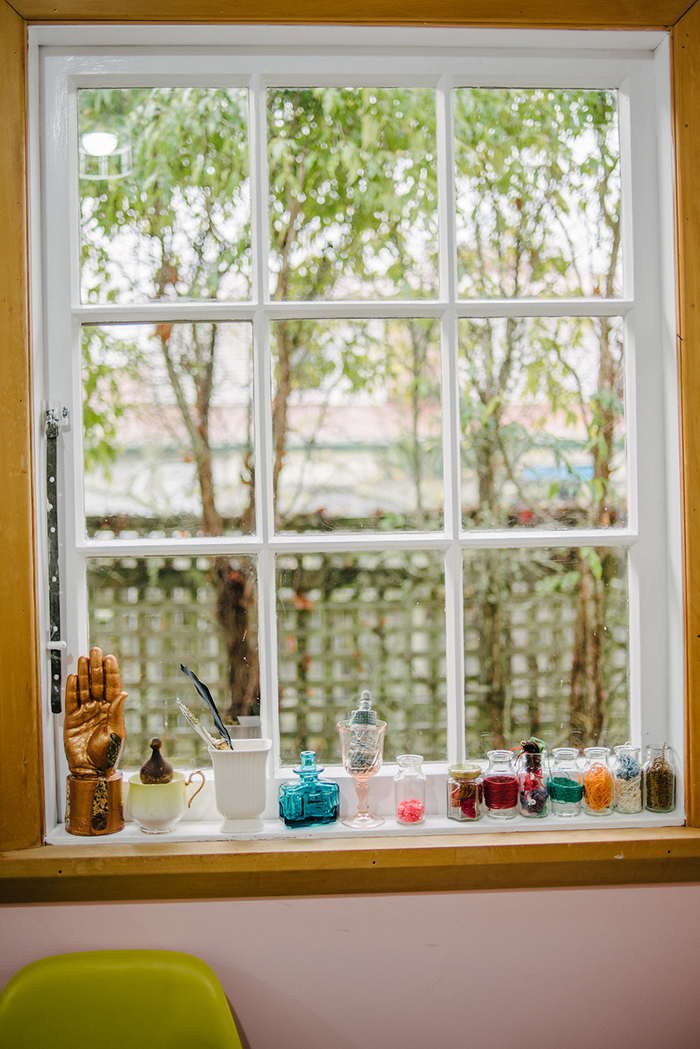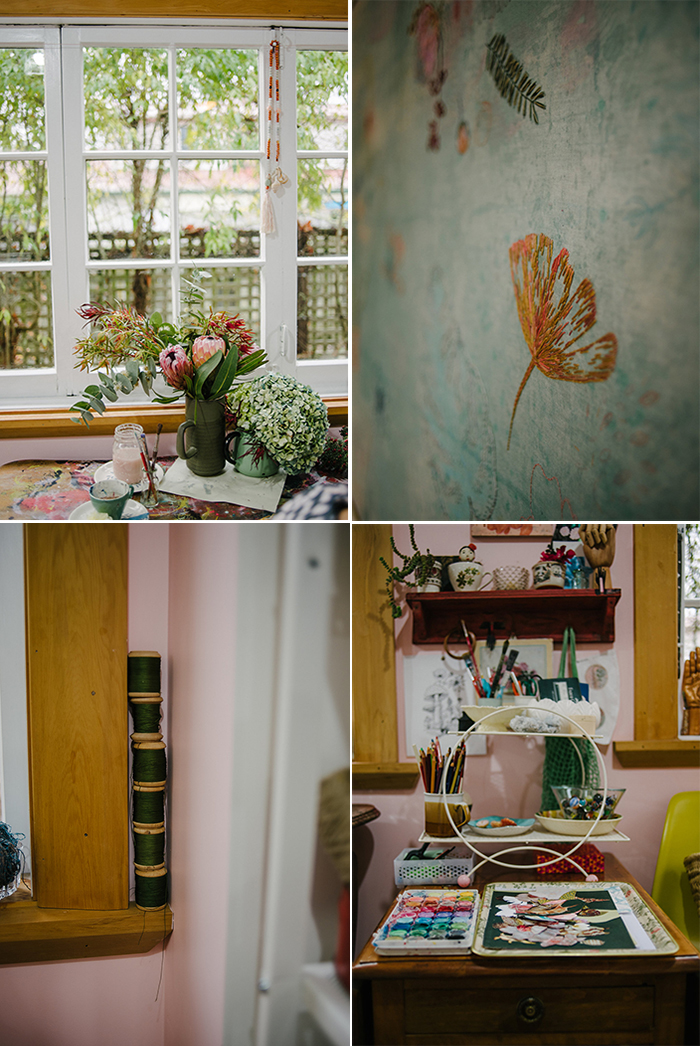 What's your elevator pitch? How do you describe what you do?
I create beautiful, intricate, contemporary stitched paintings inspired by nature.
How would you describe yourself in six words?
Kooky, kind, genuine, determined, brave and very creative.
Where do you find inspiration and motivation?
Literally everywhere. I'm a treasure hunter with a magpie eye. Foraging for flowers, beach combing, op-shopping. Pinterest & Instagram go without saying. As for motivation, creating is my sanity so it is it's own motivation. Making art is a way I can shine a light on the intricate and beautiful aspects of flora to elevate it and celebrate it. Sharing that curiosity and passion is a huge motivation for me.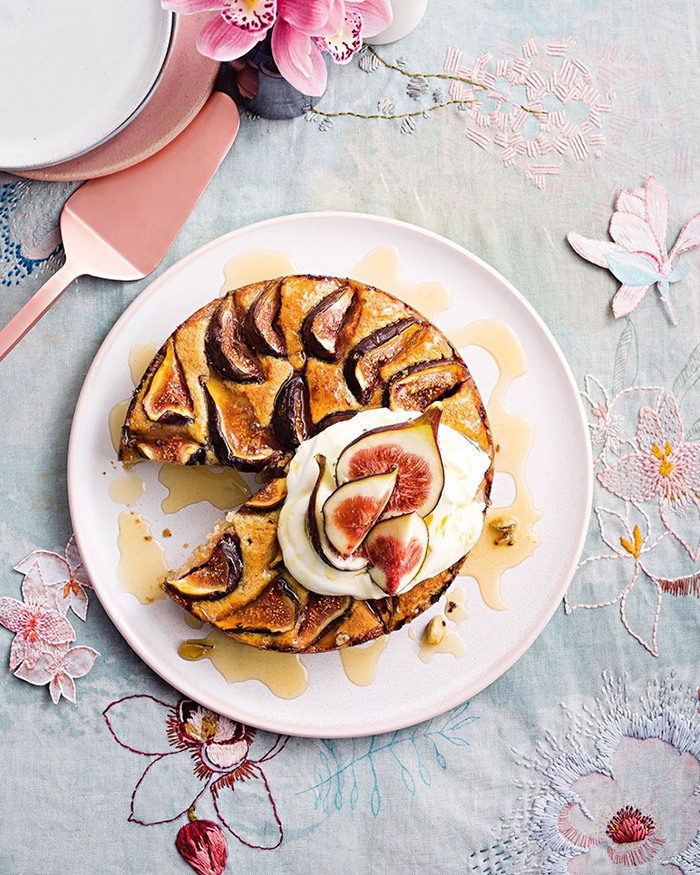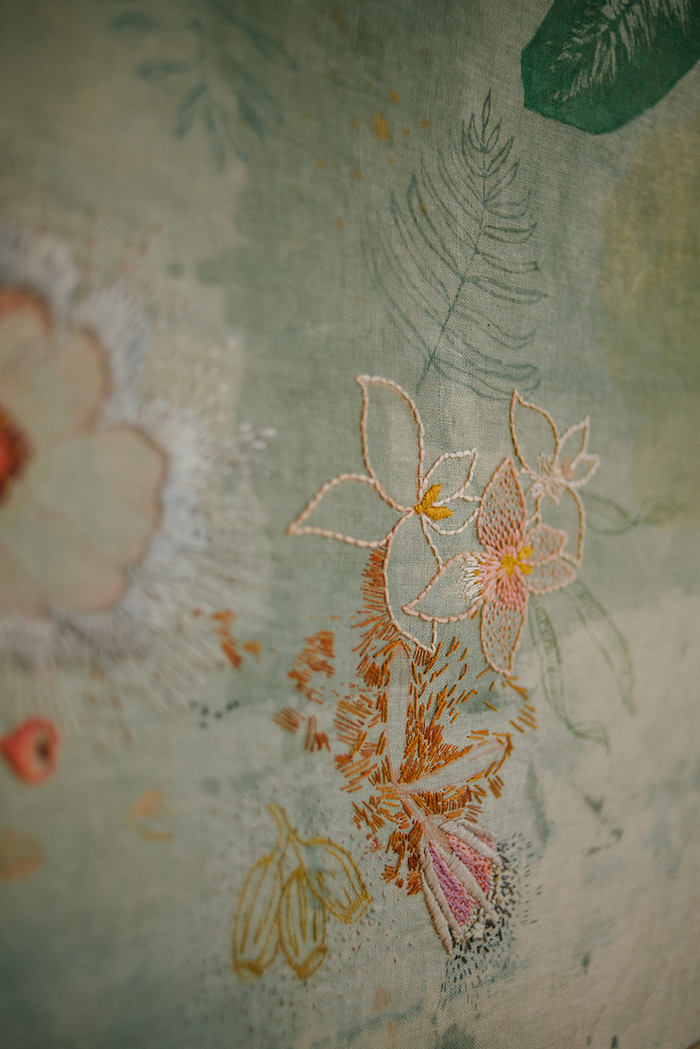 What are the essential items in your workspace?
Flowers, needles, thread, linen, paint, scissors, hoops/frames, tea/coffee/wine, tunes, WIFI!
Do you have a favourite tool that's essential to your work?
My fav needles, Bohin; Tapestry. They are sharp enough to pierce through my painted linen with a big enough eye for wool & embroidery cotton. They're also the only brand that I've never managed to break.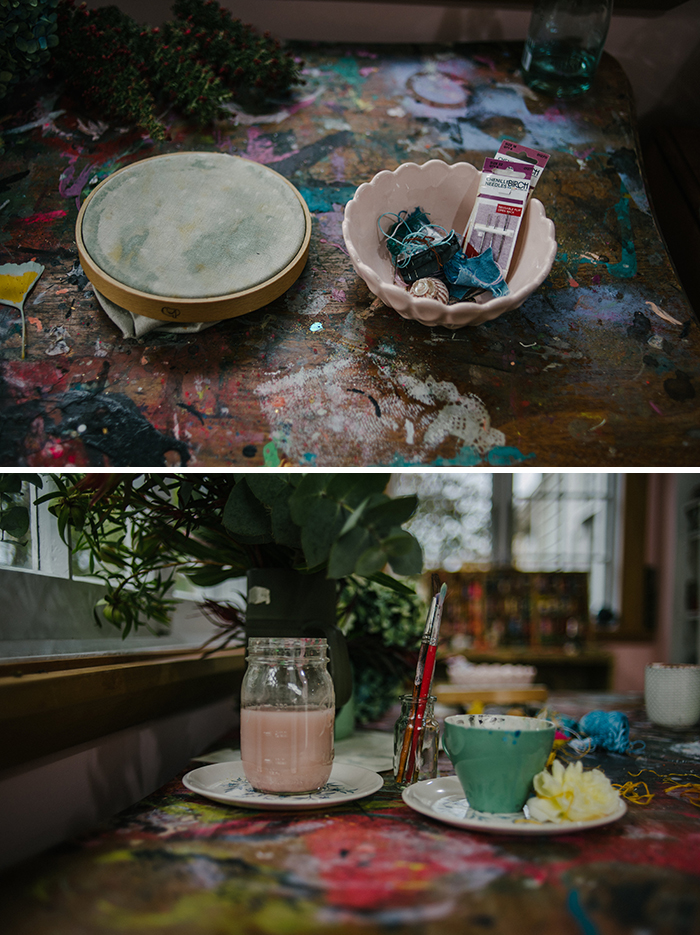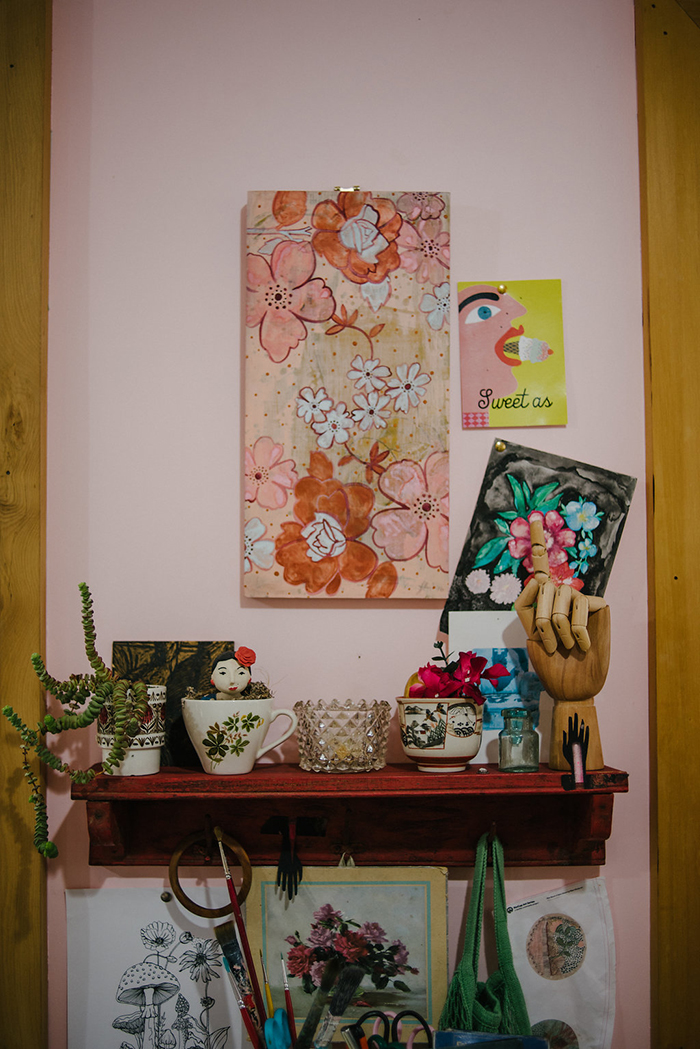 What do you love the most about your creative space?
The light is beautiful, glowing & just the perfect amount of bright… plus the fireplace in winter is a pretty massive bonus. It's also AMAZING having a barista under the same roof  – about 5 meters away in The Old Post Office Store – and a beautiful group of friends and fellow mum creatives who rock up for coffee at the store every morning and give me my human fix before I knuckle down. It's also a space that I renovated and have made quite personal so when people visit me they get a real sense of who I am.
Is there something you don't like, or would like to change?
Because my studio is also part of my gallery it's not really cool to rock up in my PJ's & binge watch Netflix…in an ideal world both things would be common place in all work spaces.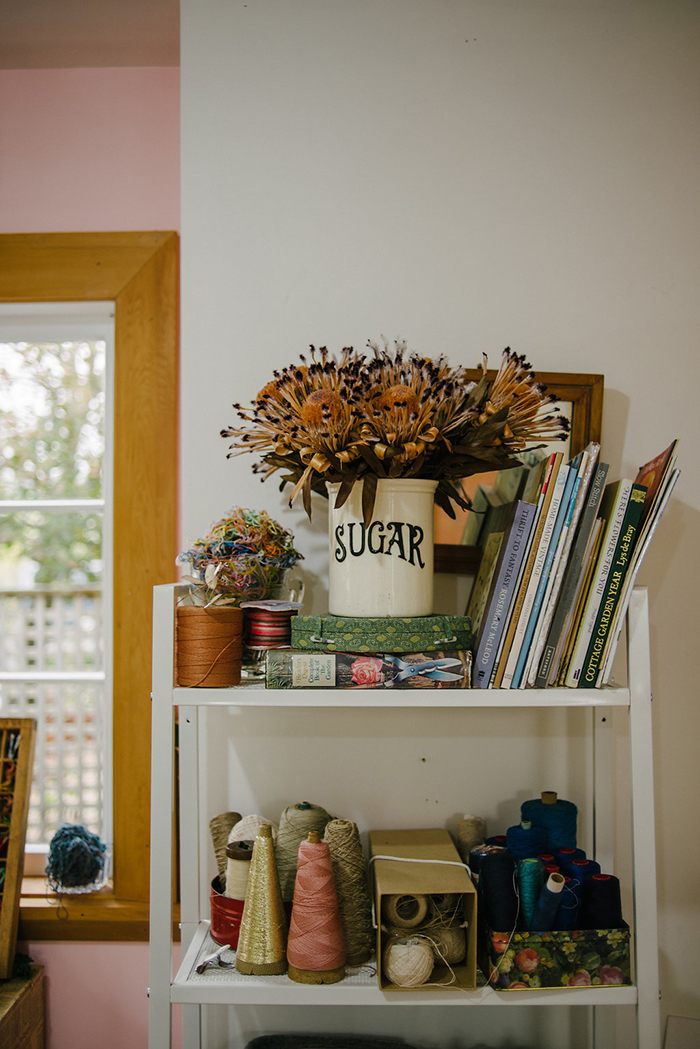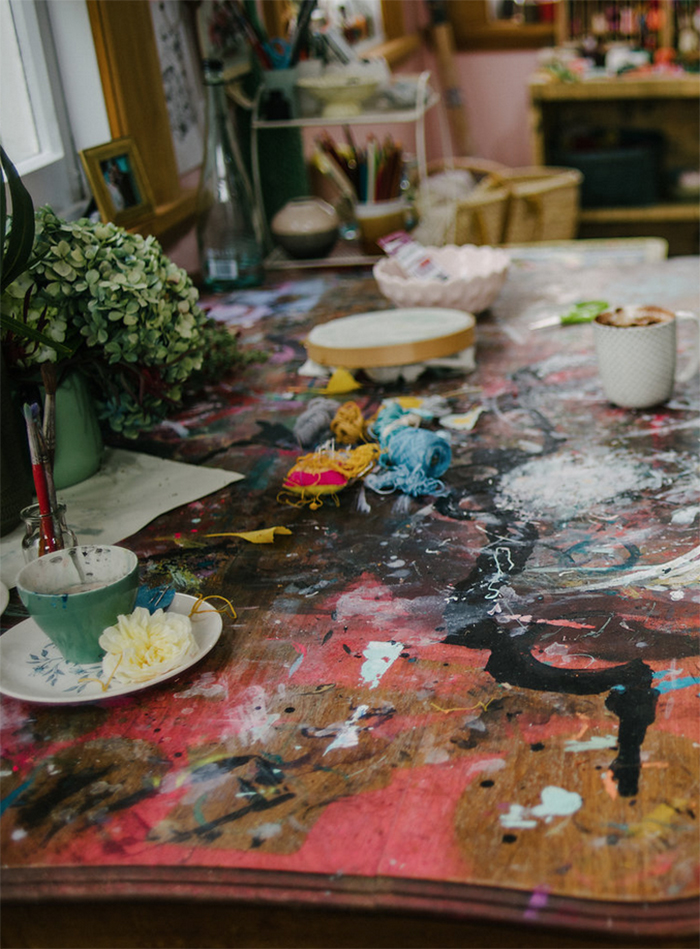 Do you listen to anything while you work?
I love listening to Art for your Ears podcast by The Jealous Curator. Pandora Radio…Christine & the Queens, Florence & the Machine, Little Dragon, Trinity Roots, Sola Rosa, are a few of my favs.
Favourite work-time snack (or beverage)?
Coffee! closely followed by Elderflower & Apple Tea.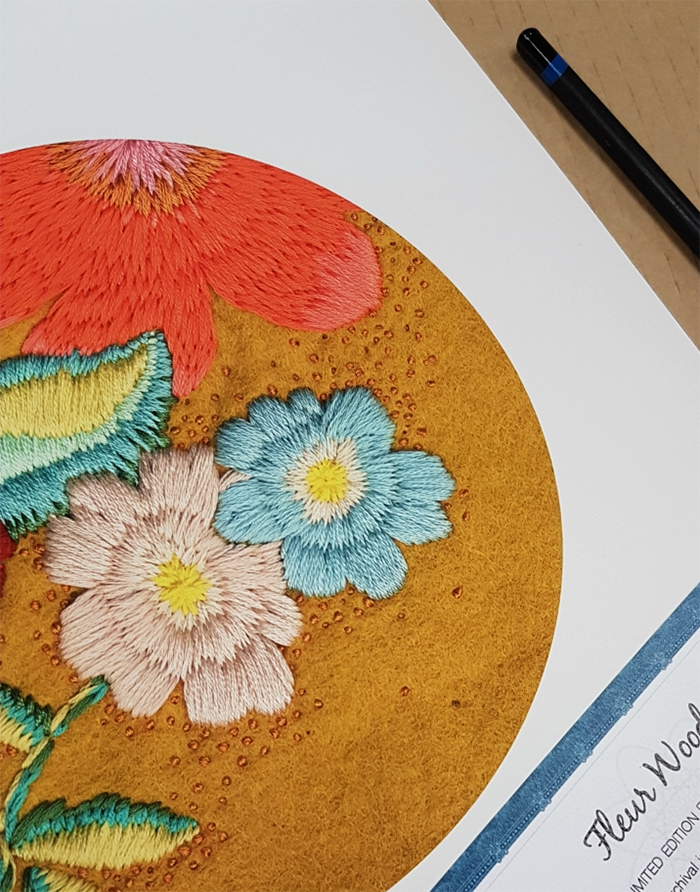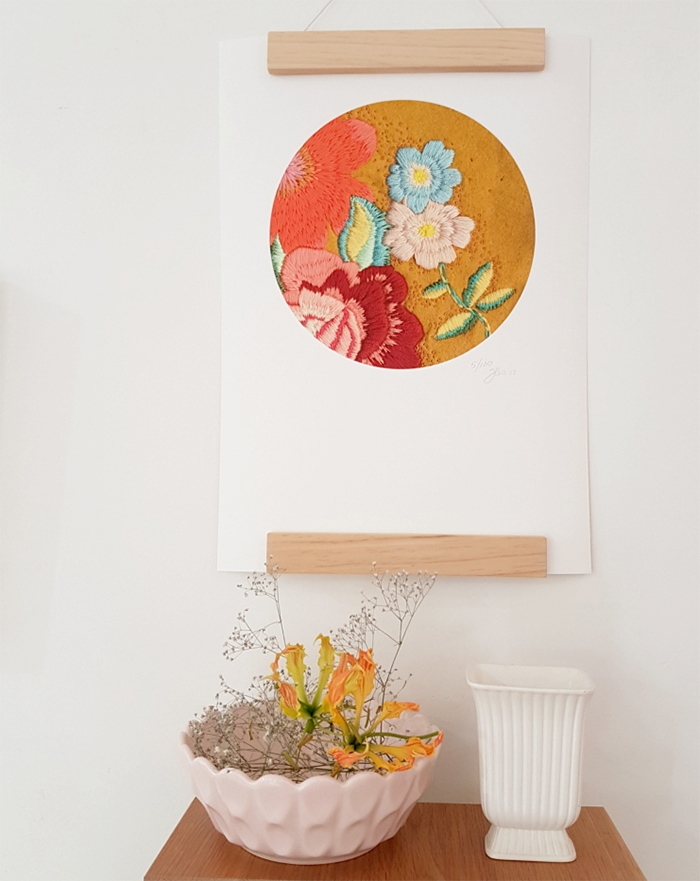 What would be your dream job or collaboration?
I pretty much already have my dream job that I am working really hard on to take to the next level – I have a really great little collab currently in progress. But the icing on the cake would be to collaborate with one of my favourite creative brands like Liberty Fabrics, Karen Walker or Designers Guild.
Who or what are your biggest creative influences?
A green linen table cloth stitched with white daisies by my great grandmother is one of my most treasured objects and has definitely influenced and connected me to stitching.
There's this great book called 'Thrift to Fantasy' by Rosemary McLeod that I have become quite attached to. It documents & discusses the hand craft of women in New Zealand from the 1930's – 50's. Such a celebration of women, their resilience and ability to create beauty wherever they are.
I have a natural affinity with nature – especially florals, patterns, texture & textiles. I'm also addicted to Instagram right now so much of what inspires me at the moment is found there. I follow loads of amazing creative feeds but a few of my current favs are (this is totally not my whole list of favs but it's waaaaay too long):
@lizlpayne  @parlourprojects  @wendy.matenga  @designersguild @studiohome @libertylondon  @tessa_perlow @matthewwilliamson @biancalorenne @primmgardens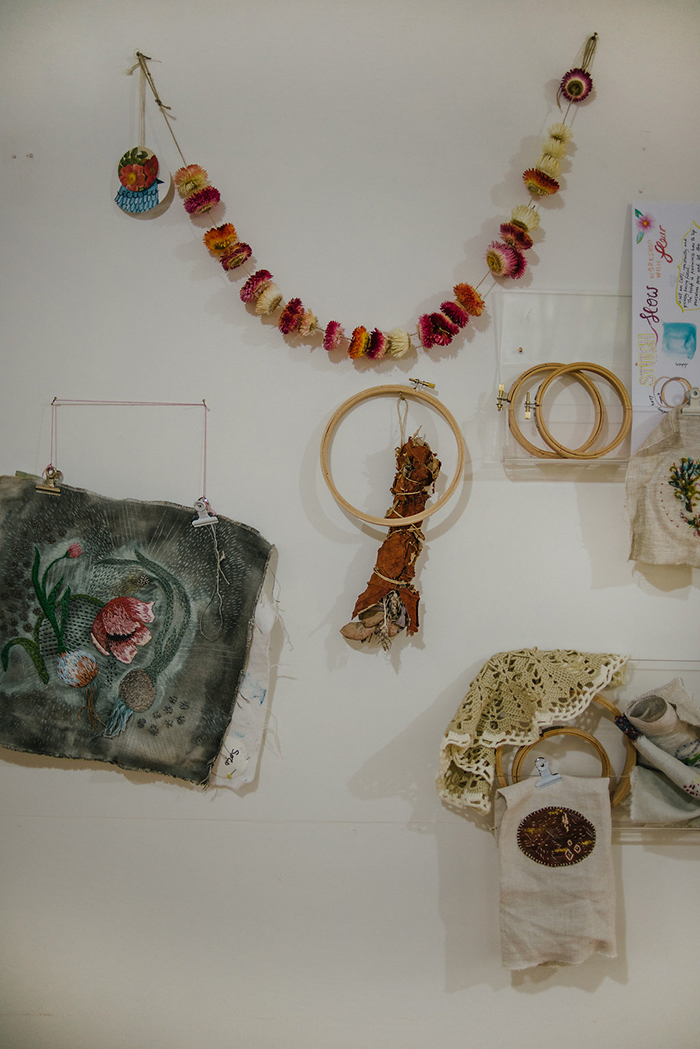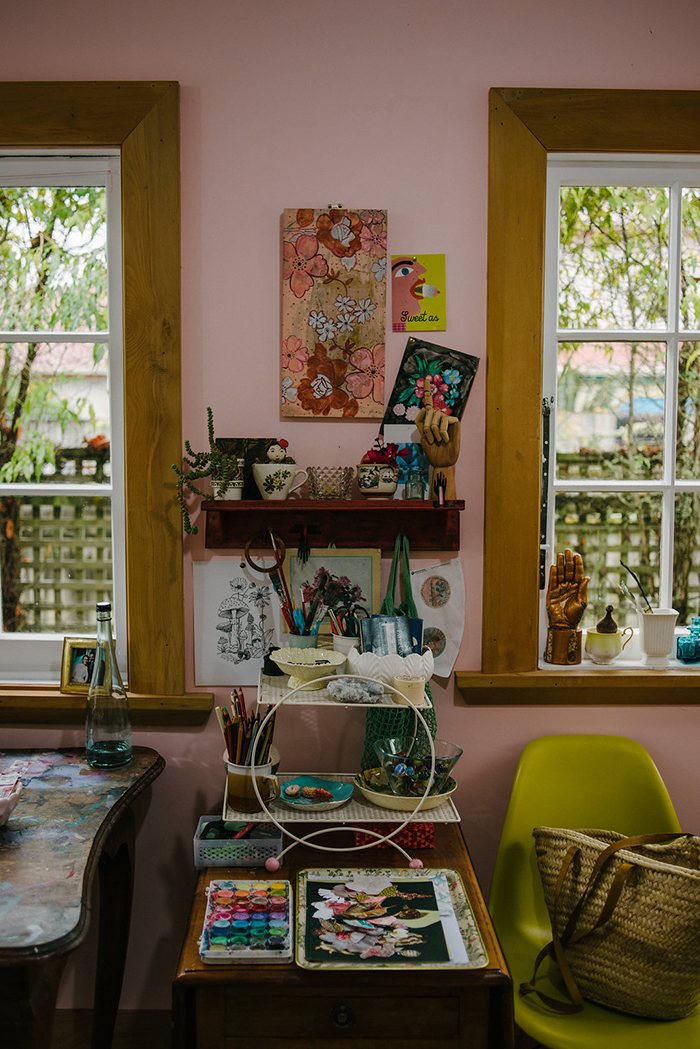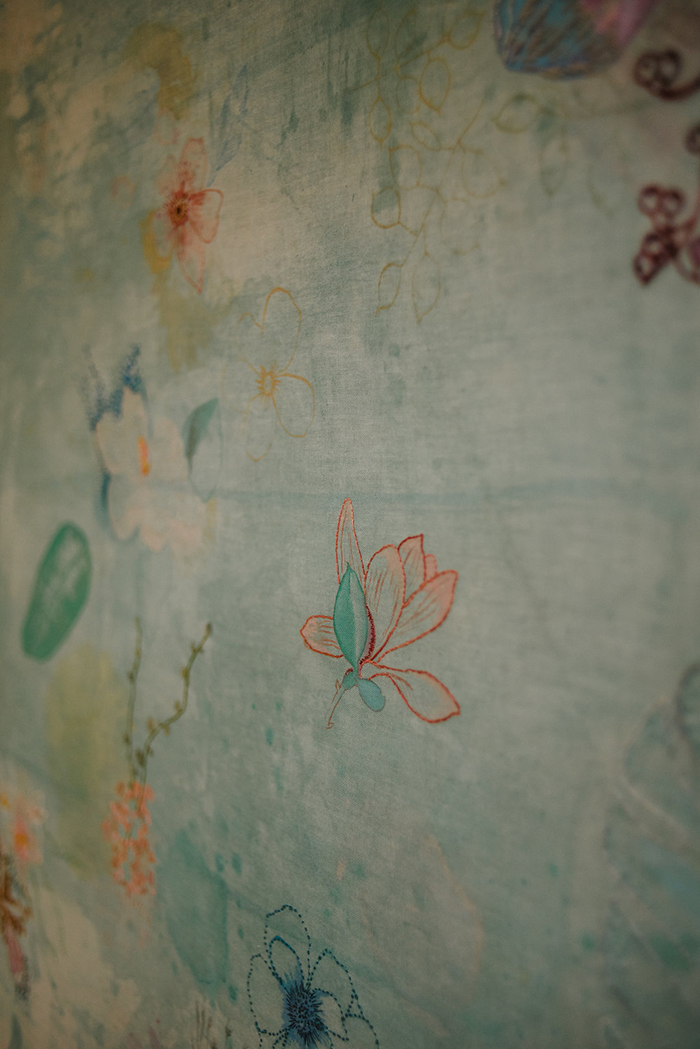 Tell us five online resources or apps you can't live without.
Instagram, Pinterest, Facebook, Etsy, Online Banking App.
What's the hardest thing about what you do?
It's a bit of a rollercoaster emotionally. I hate to sound like a tortured artist because I'm really not but when you put so much of yourself into what you do it makes it very personal so I think the successes feel bigger but so do the rejections.
Patience… when creating, collaborating etc… also something I have a love hate relationship with.
How do you work out the financial aspects of your business? What resources, tips and tools would you recommend?
This is truly my biggest area for improvement. I'm learning soooo much daily.
I find the number stuff a bit overwhelming at times. I have a very supportive husband who helps me suss things and has a much more logical approach to systems (I can hear him laughing that I'm even suggesting that I might have 'systems'). My accountant is seriously cool, the least accountanty accountant I've ever met, she works with lots of creatives so she gets my business.
My only tip is to keep it as simple as possible, if numbers ain't your thing then don't worry about all the fancy tools/systems, just keep good records & by that I mean keep EVERYTHING.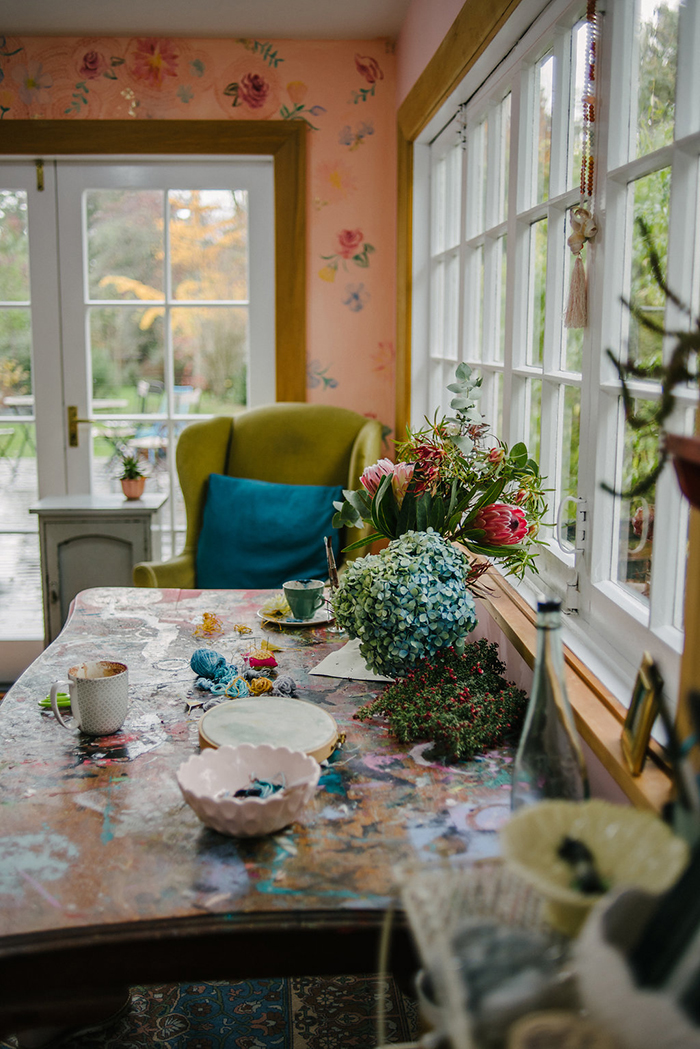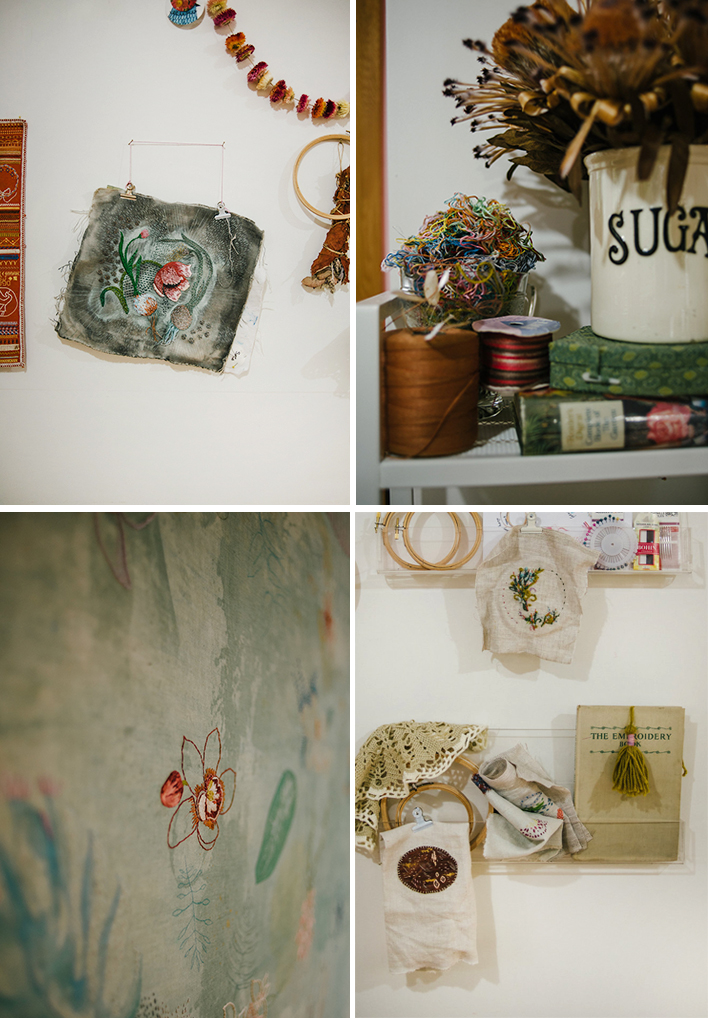 What advice do you have for aspiring creatives?
Be authentic, don't cut corners, enjoy the process. Never give up!
Do you have a dream that you'd love to fulfill?
My loftiest dream involves a large gallery space, somewhere fabulous in either the US or Europe (I'm not fussy) and the ability to spend a good chunk of time developing & creating large scale stitched paintings (maybe with assistants).
My everyday dream is to continue to evolve my practise to maintain a healthy living for me & my family.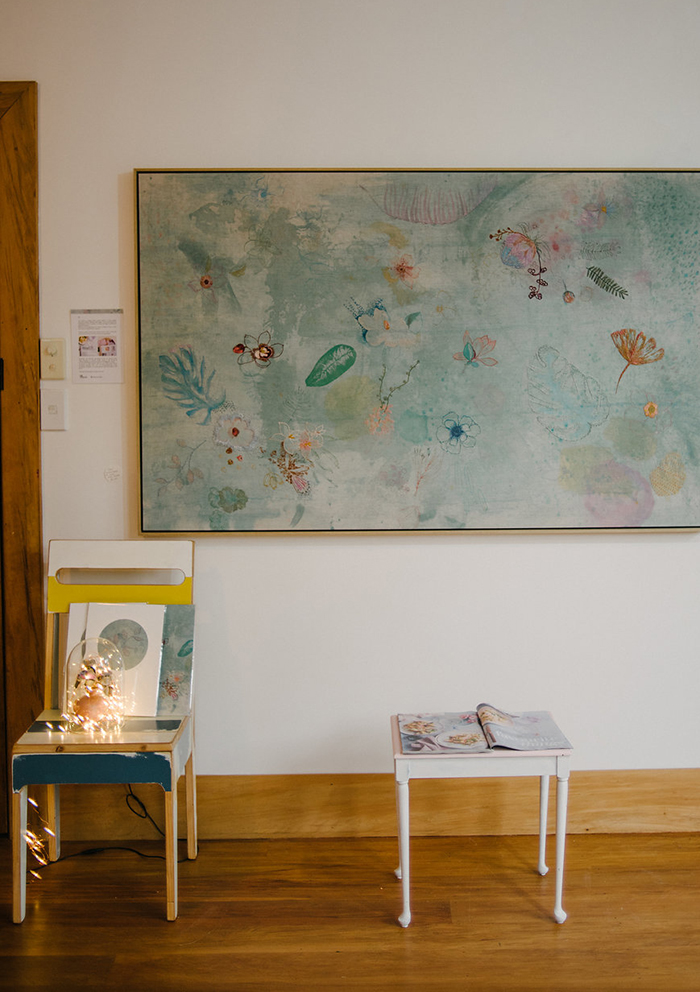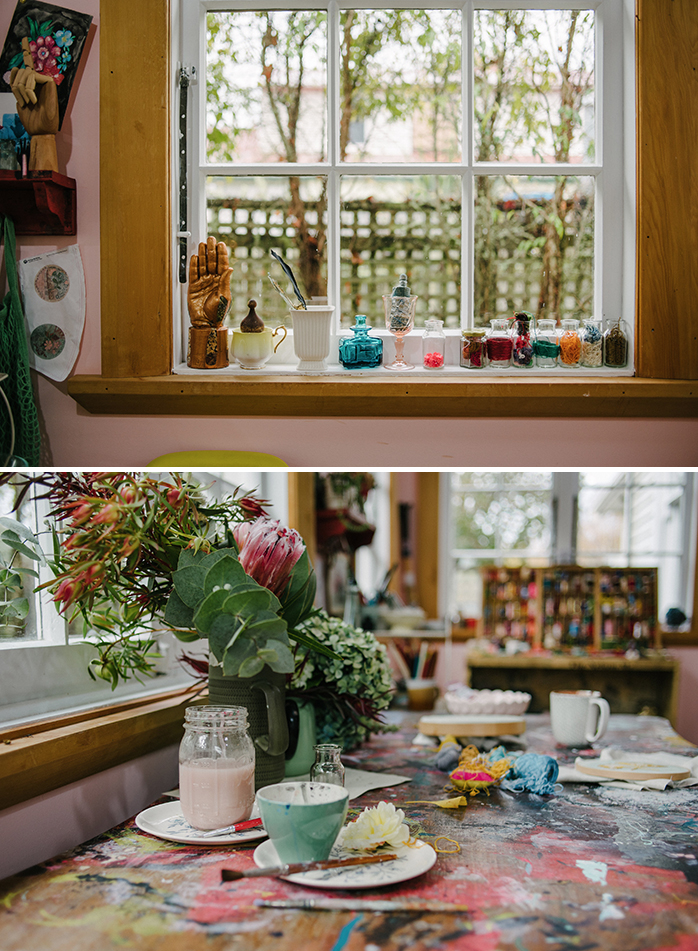 I hope you've enjoyed visiting Fleur Woods in her lovely creative space as much as I have. Visit Fleur's website and Etsy shop to see her latest works.
You can connect with Fleur here:
Fleur Woods on Facebook: @fleurwoodsart
and also on Facebook: @woodsandcogallery
Find Fleur Woods on Instagram: @fleurwoodsart
If you're in Nelson, New Zealand visit Woods & Co Gallery in Upper Moutere Village to see a current collection of Fleur's work see what she's up to in her studio.
To take a peek into a whole range of other artists' and creatives' lives and studios, visit the We Are Scout Space to Create archives.
Save
Save
Save
Save