It all started with a birthday gift of a weaving workshop in 2015. Now sisters Lauren and Kass Hernandez of Crossing Threads have become prolific fiber artists. Both on completely different full time career paths, the 'weaver-fever' they have both experienced has joined them in a new collaborative and fulfilling path.
The sister-duo's creations are textural, organic and intricate, often incorporating custom made beads and foraged items. In addition to Australian merino wool, carefully curated fiber and yarn selections often include things like upcycled upholstery or denim, and some pieces are made entirely from leftover scraps of previous commissions.
Meet Lauren and Kass…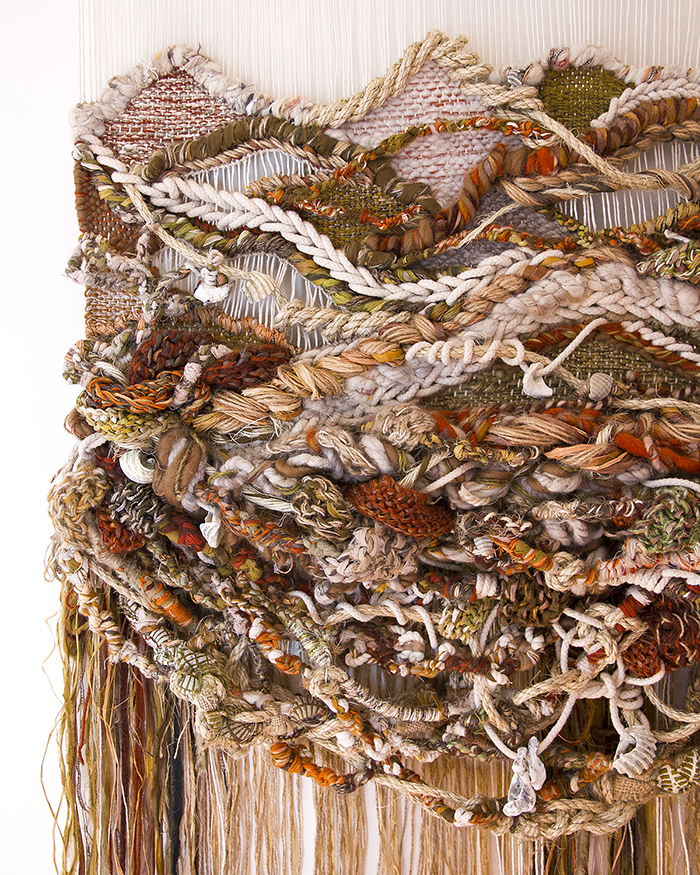 Where do you live?
Lauren: I'm based in Zetland, a great spot in inner-east Sydney, super close to all the hot spots that Redfern, Alexandria, Waterloo and Surry Hills have to offer, plus easy access to the bike lanes to Centennial Park. There's a good balance between the developed living clusters like East Village and charming terrace houses that have been here for years. I love how nearly every street is lined with gum trees and native flora. Mother Nature still prevails in the inner-east and lucky for me, my street is super quiet and I'm only woken by birds chirping loudly in the mornings.
Kass: I live in Ashfield, an inner-west suburb in Sydney. I live in an Art deco brick apartment with high ceilings and 1920's charm. Ashfield is a leafy multi-cultural place that is close to the city, yet has the nostalgic, suburbia feel.
Where do you create?
Lauren: I literally create in my bedroom. There's a blurred line between where I sleep/rest and work. Lucky for me, my bedroom has enough floor space to set up my loom and computer desk. It really is my temple, filled with gorgeous textiles, ceramics and keepsakes I've collected across the years. Due to this shared living and work area, I have become an enthusiastic user of the vacuum as there is quite a lot of fibre built-up. The lint brush works wonders too!
Kass: I create weaves in my living room and sunroom, where I work, rest and play. It is filled with my beautiful textile collections and remnants that I have picked up from my travels. It is our dream one day to set up a studio to have a dedicated space for all our practice, but for the moment, it'll do.
When do you create? Is it a full time job?
Lauren: I currently work full-time as a Designer at an ad agency and have been working in the advertising industry for over 7 years. Ever since school, I've led the life of a 'creative slashie' – practicing in the areas of fashion blogging and photography, interior styling and collaborating with my creative friends on various projects.
In founding Crossing Threads with my sister, time management is crucial; I really do have 2 jobs. My current full-time role is very demanding so as soon as I get home from work, I'm either weaving, preparing social media content, responding back to emails, networking or doing general admin for the business. Weekends are the prime-time for Kassy and I to get most of the work done, in particular shoot content or get IN some solid weaving sessions. It's non-stop and an ongoing challenge to find the right balance of Job #1 / Job #2 / rest / play / relationships / and time to yourself!
Kass: I work full time in a project delivery role for an Australian financial market vendor based in Martin Place. I have been working in financial services industry for over 5 years and the corporate environment is a stark contrast to the creativity I employ in my weaving. Although I thoroughly enjoy my full time profession, every other waking moment that I am not spending time with family, my partner or practicing yoga… I am weaving! After work and during the weekends are the prime times when I can get express myself through this creative outlet and practice mindfulness after a busy day at work.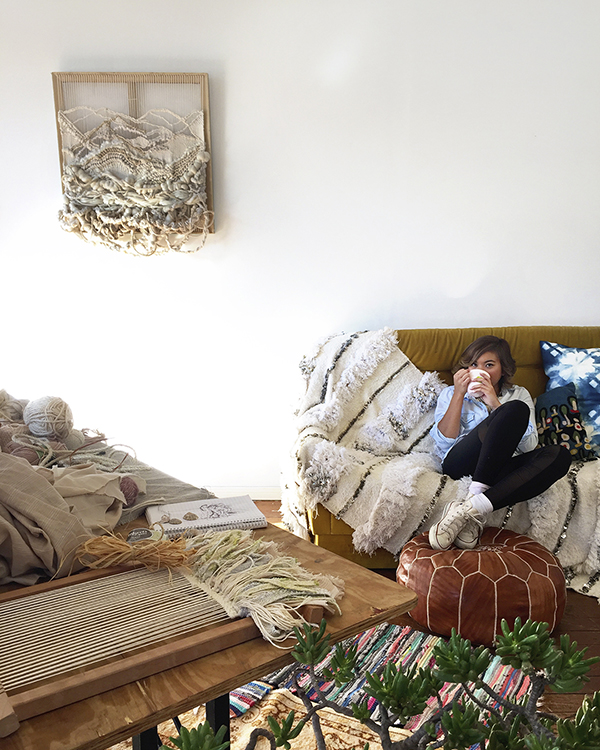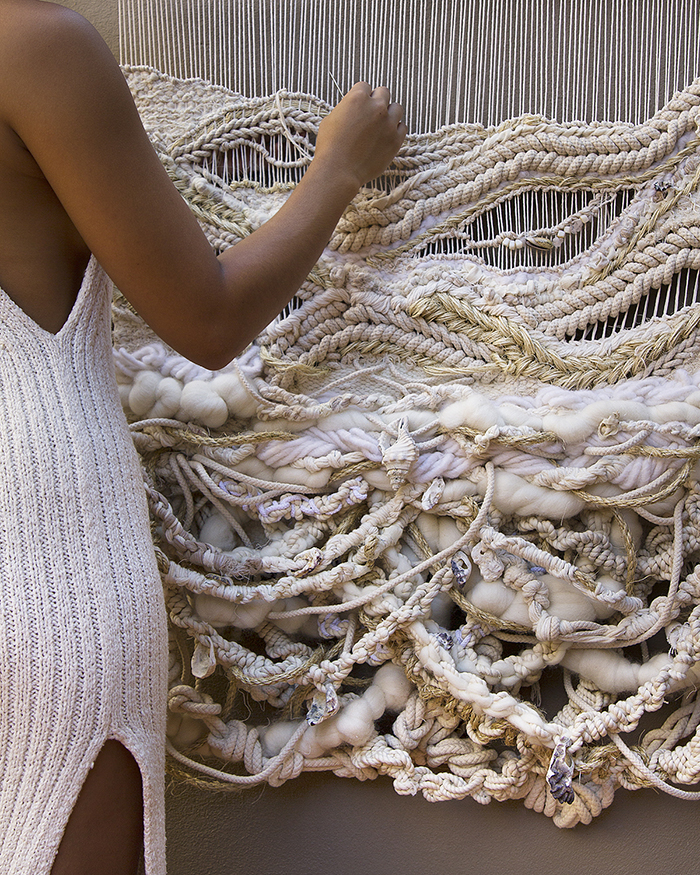 What path led you to this creative place?
Lauren: I'll let Kassy answer this one!
Kass: In early 2015, I bought Lauren and I a weaving workshop with Natalie Miller for her birthday. It was hosted in Koskela, Alexandria. Growing up, my sister and I have always shared a passion for art and textiles and this was another opportunity for us to bond and learn something new together. We immediately caught 'weaver-fever' as they say, and started to experiment with fibre and find our own aesthetic and style.
Given that we both lead totally different career paths, it has been a serendipitous surprise that Crossing Threads has grown to be a hungry, successful side business. What drives me to create is the meditative feeling that I get from the practice that provides such a fulfilling balance to all other aspects in my life. For Lauren, Crossing Threads has been a platform for her to practice her accumulative experience in Creative Direction, Social Media Strategy, Content Creation and Styling, not to mention allow her to express herself creatively verses her full-time commercial role in advertising.
What's your elevator pitch? How do you describe what you do?
Crossing Threads is the collaborative work of Lauren and Kassandra Hernandez, Australian-born sisters of Filipino heritage based in Sydney. The sister-duo creates handwoven fibre art that is distinctively highly textural, organic and intricate. Both leading full-time careers in advertising and financial services, Crossing Threads was originally born 'a passion project' in April 2015 but evolved into a hungry and successful brand that celebrates the revival of the hand-made through a 'Gen-Y' lens.
Each piece is an extension of their dual personalities and contrasting abilities. Heavily inspired by the beauty found in Mother Nature and Australian landscape, the sisters aim to cross the boundaries of woven wall art by experimentation and use of sustainable fibres. Their carefully curated fibre selections involve Australian Merino wool, plant-based fibres, up-cycled fabrics, roping and other foraged items that aren't traditionally used in fibre art. Their practice have led them to develop their recognisable 'interknot' technique, made up of interwining hand knotted chains of varying texture and thicknesses.
Crossing Threads aims to inspire, evoke emotion and conjure up memories; celebrating the innate connection that we are all threads that make up the tapestry of life.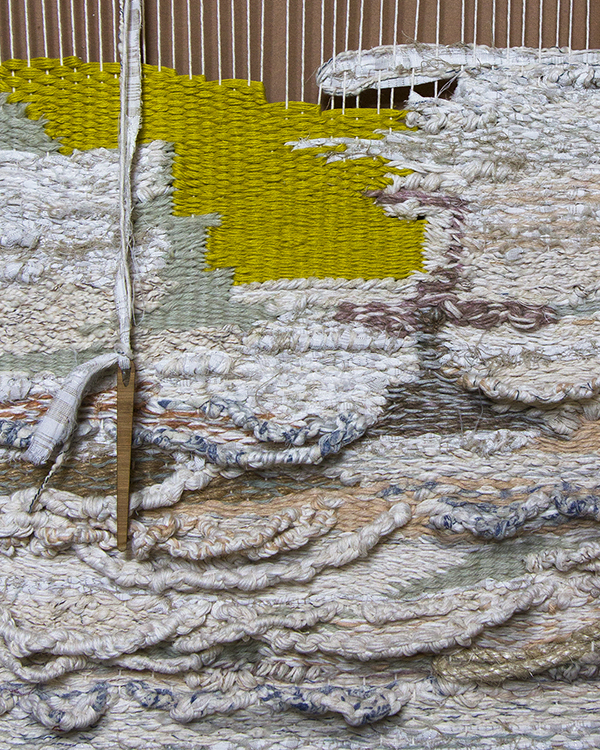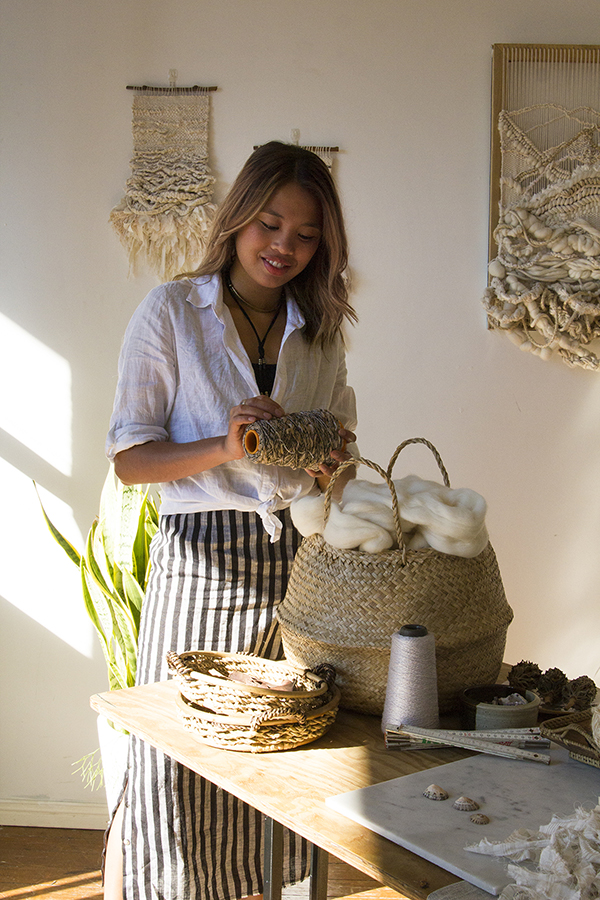 How would you describe yourself in six words?
Lauren: Results-driven, committed, passionate, emotionally-transparent, productive and kooky.
Kass: Driven, organised, sensitive, enthusiastic, passionate and playful.
Where do you find inspiration and motivation?
Lauren: I've always been a creative person since I could remember. To see an end result is something I always strive for; to see my ideas come to life and realised, knowing I am the sole creator behind it. It purely is self-expression and the process itself, it just as important as the end result. Since I exercise my creative muscle in my full-time role in advertising, weaving has become a different creative outlet. For more than 8 hours a day, I literally push pixels around on-screen, and to finally have something tangible in my hands like fibre, it brings me peace. It's almost like I have to put down my day-to-day tools… and then immerse myself into something new yet familiar.
I am inspired by utmost everything. Mother Nature, beautiful vignettes on my walk to work, music and friends that I find empowering and pushing themselves out of their comfort zone.
Kass: I draw inspiration from the various textile pieces that I have collected from my travels. From the craftsmanship used to create such pieces, to how they interact with each other, this is always the balance that I strive to achieve in my work. The neutral palette is one that I thoroughly enjoy working with. It challenges us to create depth and contrast through a variety of textures. Foraged, knotted, woven and interwined = 'interknot', a technique that I created through experimentation and one that has become a distinctive signature look for Crossing Threads. The meditative process and how weaving makes me feel 'present' in the moment is what motivates me to create, and I just can't stop!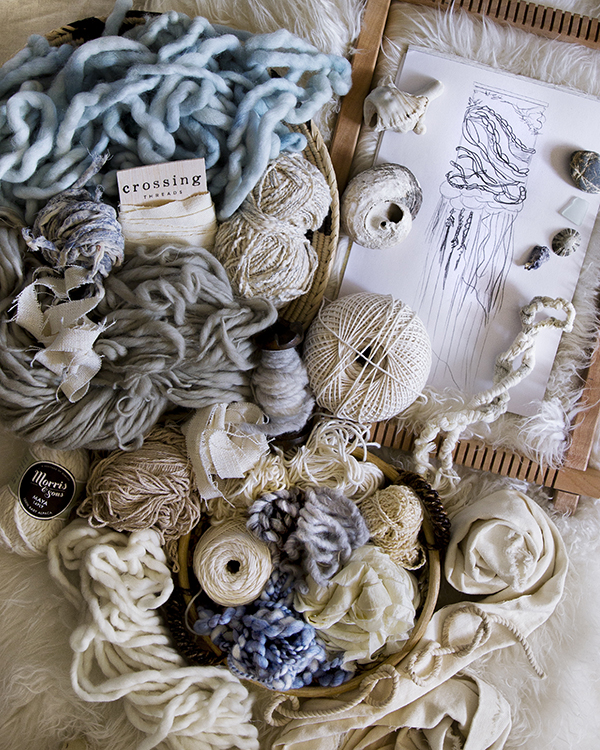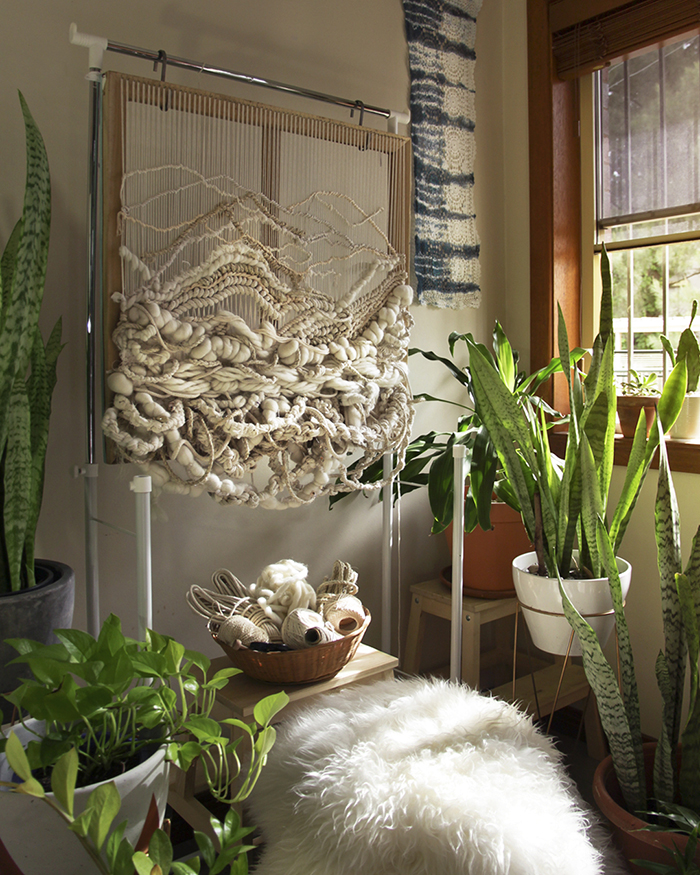 What are the essential items in your workspace?
Lauren: My looms, weaving tools and necessary fibres, my computer which gives me access to music/internet and Netflix! Oh yes, burning candles too!
Kass: My looms, weaving tools (scissors, needles, weaving comb), fibres and snacks!
Do you have a favourite tool that's essential to your work?
We love to support Australian Merino wool growers such as Nundle Woolen Mill, they are one of the last woollen mills here in Oz and their roving and wool is truly something special! Other Australian businesses we are proud to support are Morris and Sons, a family-owned business whom produce a mix of quality fibres. Whenever we have the opportunity, we love to repurpose clothes from op-shops and use up-cycled fabrics we've found rummaging through Reverse Garbage to create hand-torn texture throughout our weaves. More recently, we have collaborated with local Aussie fibre makers where we have supplied our cut-off scraps to be handspun into bespoke, one-of-a-kind yarn! We find this truly amazing as it really is a sustainable way to ensure we maximise the use of our fibre.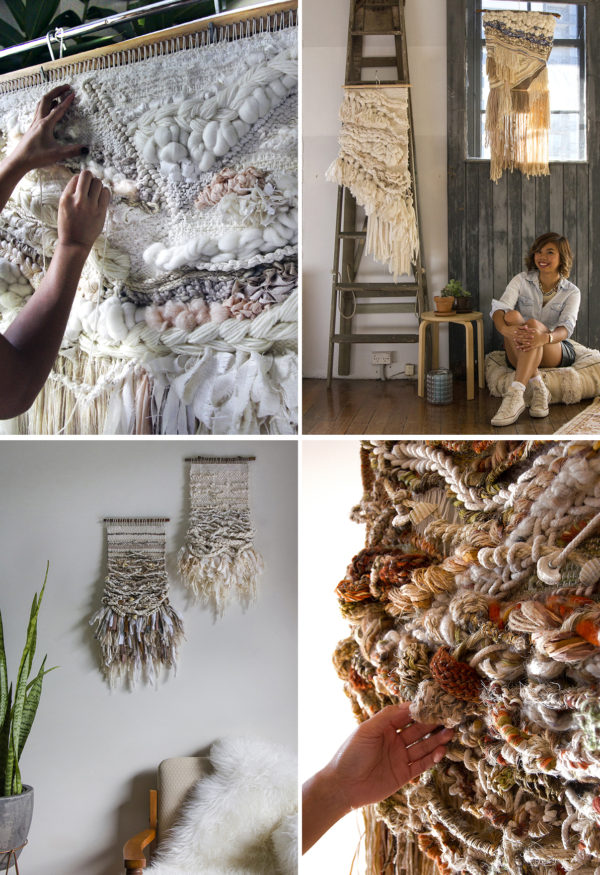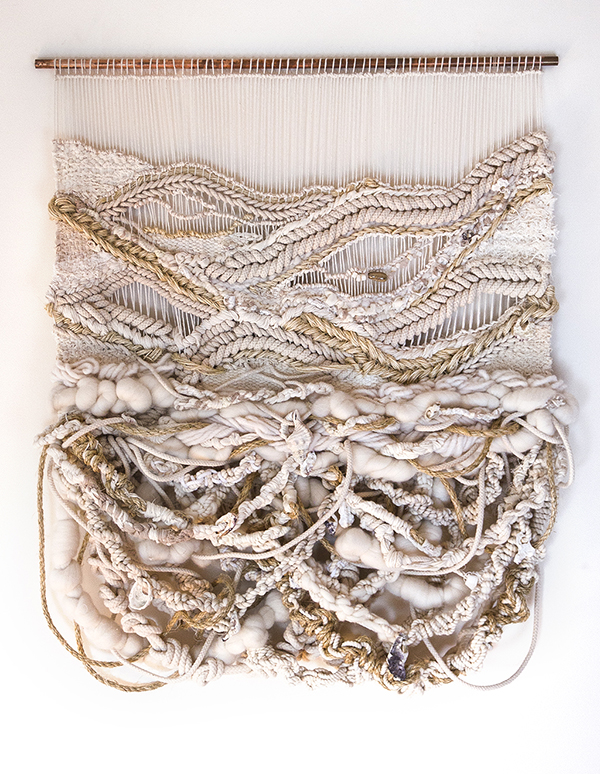 What do you love the most about your creative space?
Lauren: Even though I don't have a dedicated 'studio space', I'm used to living in this multi-purpose bedroom. It is what you make it! As long as there is bright natural light and privacy, I'm a happy girl.
Kass: I love my creative space, as it has always been a haven to relax and wind down after a long day. And who doesn't love jumping out of bed to start weaving whilst in your pyjamas!
Is there something you don't like, or would like to change?
Lauren: How about more hours or yet days in the week?!! One thing I lack is time. Time is everything to me… I just think if this is what we're doing now with full-time jobs… what can happen if Crossing Threads ever becomes a full-time gig?!! The possibilities have certainly entertained both Kassy and I, but it's all about timing.
Kass: Given that we are yet to obtain a 'studio space', it is our dream in the future to find a 'temple' to dedicate to our weaving practice. At the moment, our work is created at either my house or Lauren's and the storage of materials at times can be overwhelming. But through planning and communication we make it work.
Do you listen to anything while you work?
Lauren: I usually listen to one of my curated playlists on Spotify or Audible books. My taste is quite varied depending on my mood. It may be my all-time favourite Aussie band The Jezabels, a lame romance-comedy on Netflix or a thrilling crime-fiction on Audible.
Kass: I listen to Bon Iver, Ben Howard, Kaytranada and Allen Stone. I also put on documentaries that I find really interesting or alternatively watch the awesome shows on the Food Network that always inspires snack breaks in between weaving sessions.
Favourite work-time snack (or beverage)?
Lauren: Coles Fairtrade Organic instant coffee… please don't judge. Or tea!
Kass: Hummus and vegemite toast. Coconut infused green tea is always a must.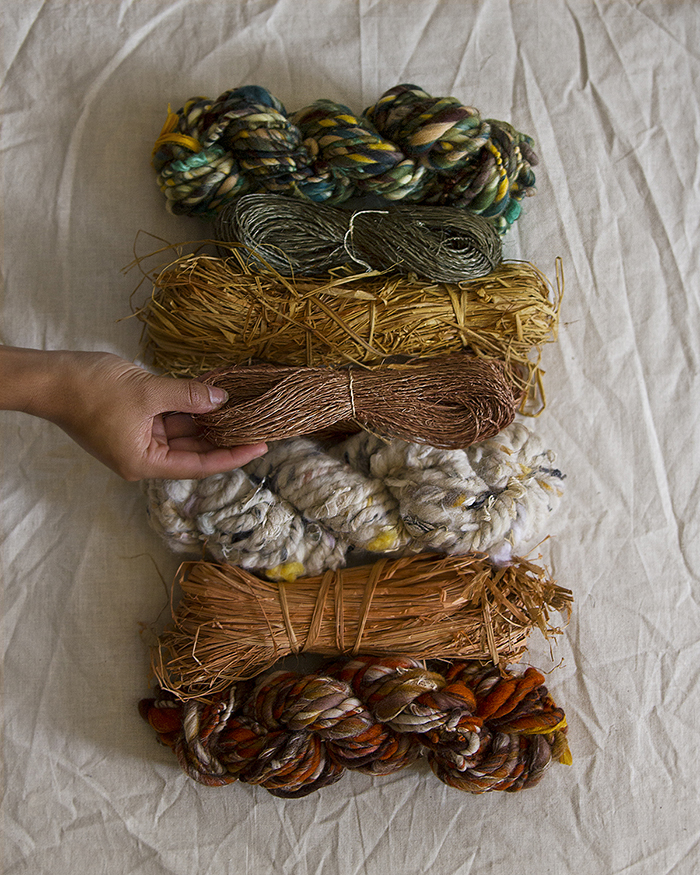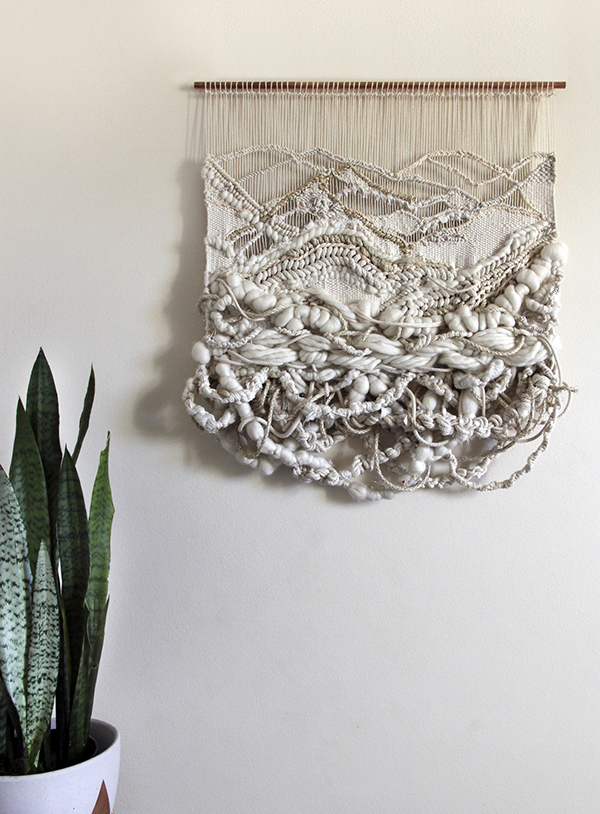 What would be your dream job or collaboration?
As our full-time roles and Crossing Threads divide our time, we are always self-regulating where each of us is at with our level of commitment to Crossing Threads. To share a passion project with a friend, let alone a sibling, you cannot ignore the constant shifts in perspective and desires one has for the business. We are still individuals, and as long as we are aligned and are maintaining a healthy balance, the effort we put in will be rewarded and good things will come. We're both realists in this sense, though are welcome to such opportunities if they align with us.
The bigger picture for Crossing Threads is to scale the business and incorporate traditional Filipino techniques and fibre practices of our heritage into our work. Hopefully one day we can give back to our Motherland and set up a social enterprise, which enriches families of Filipino craftsmen/women.
Who or what are your biggest creative influences?
Lauren: Josep Royo, Adam Pogue, my partner Tim and Kassy of course! You gotta bounce of each other!
Kass: Sheila Hicks, Natalie Miller (as she was the first person that taught us how to weave!)
Tell us five online resources or apps you can't live without.
Instagram: We constantly draw inspiration from other talented fibre artists across the world. It also provides us a forum to connect with other artists and our international clients. Nearly all of our commissions are generated from our connections via Instagram as we have no paid advertising.
Toggl: A great time management app which allows us to record the amount of time we have incurred to create our work and help us cost accordingly.
Iconosquare: This provides us with in-depth analytics of our Instagram engagement and reveals indicators to help us reach our targeted audience more effectively.
Gmail: Our preferred email platform! It syncs our calendars and is key for all communication
CommBank: Our preferred bank of choice! Helps us track our finances and cashflow.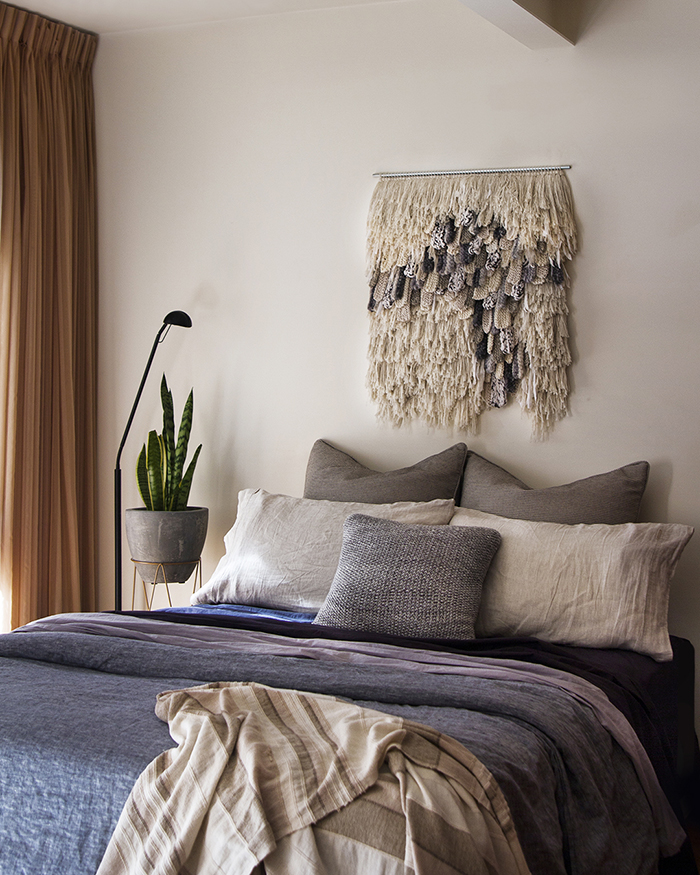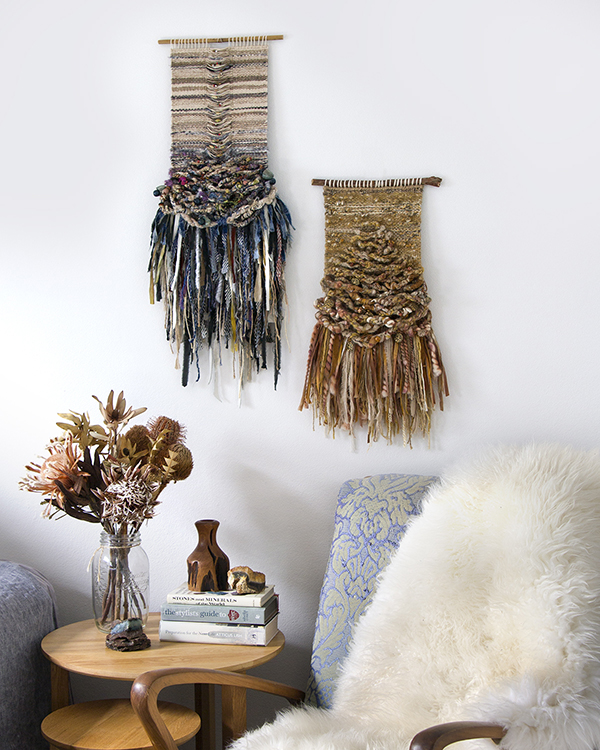 What's the hardest thing about what you do?
Finding the time to actually create and run Crossing Threads outside our full-time careers, family and other commitments. Communication and forward planning has helped us achieve those milestones and it is exhausting to keep juggling whilst not burning out.
How do you work out the financial aspects of your business? What resources, tips and tools would you recommend?
Just like any business having a separate business account and keeping record of your budget and cash flow is key. We always invest our earnings back into the business and see it as an opportunity to better our practice or learn new courses that give us inspiration for new techniques and fibre innovation.
What advice do you have for aspiring creatives?
It is never too late to start creating and pushing yourself to pursue things you love to do or simply want to do! Through hard work, commitment and always being "hungry" there is no boundary you cannot surpass.
Don't be afraid to share your passion with the world, as you never know whom you will connect with or be exposed to. Remember, you are there to create for yourself first. If what you do doesn't make you happy… go find something that does. Your self-peace and wellbeing will resonate within the work you create.
Do you have a dream that you'd love to fulfill?
We have repeatedly spoken about 'the day' that we would quit our current full-time work and dedicate all our efforts into Crossing Threads. The wise Jacqui Fink once told us "that there will be a turning point where you will know the balance point will tip and in your heart and gut, it is the time to pursue it whole-heartedly".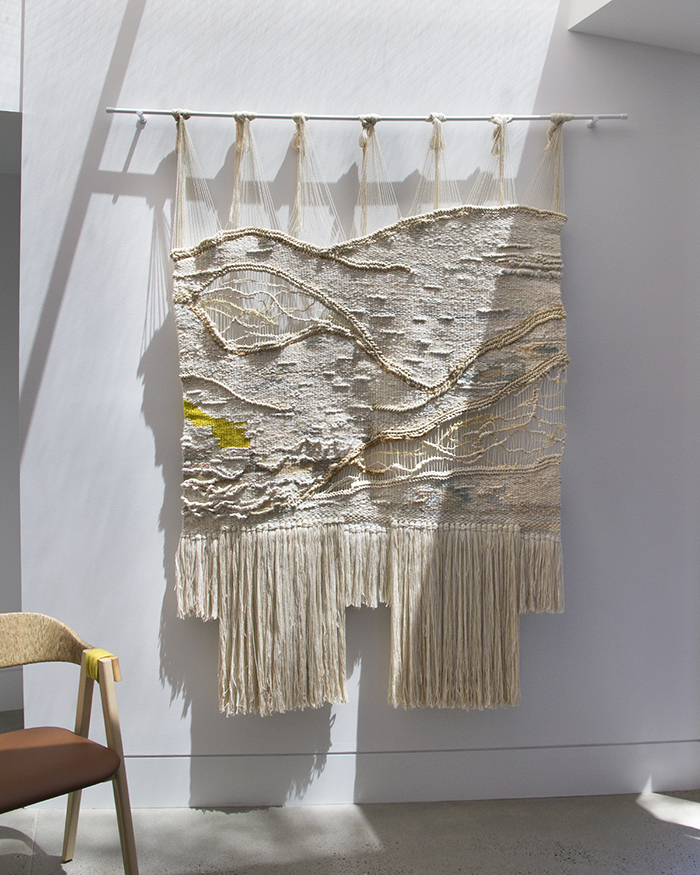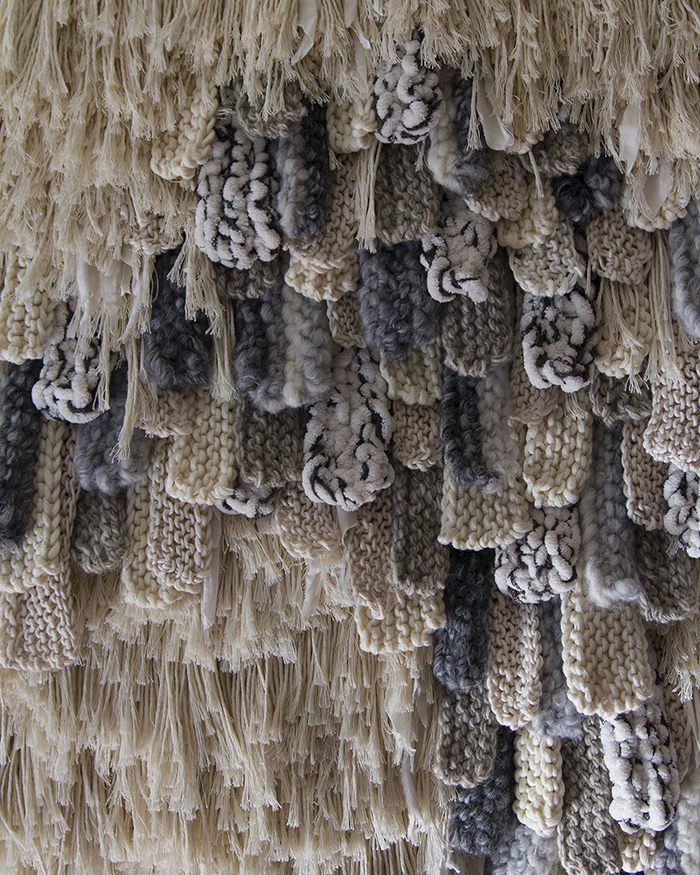 If you're in Sydney you can see some of these amazing fiber art pieces as part of Wool Week 2017. Crossing Threads has four pieces currently on display in a pop up exhibition for The Woolmark Company at Westfield Bondi Junction. Lauren and Kass will also have work in the Thread and Colour 2 show – along with a curated selection of other creatives – in Paddington later in May. Find out the details here.
Love the fiber art created by Lauren and Kass? To connect with Crossing Threads:
Visit the website here
Connect with Lauren and Kass on Instagram @crossingthreads
If you'd like to take a look into a whole range of other artists' and creatives' lives and studios, visit the Space to Create archives.
Save
Save