You may know Matt Blatt stores as a source of replica furniture, but what you may not realise is that all the new products they now stock are original designs. I had no idea either, so when I was asked to style a room using Matt Blatt furniture and homewares from emerging designers I was keen to see what's in store.
At Matt Blatt they're all about showcasing the latest trends and making the stores a unique experience, so their main focus right now is bringing in new and exciting pieces from around the world. They work with international furniture makers who collaborate with designers, which gives Matt Blatt access to emerging and established creatives and exclusive Australian rights to individual pieces and ranges. Australian art is another area of interest for the stores.
I recently spent a morning in the Matt Blatt Alexandria showroom and I styled a living room using all original designer items. I also got the chance to talk to Adam Drexler, Matt Blatt's founder about the history of the brand, his thoughts on style and designer collaborations.
Matt Blatt has a range of quality Australian designed and made sofas. The Jokum, which I chose for this shoot is a contemporary classic with a retro twist. It combines old-school buttoned detailing with a modernist shape on hardwood legs. I love the teal fabric, which pairs well with the natural tones of timber, leather and hides.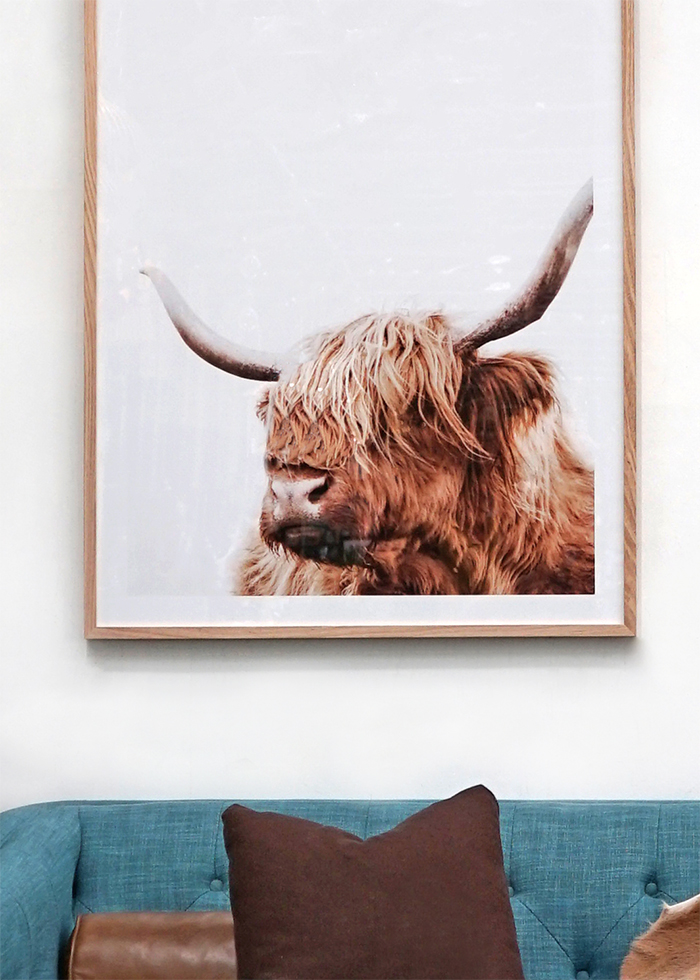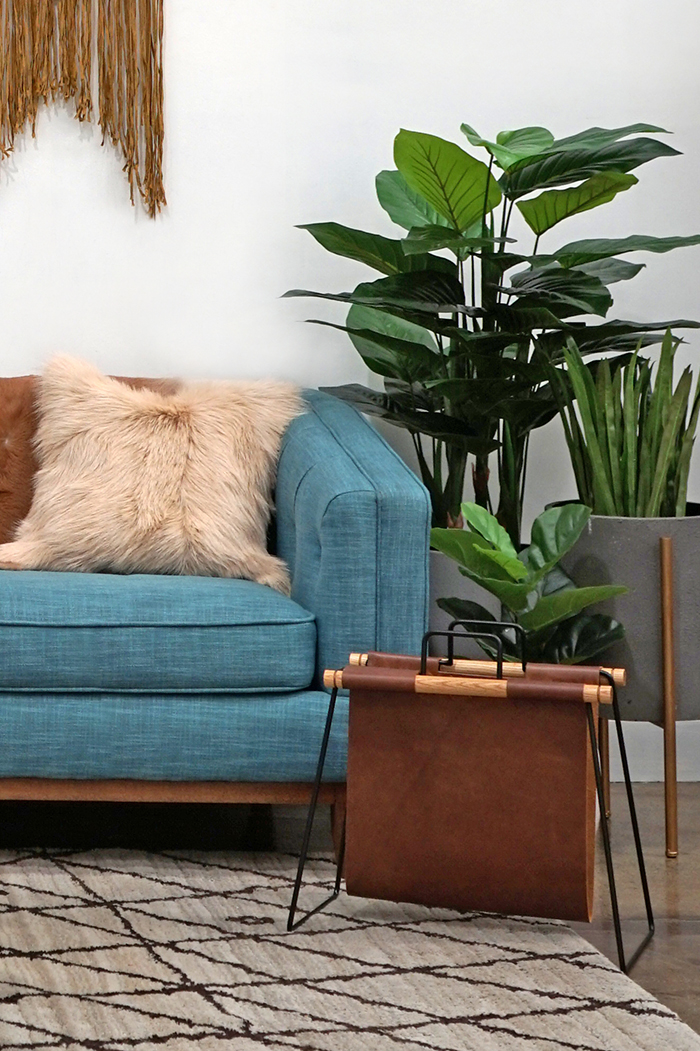 Matt Blatt has an Australian exclusive arrangement with United Strangers, makers of the gorgeous leather magazine rack above. United Strangers was started by New Zealand creative Logan Komorowski who moved to China to turn his designs into actual products. Logan now works with designers from France, USA, Canada, Mexico, Korea and China and focuses heavily on ethical production utilising recycled materials whenever possible. Some of the materials include vintage US army tents, vintage leather, distressed metal and brass.
Other emerging designers of note include Nadia Soares from Portugal, Voelkel a Polish brand that brings together the best and brightest designers from across Europe, and Aussie furniture designer Jacob Pemble who makes a range of pieces exclusively for Matt Blatt.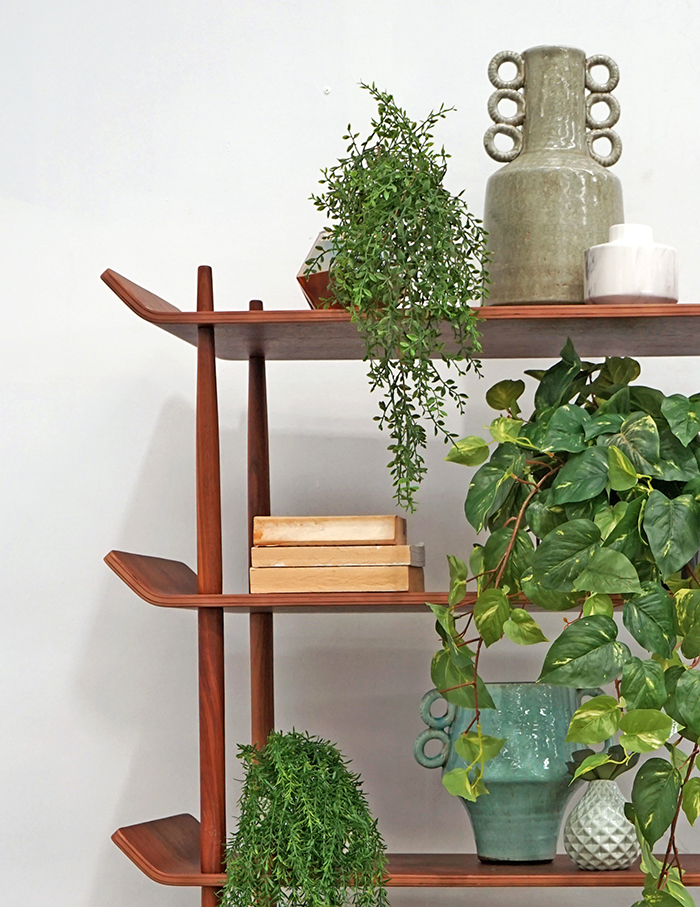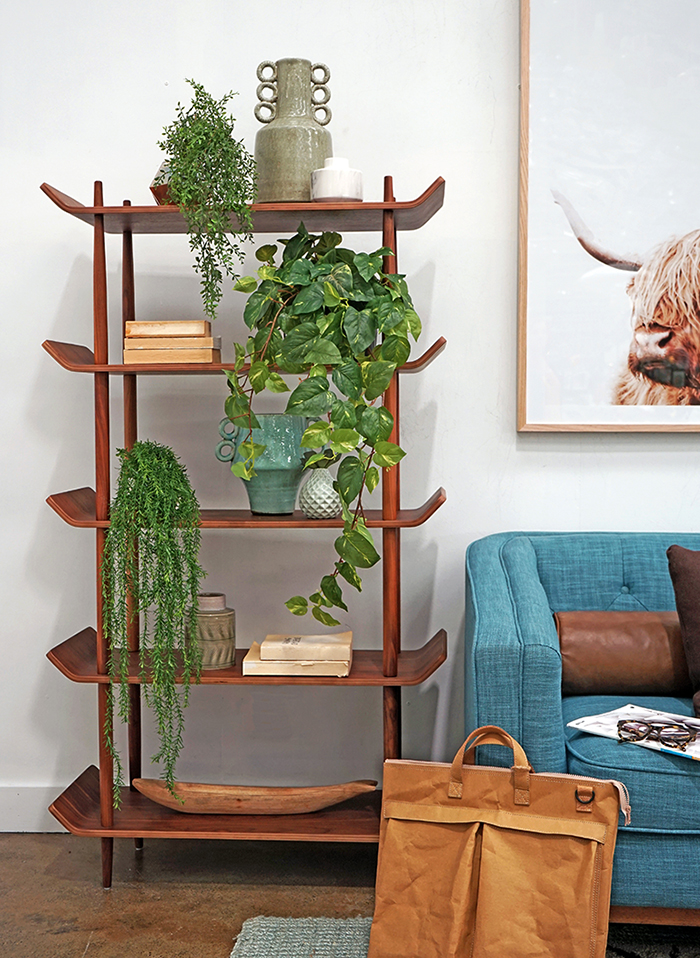 Q&A with founder Adam Drexler
Can you tell us the story of Matt Blatt?
Well, where to start? My wife and I have been in the retail game for decades and we began selling replica pieces out of eBay right back when online retail was in its infancy. In fact, ours was eBay's first online furniture retailer in Australia. We followed it up with a warehouse store in Marrickville… and both our bricks and clicks presence have continued to grow from there.
Matt Blatt has always been about the love of design, and about making designer style accessible to a wider audience. We're a design-obsessed bunch and when we started out affordable replicas of iconic international designs just weren't available in Australia.
These days we're still continually on the hunt for fresh design talent and innovative pieces, and my wife and I spend much of our time roaming the globe on the lookout for emerging designers and artists creating original pieces that have an element of Blatt about them… By that I mean they're premium quality, anything but bland, tell a story and feel fresh.
Your collaborations with emerging and established designers are something that people may not be aware of. How did this come about?
Purely from our genuine passion for design, for new ideas, for taking risks and for embracing change. We hate to be predictable and we want to constantly challenge and inspire our customers with novel ideas.
Sure we sell premium replica products because our clients still want affordable, quality examples of renowned international designs, but we're increasingly focused upon sourcing exclusive ranges and unexpected products for our customers, such as the incredibly multifunctional VOX collections from Poland, TemaHome's Portuguese storage solutions and our latest collaboration with United Strangers, featuring unusual, sustainable materials, such as 50-year-old recycled US army tents.
Where do you look and what do you look for when you're choosing designers and products for Matt Blatt stores?
It's more a question of where don't we look. We frequently travel throughout Asia and Europe with an eye for emerging talent or products we feel our Matt Blatt customers will appreciate. Whether they're products with a fresh form or function, or with an element of humour or intrigue about them, we're increasingly seeking designers and products you won't find everywhere else, and which help homemakers build a distinctive story in their own home.
We're not constrained by materials, colours or prescriptive style themes. Part of the experience of visiting one of our showrooms is the fact you'll find an Italian leather sofa alongside a T-Rex wall hanging, or a pink velvet chair next to Scandi-style storage. Design is about breaking rules, expanding our view and challenging the status quo, so when we're searching for the next big thing to buy, that's the mindset that informs our approach.
Can you see any new trends emerging from up and coming designers?
So many! Sustainability in their choice of materials is a big one, as mentioned with the United Strangers range we're now stocking, which uses salvaged army fabrics and submerged South American timbers for example, to build authentic stories in their product ranges.
Multifunctional and space-saving pieces are another key trend, especially in light of global growth in apartment living. Tables that do double duty as desks and technology hubs, bookshelves which can swivel, contract and expand to fit into tricky spaces, beds with copious in-built storage – who really has vast linen cupboards these days, right? Furniture which is just as functional and appealing for renters as for owner occupiers is something we're seeing more of… pieces with flexibility both to fit into changing spaces and to do the job of more than one traditional piece – even sofa beds are making a comeback!
Do you have a favourite piece of furniture from an Australian designer? And from an international designer?
The Jacob Pemble Modern Vintage Desk is a personal favourite from a local Sydney designer. It somehow achieves that elusive blend of contemporary and classic in a way that's unexpected but instantly appealing. I also love the mix of materials, warm oak and tough steel, and offbeat but ingenious pairing of Scandi-style drawers and industrial trestle legs.
From abroad, the Voelkel 4 You bed, designed by Polish pair Piotr Kuchcinski and Joanna Leciejewska takes that blend of fashion and function to the next level. With bedhead and under-the-mattress storage, built-in bookshelves, horizontal and vertical storage ladders and a raft of intelligent storage accessories and complementary pieces, it's reinvented the conventional four-poster bed in a way that's truly innovative in the real sense of the word.
How would you describe your personal sense of style (for interiors)?
In a world: eclectic.  Some would say quirky. Unpredictable I guess.
I hate to be pinned down to any one particular style or colour theme. My taste changes constantly and I've always been an advocate for buying what you love, not what you think you should, or what appears to be in fashion.
I'm a major fan of mixing unexpected pieces, materials and shades together, of taking risks with design and interior style and of using your home to tell an ongoing narrative where nobody can predict what's going to happen next – including me!
What never goes out of style?
I'm not a strong believer in things being in or out of style. Style is what you make it. I don't care if someone says red is out of favour this season, or that 'red and green should never be seen' or any other prescriptive style advice. If you collect and curate pieces that mean something to you, or accessories that make you smile, you'll never need to be concerned with being in or out of style.
Someone walks into a Matt Blatt store for the first time… what would you like to overhear them saying?
Firstly, I'd like to see them smile, to see their eyes light up. To see joy. We've always said 'we're not in the furniture business, we're in the entertainment business' and that's the ambience we're striving to create in each of our showrooms.
I'd love to hear people say 'Wow'. To hear them laugh. To hear that element of surprise and delight that comes from the unexpected.
On a more serious note, I'd also love to hear them express their appreciation at the breadth and diversity of our product range, comment on our super friendly and knowledgeable staff and remark on the fact we sell so much more than replica pieces. I'd love to hear them notice our original designs – after all, they make up a huge part of today's Matt Blatt.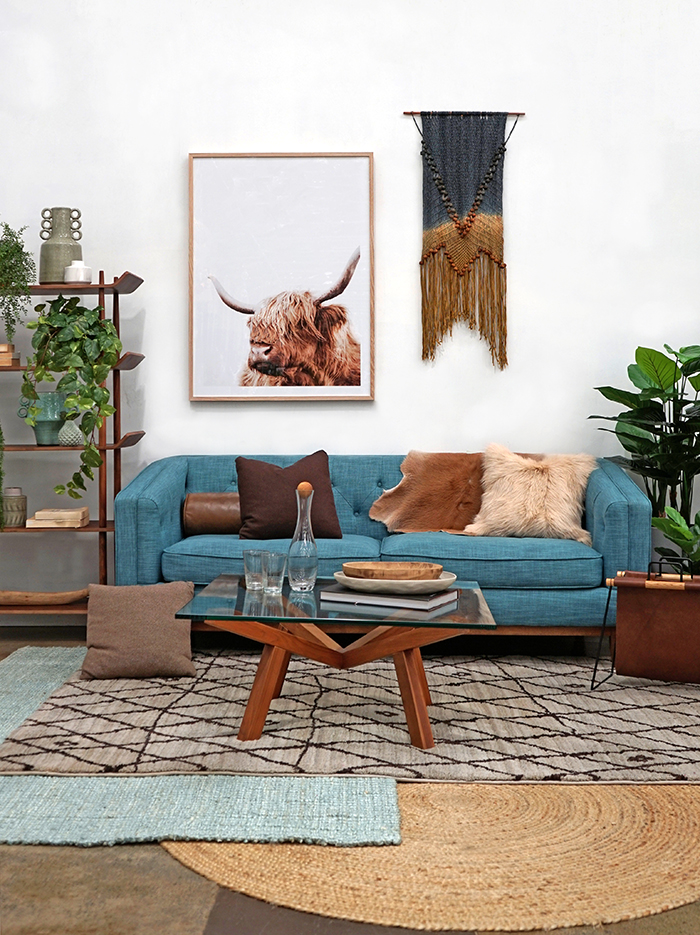 Styling by Lisa Tilse for We Are Scout, photography by Tom Summers.

Most of the products featured are available at Matt Blatt online, and all can be found in store – find showroom locations here.
Disclosure: This post was produced in partnership with Matt Blatt. I only partner with brands that are a good fit with We Are Scout, our aesthetic and what you, our readers, enjoy. Concept, product selection, words and opinions are all my own. Thanks for supporting the brands that allow me to keep on scouting.
Save
Save
Save
Save
Save
Save
Save
Save
Save