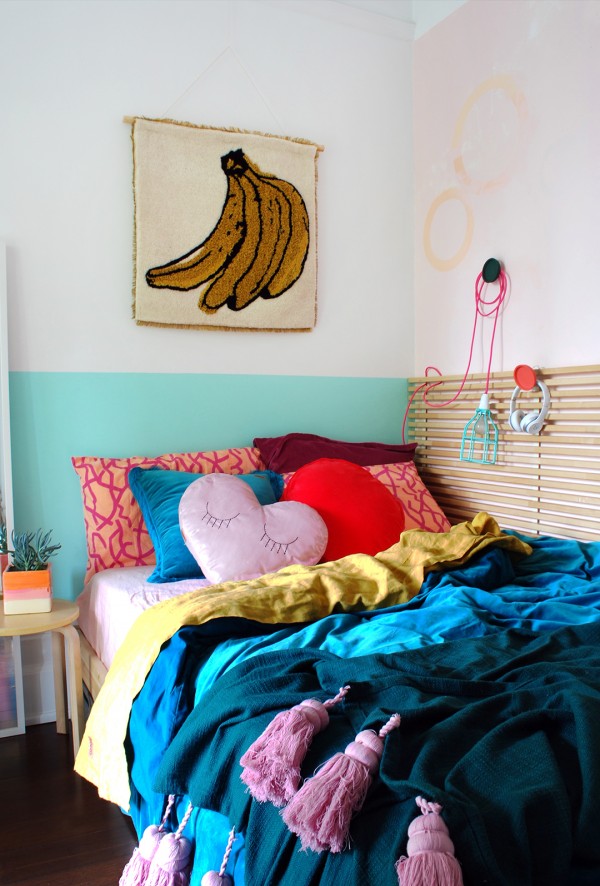 Teenagers' bedrooms and tiny spaces can be a challenge to style and decorate. I've just finished both: a makeover of Roxy's ridiculously small room – it's tiny, probably only rivaled by Harry Potter's cupboard under the stairs!
So if you have a teen room to makeover, or a tiny space to plan, I have lots of ideas to share. Read on for my tips on choosing the right mattress and bedlinen, how to make the most of limited space, and choosing furniture to maximise storage without adding clutter.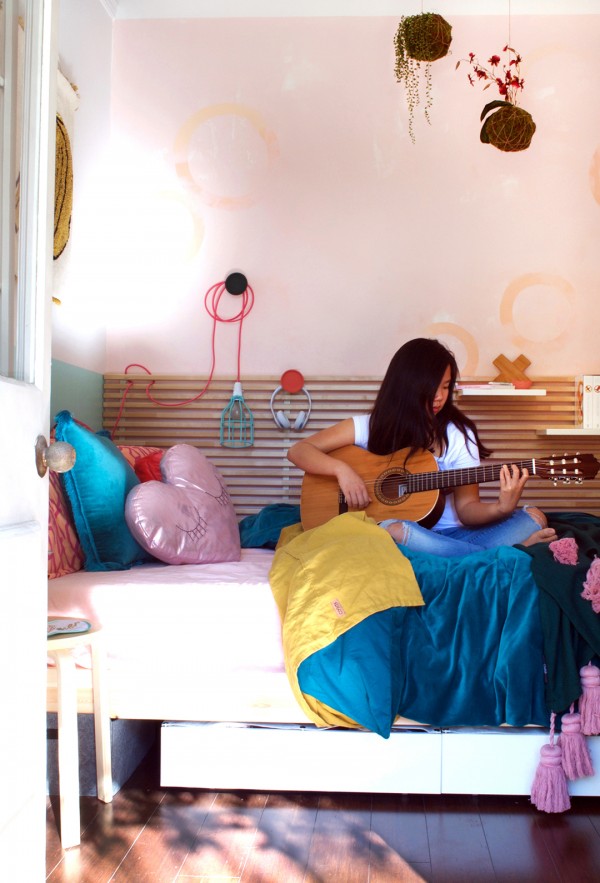 Roxy's tiny bedroom was never about pastels and florals, or Disney princesses (eek!), but all of a sudden last year she seemed to outgrow everything in terms of both practicality and style.
When she was younger it was a fun space for her. She had a loft bed with storage underneath, and I added a curtain that could be pulled across to create a little cubby house play space.
Now that her needs and taste have changed, what Roxy wanted from the makeover was to have a comfy teen retreat that feels grown up but still cool. She asked for a larger bed so that she could hang out and chat with her friends, and just be able to flop around and relax without having to climb up a ladder.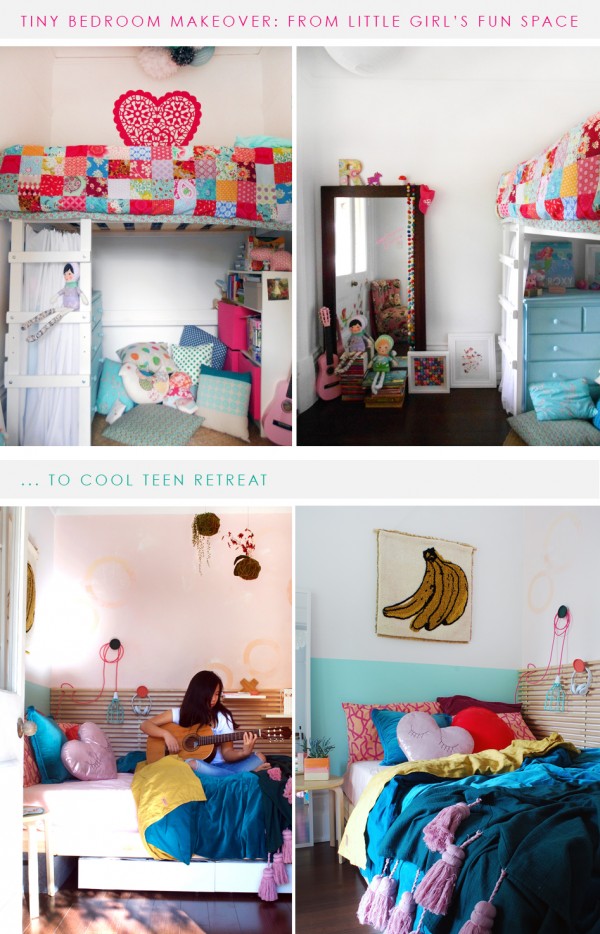 Making the most of a tiny bedroom
The big challenge was working around the loss of the space-saving loft bed and the storage in the chest of drawers and shelves that were under the bed.
In the new bedroom configuration, there is a double bed which is positioned snugly at one end of the room and styled with a jumble of pillows and cushions like a day bed. The only other furniture in the room is a bedside table, some shelves, and two vertical bookshelves.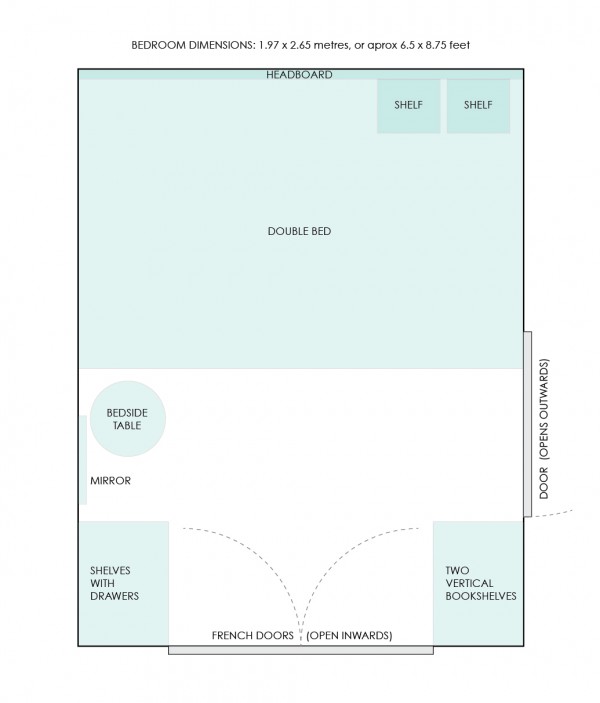 I chose the Ikea TARVA double bed because of its simple design and I assembled it without the bedhead. Instead I hung a MANDAL headboard (cut to fit the space) on the back wall as a feature. Running along the side of the bed, the wooden headboard is a practical solution for storage, a textural focal point, and it looks like a wall feature rather than a headboard.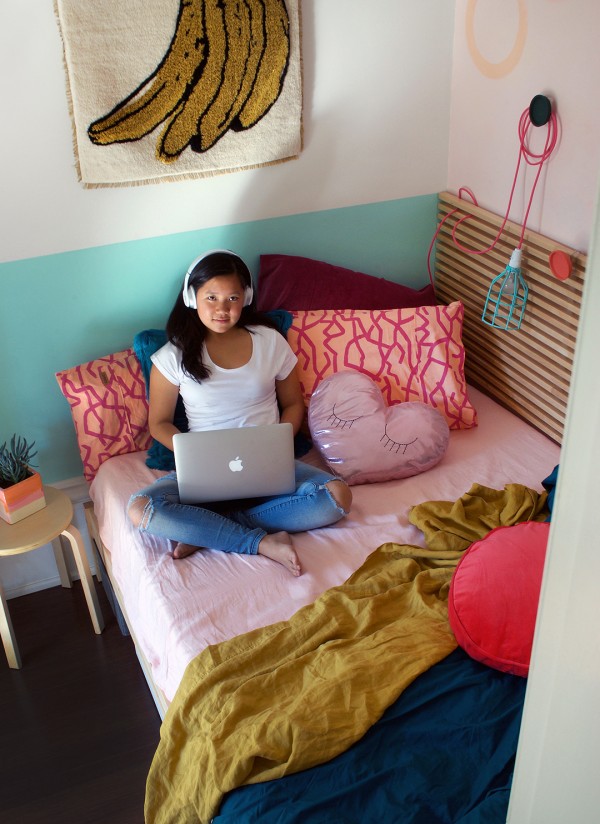 The ceilings in our apartment are 3.35 meters (11 feet) high, so to balance the vertical space I created horizontal features to visually widen the room. The aqua half-wall, the headboard, and the soft pink mural wall that finishes in line with the picture rails, are all horizontal lines that lead your eye around the room and keep the space grounded. Two string planters hang from the ceiling to add some interest higher up, and visually link the high wall and ceiling spaces with the rest of the room.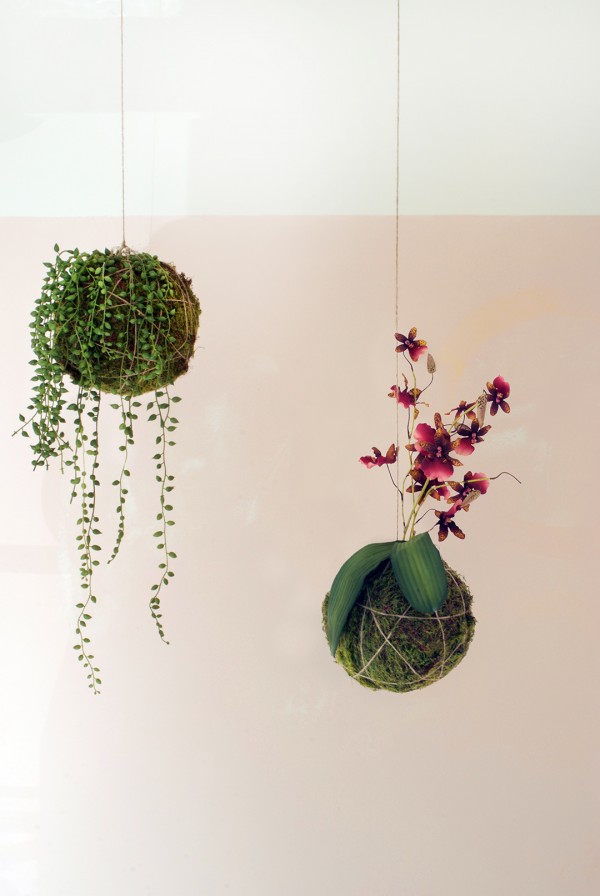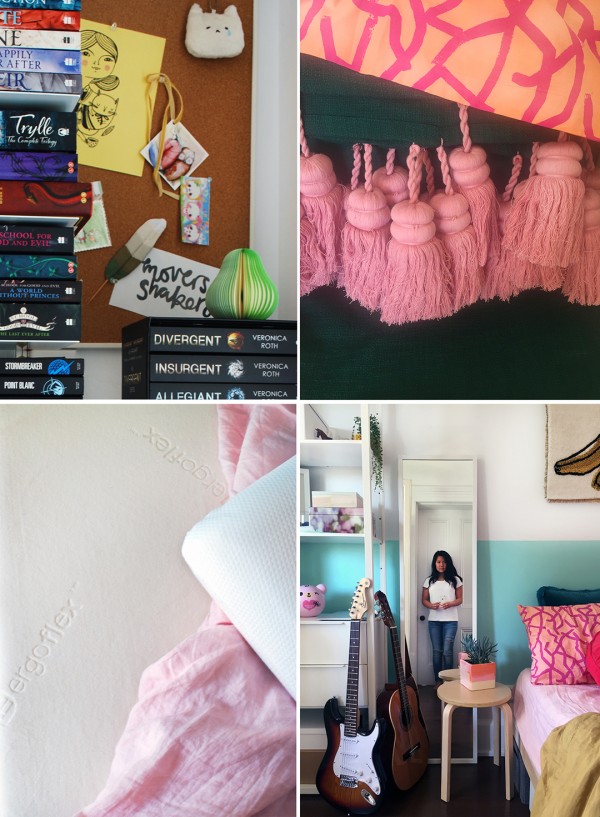 How to choose the right mattress for a growing body
You're probably aware of the statistic that tells us we spend almost a third of our lives in bed? I imagine that percentage would be higher around the teenage years, when bed seems to have some weird gravitational pull on our kids. It's always important to choose the right mattress, but even more so for growing bodies that spend a disproportionate amount of time in bed. We haven't quite reached that stage yet, but I'm sure it's coming!
Roxy's new Ergoflex visco-elastic memory foam mattress ticks all the boxes for general and spine health as a high density orthopedic pressure-reducing mattress. The ideal mattress is one that is soft enough to allow your shoulders and hips to sink in while your waist, side and legs are firmly supported. It's to do with surface area and pressure: the more of your body that's in contact with the mattress, the less pressure there is on your shoulders and hips. A unique 'cool-sleep' air-flow system with an open cell structure allows air to circulate through the material.
An important consideration for Roxy as an asthma and allergy sufferer was also to have a mattress that is hypo allergenic and anti-microbial treated. Dust mites, bacteria, mould and mildew are all triggers for allergenic and asthmatic responses and knowing that they can be controlled effectively and safely is a huge bonus for me.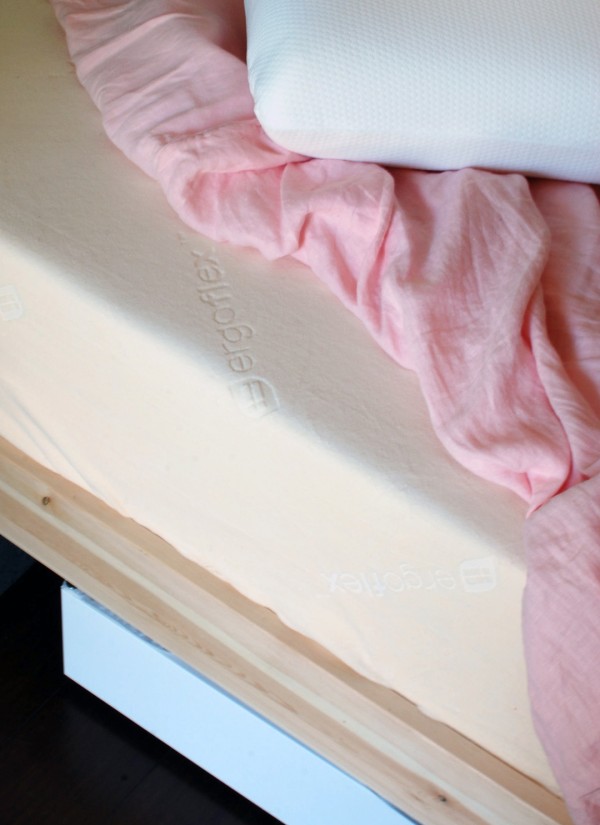 The impact of a good mattress and pillow – and therefore an optimum night's sleep – can't be underestimated. A comfortable, restful, good nights sleep has a considerable bearing on general health, mood, and well-being. And we all want our teens to be less moody!
Top 5 tips for choosing the right mattress
1. Compare. All memory foam mattresses are not all created equal. Ergoflex has a comprehensive guide to memory foam including terms like density and IDL rating.
2. A mattress should be soft enough to allow your shoulders and hips to sink in while your waist, side and legs are firmly supported.
3. Invest in quality. A bed is a good long-term investment in your teenager's health.
4. Try the mattress out. It's hard to make a decision about getting a comfortable night's sleep based on hopping on and off a mattress in the showroom. Ergoflex offers a trial and return period of up to 100 days.
5. Consider the product's hypo allergenic and anti-microbial properties. This is important for all of us, but especially for children who are more susceptible to asthma and allergy triggers.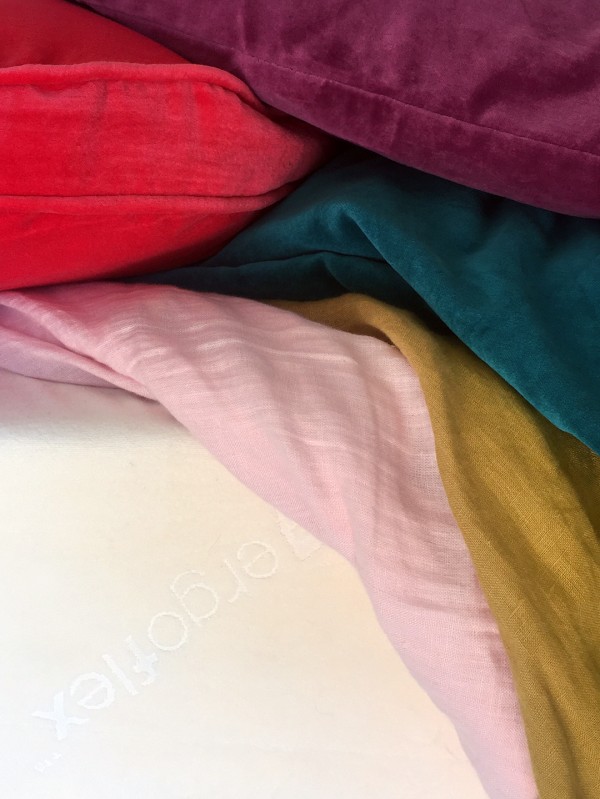 Selecting bed linen that's cool but won't date
When you give an indecisive teen free rein to choose the bed linen and colours for her room it can be a tad frustrating to reach a decision! Luckily we both love everything from Kip & Co, so at least we were able to narrow the choice down to one brand.
With a little guidance Roxy decided on plain colours with a mix of fabulous textures, and a splash of pattern with the Dreamcatcher pillowcases. What's great about Kip & Co products is that the stunning colour palette is so expertly curated that you can mix and match pretty much anything – all the colours and patterns – and they'll work together. On Roxy's bed we mixed and matched and clashed soft rose, mustard, emerald, teal, pink, peach, grape and hot pink… and it looks incredible. I'm actually envious that her bed is much better dressed than mine now!
When layering bed linen it's important to add different textures for interest and warmth. This applies whether you're sticking to a monochromatic scheme or going crazy with colour. Roxy's bed mixes 100% linen sheets, cotton pillowcases, velvet cushions, pillow case and doona cover, a shiny shimmery heart cushion, and a textured throw with enormous tassels.
One of the best features of choosing layered, textured bed linen for your teen is that it actually looks its best when it's crumpled and a bit messed up!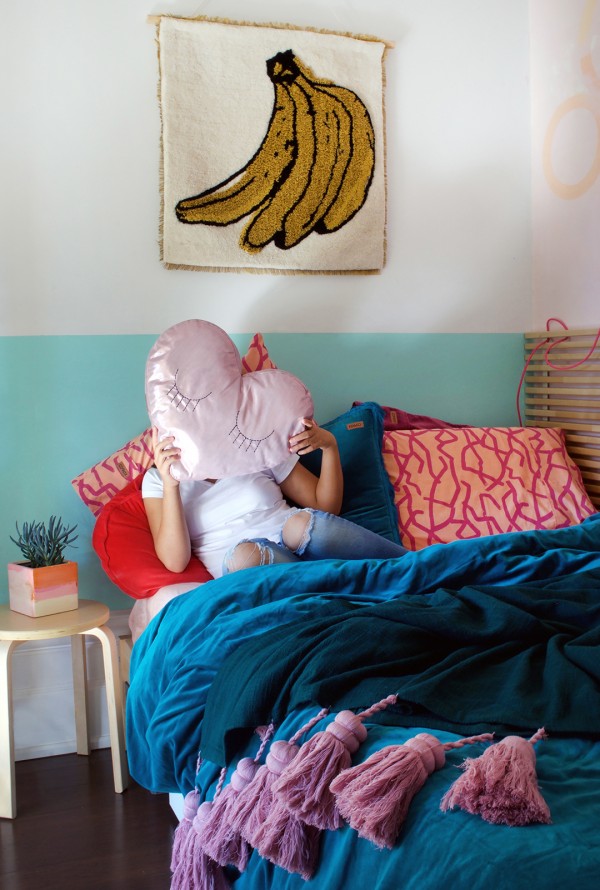 Top 5 tips for choosing bed linen for a teenager's room
1. If you choose your bed linen and accessories from a single brand or range it will make it easy to ensure everything will work together. This is a great approach if you tend to second guess your choices.
2. Go crazy and mix and match colours and patterns. Include a variety of textures for interest and warmth.
3. Unstructured layers in textural fabrics (like linen and velvet) will look fabulously styled with minimal effort from the teen (i.e. an unmade bed). And zero nagging from you! #winning
4. If in doubt stick to plain colours then add pattern with pillow slips. It's less of a commitment and you can change them easily.
5. Think about what other textile or textural elements will be in the room – like wall hangings and rugs – when choosing the bed linen.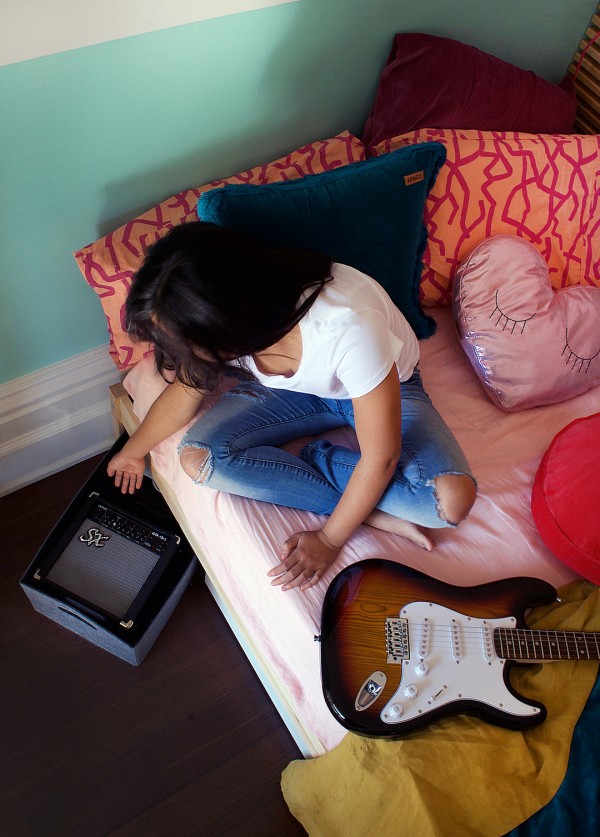 The best furniture and storage ideas
Storage in a tiny room can be tricky – you need to find a balance between having as much storage as possible and not cluttering the space. I started by measuring the room and drawing a plan including the door placement so I knew exactly what I was working with.
Literally every centimeter can be critical in a small space, so when planning furniture make sure you measure the actual floor space of the room, not the space higher up, between the walls. The decorative skirting boards in Roxy's room are about 5cm wide, so there is a 10cm difference in the room width depending on how high up the wall you take the measurements. The tiny size of Roxy's room meant that I had to choose the shortest double bed available and it fit with literally a millimeter to spare.
Once I had the dimensions of the room I headed to Ikea's website to plan the best options for storage.
My tip is to choose furniture with a small footprint for a small room. The FJALKINGE shelves are perfect for this bedroom because they fit neatly behind the inward-opening French doors, and they're almost 2 metres tall. Despite taking up minimal floor space, the height and the two drawers make them super practical. The open framework gives the shelves a lightness that helps open up the room. A solid piece of furniture would look heavy and too dominant in this small space.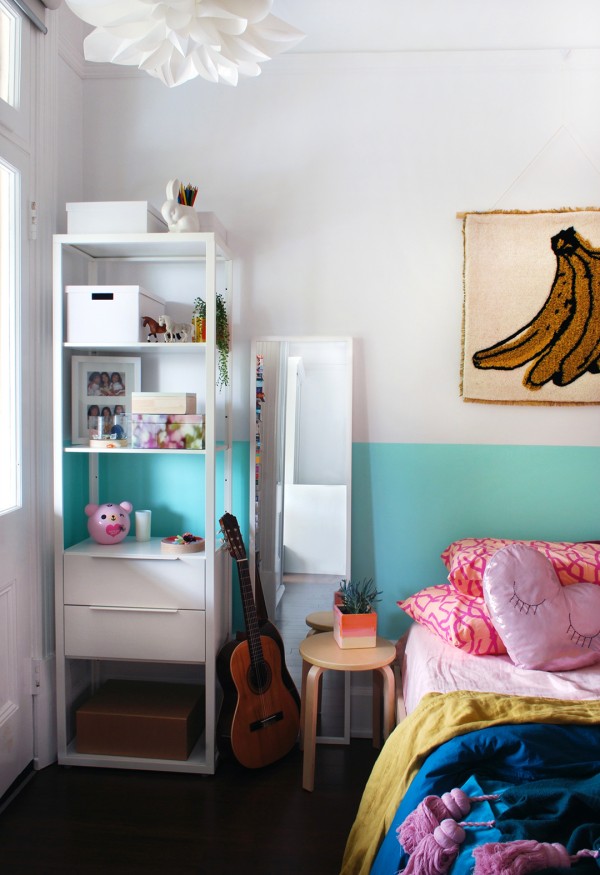 I decided against wall mounted cupboards because they would only make the room seem smaller. Instead we are using the space under the bed for storage. Roxy hangs clothes in my wardrobe, and everything else fits neatly in VARDO storage boxes under her bed. The boxes have covers to keep the dust out, and wheels so they roll in and out easily without damaging the floor.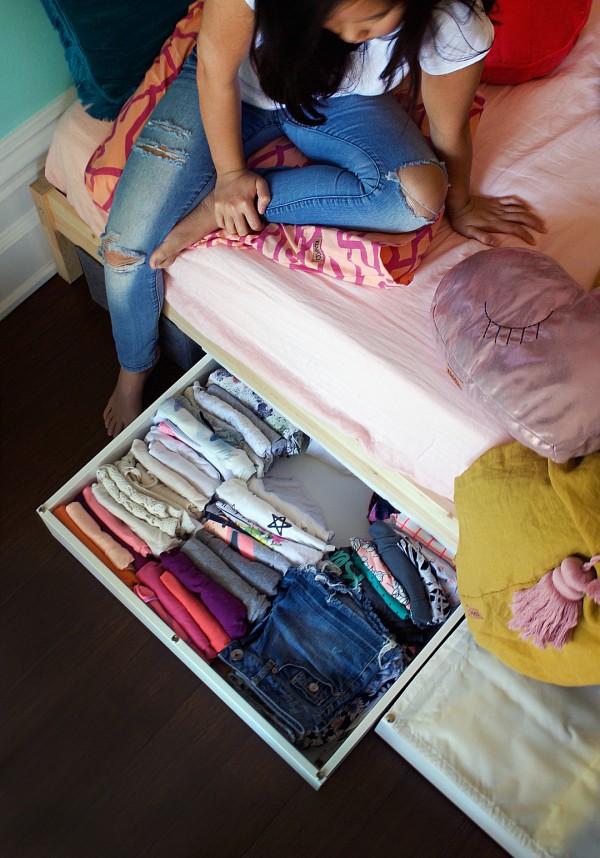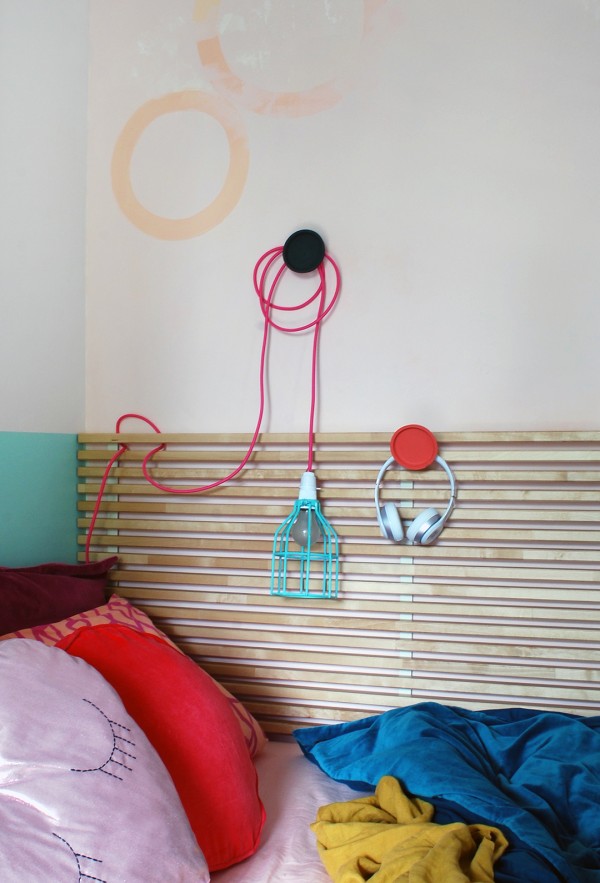 My girl is an avid reader, so bookshelves were a non negotiable inclusion in her new teen retreat. Vertical bookshelves are great for tiny rooms – you can fit a lot on them without compromising on floor space. I've had these bookshelves for sometime in our living room, but they are a perfect fit here in the small space between the bedroom door and the French doors.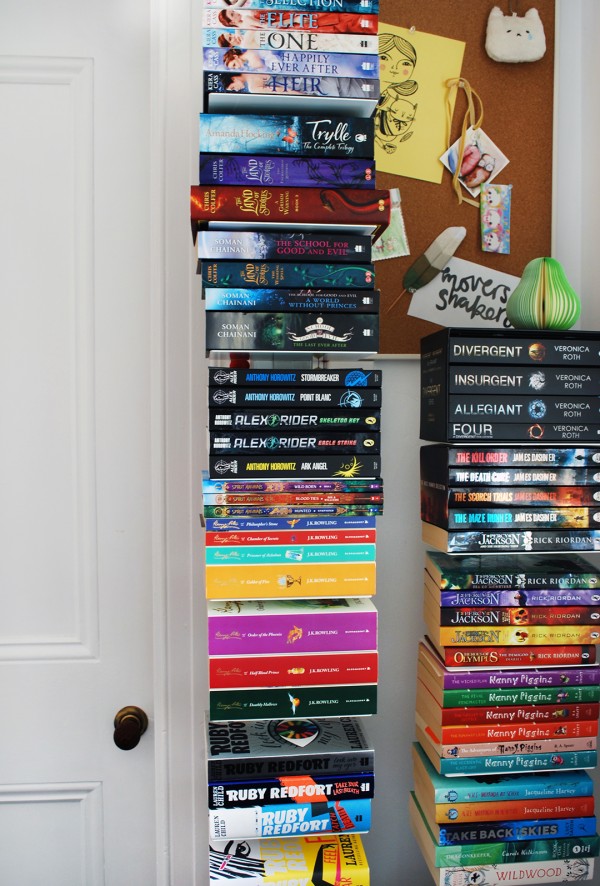 Top 5 tips for the best furniture and storage solutions in a tiny room
1. Keep as much floor space free as possible. A cluttered floor will make the room look smaller.
2. Choose tall furniture with a small footprint, including vertical bookshelves.
3. Stay away from heavy looking solid furniture. Shelving units with open back and sides won't block the light and will be less obtrusive.
4. Utilise the empty space under the bed. Make it functional and easy by choosing boxes on wheels.
5. Small shelves and wall hooks are both practical and interesting design features.
We're lucky that the rest of our apartment has large rooms and the same super high ceilings. The compromise when we moved here was Roxy's tiny bedroom, but it's sunny and bright and with a bit of thought and a lot of style it's become a fabulous teen retreat that she's really happy to spend time in.
Disclosure: This post was produced in collaboration with Ergoflex, Kip & Co and Ikea. Some products were given to me, some were loaned for the shoot and others I purchased. We only partner with brands that are a good fit with our blog, our aesthetic and what you, our readers, enjoy. Content and concept, product selections, words and opinions are all my own. Thanks for supporting the brands that allow us to keep on Scouting.

All photography and styling by Lisa Tilse, for We Are Scout.