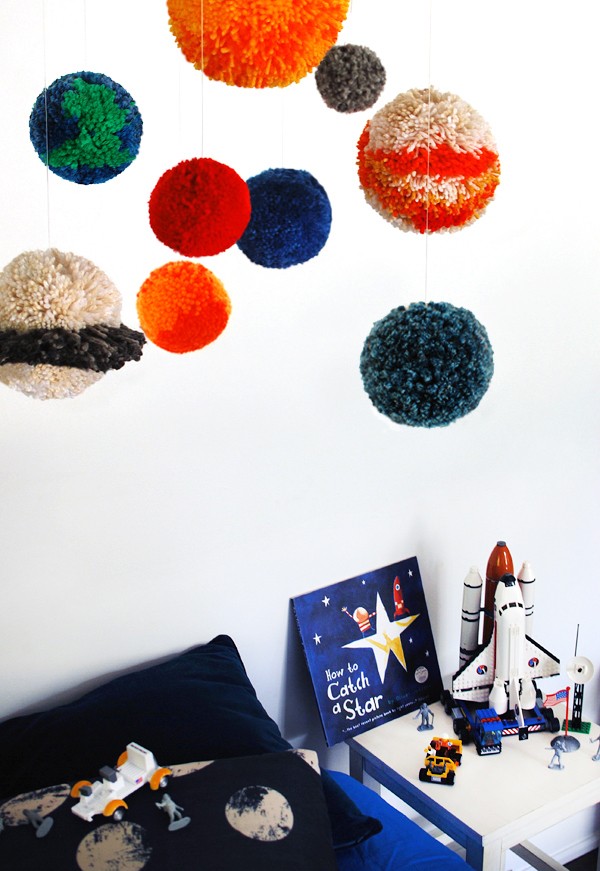 Do you have a starry-eyed child with a serious obsession for space? Feed their enthusiasm with the power of planetary pom poms! In this step-by-step project, I'll show you how to make a solar system mobile with pom poms, so you can add a pop of colour to your child's room that's out of this world.
This is a fun and easy project for craft beginners, and it's also an educational craft you can make with your kid/s. Study pictures of the solar system together online, and talk about which colours and sizes each planet should be.
At the end of the project, I'll show you the one part I've never blogged about before: cleaning up! If you've ever made pom poms before, you'll know how the yarn scraps and fluff spread far and wide – and stick to just about everything. Not-so-secret-tip: I'm now an honest-to-goodness, fully-fledged Dyson convert.
Materials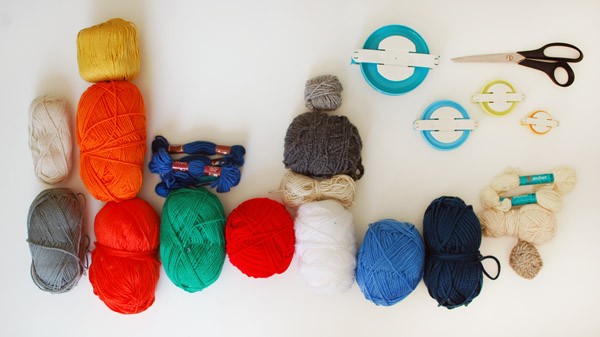 You'll need:
Various shades of yarn. I used thrifted and store-bought yarn in varying thicknesses.
Clover Pom Pom Makers in various sizes (35mm, 65mm, 85mm, and 115mm).
Scissors.
Fishing line.
Circular wire hoop.
Let's get started
1. Make the pom poms
If you're not familiar with using Clover pom pom makers, read our how-to guide first.
Tip: wind the yarn firmly around the pom pom makers to make nice plush, full poms. When you take them off the pom pom makers, trim the ends and any stray pieces of yarn to form nicely-shaped, compact spheres.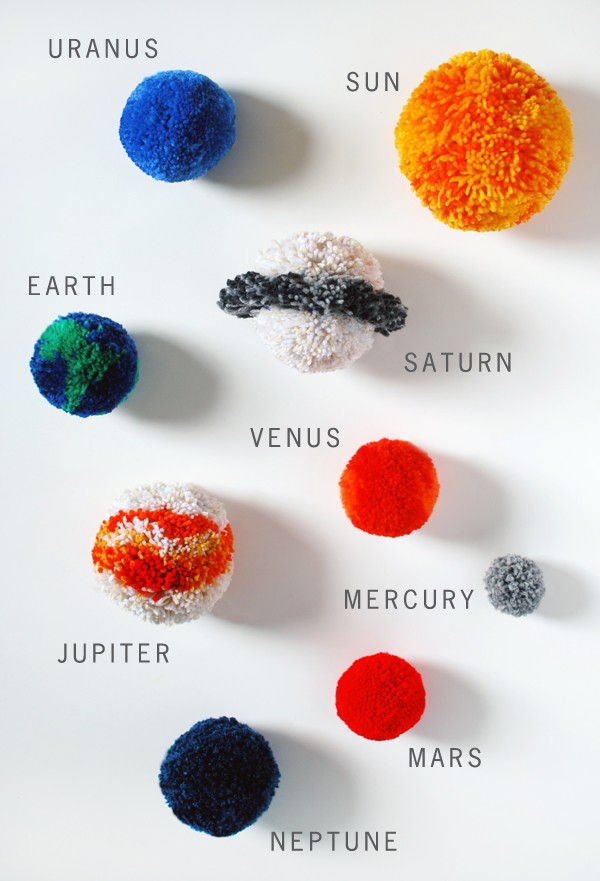 Mars, Neptune, Uranus and Mercury
These four planets are all single-coloured pom poms. Use the following size pom pom makers for each planet:
Mercury: 35mm
Mars: 65mm
Neptune and Uranus: 85mm
Venus
Create Venus by winding large sections of orange and red onto the 65mm pom pom maker.
The Sun
Use the largest 115mm pom pom maker for the sun with a mix of yellow and orange yarn. Take a strand of both colours and begin winding them onto the pom pom maker together, then wind some sections with only yellow and other sections with only orange. Mix them up and keep the colours fairly evenly spread so you don't get clumps of either one.
Saturn
Use the largest 115mm pom pom maker and wind a central section in dark grey and mid grey yarn. Then wrap cream and white yarn together, on either side of the grey.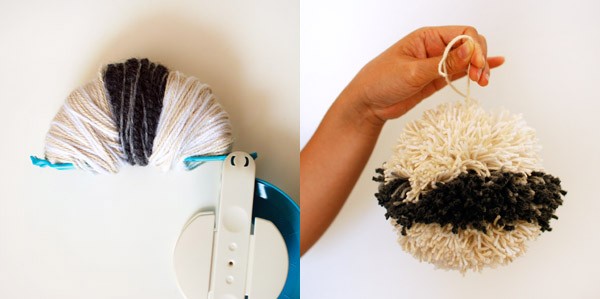 After you've removed the pom from the maker, separate the cream and grey sections by smoothing the grey yarn downwards.
To create Saturn's rings, trim around the sides of the cream section so it's a couple of centimetres shorter than the grey ring.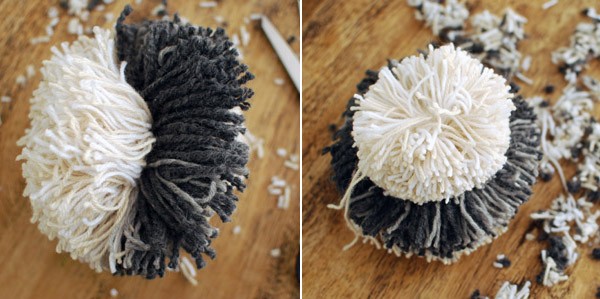 Now trim the top of the cream into a hemisphere, then turn the pom pom upside down and trim the bottom cream section in the same way.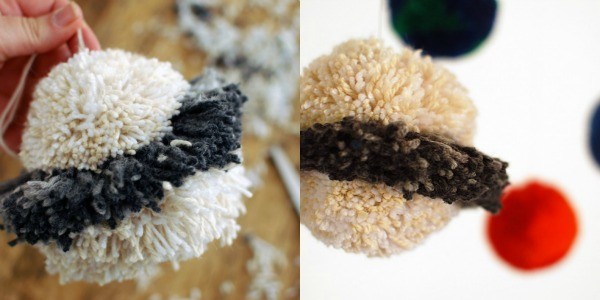 Earth
Start by winding a couple of sections of green yarn onto the 85mm pom pom maker, then wind blue yarn in between and over the top of the green. Before you fill up the side of the pom pom maker, wind another section of green onto it. The result will be green 'land masses' of various sizes and shapes in an ocean of blue.
Jupiter
Create stripes of orange, yellow and white/cream, by winding the yarn onto the 115mm pom pom maker with the same sectioning method that you used to make Saturn.
To make Jupiter's renowned red spot, wind a small section of red over an orange stripe. Trim the pom slightly so it's relatively smaller than the Sun.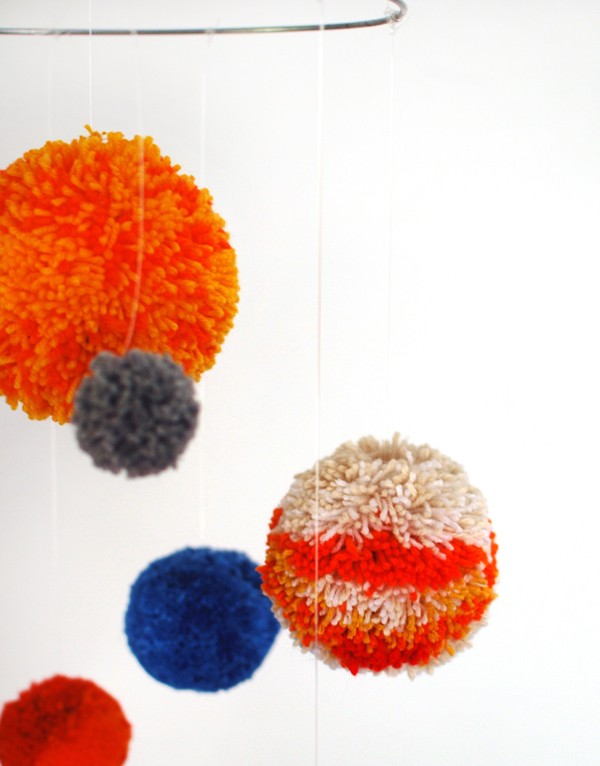 2. Make the mobile
Cut lengths of fishing line to hang your planets.
Thread the fishing line under the yarn you used to tie around the centre of the pom pom. Tie it tightly to the yarn, using a few knots on top of one another. Trim off the excess of the yarn tie so it disappears into the pom pom.
Attach all the planets except the sun around the metal hoop, so they hang at staggered heights.
Tie four lengths of fishing line to the metal hoop so they are spaced equidistant apart and gather them together above the hoop.
Suspend the Sun in the centre of the hoop and tie all five pieces of fishing line together about 30cm above the hoop. Create a loop for hanging.
Hang your pom pom solar system mobile from a hook in the ceiling… to infinity and beyond!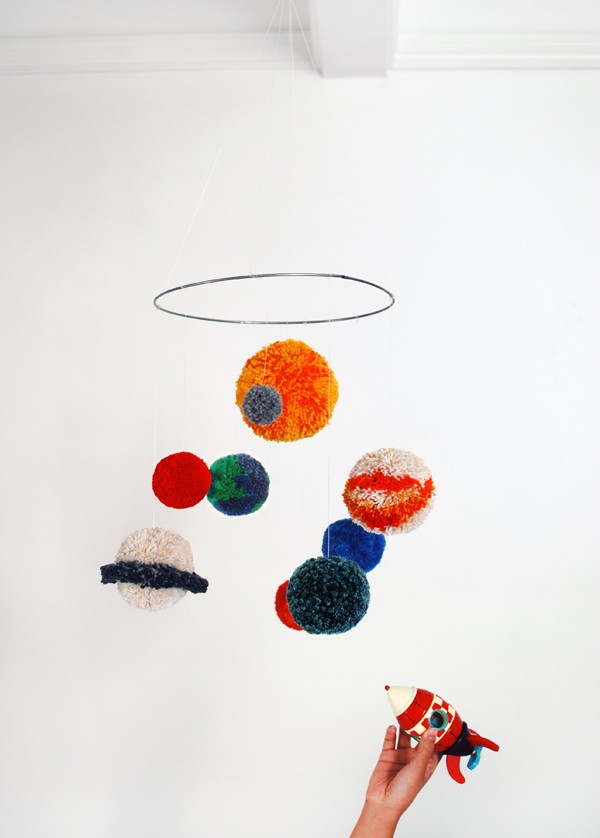 3. Clean up
Pom poms need generous trimming to form neat spherical shapes and that means a more than generous amount of tiny yarn scraps. Everywhere! They get knocked onto the floor and then walked into every room, and then you find them stuck on and under things for weeks.
The worst part of crafting – actually I think it's the only bad thing! – is the clean-up, especially when copious amounts of tiny scraps are involved. That's where my new Dyson DC50 Allergy comes in.
The rug under our dining table (which is also my craft table) has cut-out sections, which always makes the post-craft clean up tricky. I've previously found it frustratingly difficult to get enough suction with my old vacuum cleaner to pick up the scraps in the cut-outs as well as on the rug.
Miraculously – and it really does feel like a miracle – the Dyson transitions its suction seamlessly between my timber floor and the rug. An active base plate automatically adjusts the cleaner head height to seal in suction across carpets and hard floors, and two tiers of cyclones create powerful suction. So tiny yarn scraps and even microscopic particles between the floorboards are history in just one pass of the vacuum cleaner.
The other super thing about the Dyson DC50? It does a tremendous job of picking up cat fur, which is a must-have in my apartment. It's specifically designed for homes with pets and has a separate tangle-free turbine tool to remove hair from carpets and upholstery. Naturally, as soon as everything is clean, Fleur is shedding her fur on the rug again!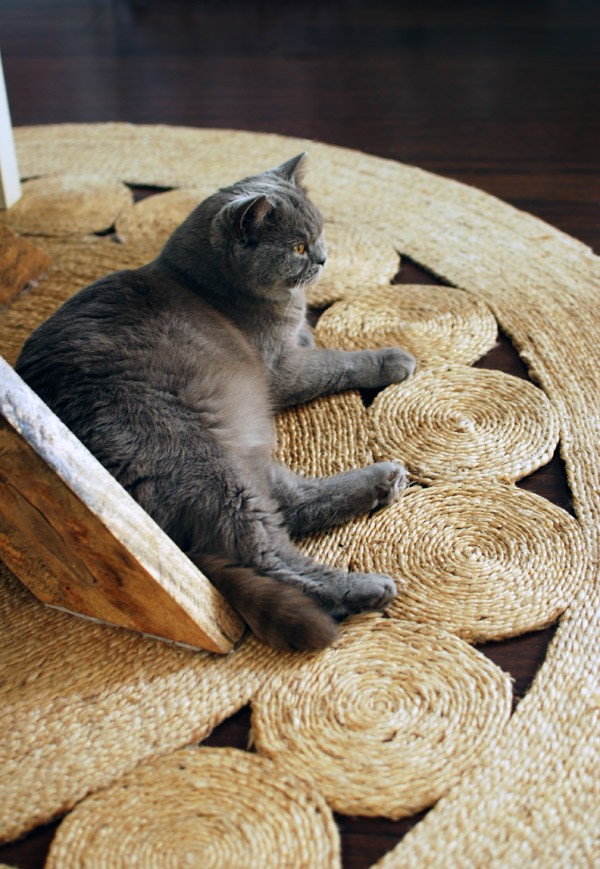 I love our hemp rugs but they continually shed fibers and a very fine dust – you can see it in vacuum chamber in the photo below. Importantly, as the mother of an asthmatic child, the whole Dyson DC50 system is engineered to be completely sealed, ensuring no dirty air escapes, and allowing it to be certified asthma and allergy friendly.
The DC50 Allergy is also Dyson's smallest upright vacuum cleaner, so it's easy to carry and can be stored in small spaces. It's wondrously-tiny footprint is perfect for apartment living when space and storage are at a premium. It fits neatly and out-of-sight behind my bedroom door.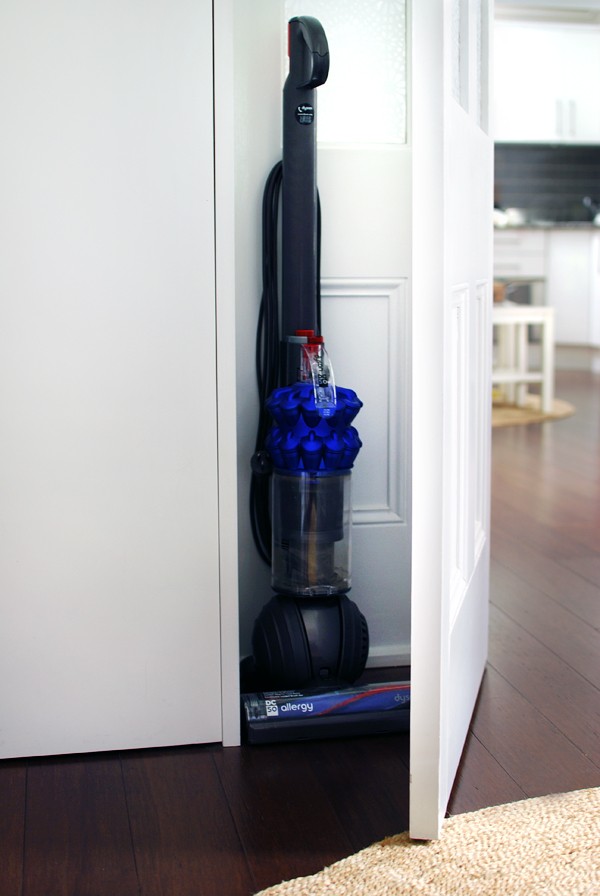 I honestly thought that my previous vacuum cleaner did a great job, but now there's no going back. I'm officially a Dyson convert and I don't mind saying it, either! Not that I'm surprised, as I do appreciate good design and superb functionality – and Dyson is known for ticking both of those boxes.
Despite its small size, the Dyson performs like a full-sized upright and it's a little piece of genius in a vacuum cleaner. You can find out more about the DC50 Allergy and other innovative Dyson products on the Dyson website.
By Rebecca Lowrey Boyd and Lisa Tilse for We Are Scout.
All photography and styling by Lisa Tilse, for We Are Scout.
Dyson sent us a DC50 vacuum cleaner and this is an honest review of the product. All photos, concepts, words and opinions are those of We Are Scout. We only blog about products that we genuinely love and think that you, our readers, will love too. Thanks for supporting the brands that allow us to continue to scout out fresh new content.
Save
Save