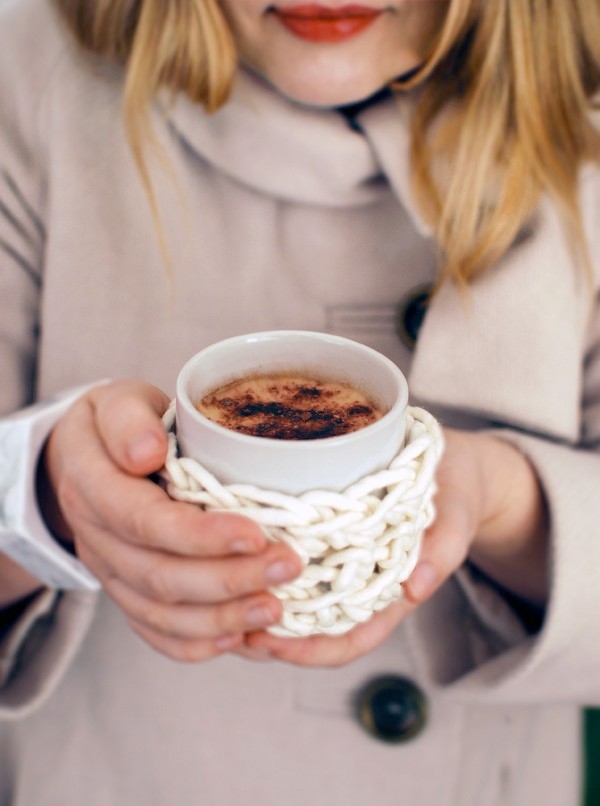 This is a sponsored post for NESCAFÉ.
Winter has well and truly arrived here in Sydney. We've dragged our woolly knits out of storage, we're snuggling under our favourite fluffy blankets on the sofa, and the tips of our noses are permanently frozen on the morning school run. I thought it was perfect timing for an easy tutorial on how to make a chunky cuddle mug cosy, so you can enjoy your coffee in stylish comfort.
For this project, I decided to use beautiful chunky yarn and create a super-easy crochet pattern for absolute beginners. It's ridiculously fast and easy to make (even Rebecca had a go at it, and she's a complete crochet novice), and the chunky-knit look is stunningly on trend. I also love the idea of making a cosy for a cuddle mug, because there's nothing better than curling both of your hands around a nice cup of coffee first thing on a frosty morning.
This is also a tutorial with a difference, because I thought I'd give you a glimpse into the behind-the-scenes action of what goes into making a tutorial for We Are Scout. Read on and enjoy.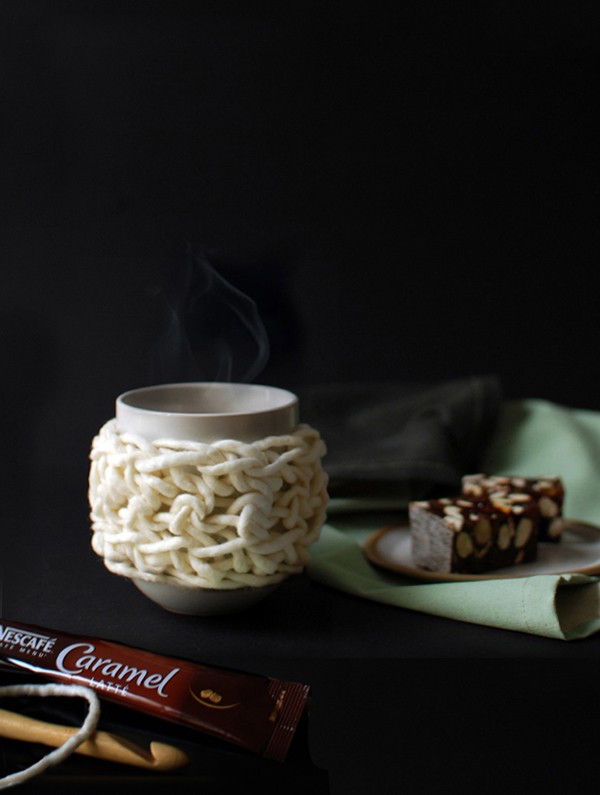 MATERIALS
Chunky pure wool, approximately 5mm thick. Synthetic/acrylic yarn isn't appropriate for this project as you need the insulation properties of pure wool.
You can purchase similar soft chunky pure wool yarn from Little Dandelion and String Harvest.
Crochet hook in a size to suit your wool. I used a 12mm hook. This project is crocheted with loose stitches, so it's OK to use a hook that is too big for your wool.
Pair of scissors.
Cuddle mug (a mug without a handle).
LET'S GET STARTED
As this project is for absolute beginners, I'm going to go slowly through the steps.
Step 1: Make a loop in the wool, leaving a tail of about 13cm.
Step 2: Pass a section of the wool through the loop to form a slip knot.

Step 3: Pull the tails to tighten the knot. The loop should be big enough to fit the hook through with space around it.
Step 4: Hold the knot between your thumb and middle finger. Wrap the wool over your pointer finger, across the top of your hand then wrap it loosely around your pinky. This will add some tension to the wool, and make it easier to make the stitches uniform.
Pass the hook through the loop, then over the wool and under so you catch the wool on the hook. Pull the hook (and the wool) back through the loop. This is one chain stitch.
Don't pull the new loop tight on the hook. We want the stitches to be a bit loose.

Step 5: Continue chain stitching until your crochet is long enough to almost wrap around the mug. The chain should have to stretch a little to fit around the mug – if the cosy is too big it will fall off.

Now that you've finished the row of chain stitches we'll start the second row.
Holding the last chain stitch between your thumb and middle finger, wrap the wool around your hand as before.
Step 6: Start by 'chaining up' to start the next row. That means do one chain stitch on the end of row 1.
Step 7: Pass the hook through the centre of the next chain stitch (my thumb is to the left of the stitch in the first photo above). Now you will have two stitches on your hook. Remember to keep them loose.

Step 8: Wrap the wool around the hook in the same way you did when doing chain stitches, and pull the wool back through both stitches that are on the hook.
You'll be left with one stitch on the hook again.

Now repeat: pass the hook through the centre of the next chain stitch, wrap the wool around, pull it through both the stitches on the hook.
Continue until you've completed the second row, remembering not to pull the stitches tight.
BEHIND THE SCENES AT WE ARE SCOUT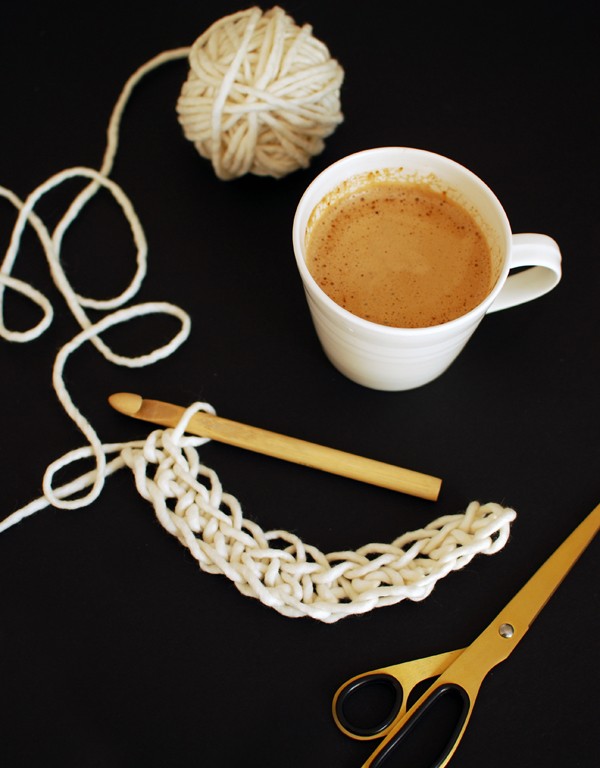 Time for a coffee break! I always like crafting with a nice warm beverage on hand, as it keeps me motivated and focussed. I'm having a NESCAFÉ Caramel Latte, which I think is the closest thing to a cafe-style coffee that I can quickly make at home. You just add a sachet to hot water and it's ready to go. So it's a little mid-morning treat and I don't even have to leave the house. I really love the creamy and smooth texture of the Caramel Latte, and the rich coffee flavour has an extra-luxe hint of caramel… aaahhh.
Back to our project…
Step 9: Start the third row by 'chaining up', i.e. one chain stitch and continue as before until you've completed the third row.
Step 10: Measure your crochet on the mug. Three rows will probably be too small, but it's good to check at this stage.
Continue as before until you've completed the fourth row, and fifth if needed.

Step 11: Cut the wool, leaving a tail of about 13cm. Hook the wool and bring it through the last stitch.
Step 12: Remove the hook and pull the stitch tight.

BEHIND THE SCENES AT WE ARE SCOUT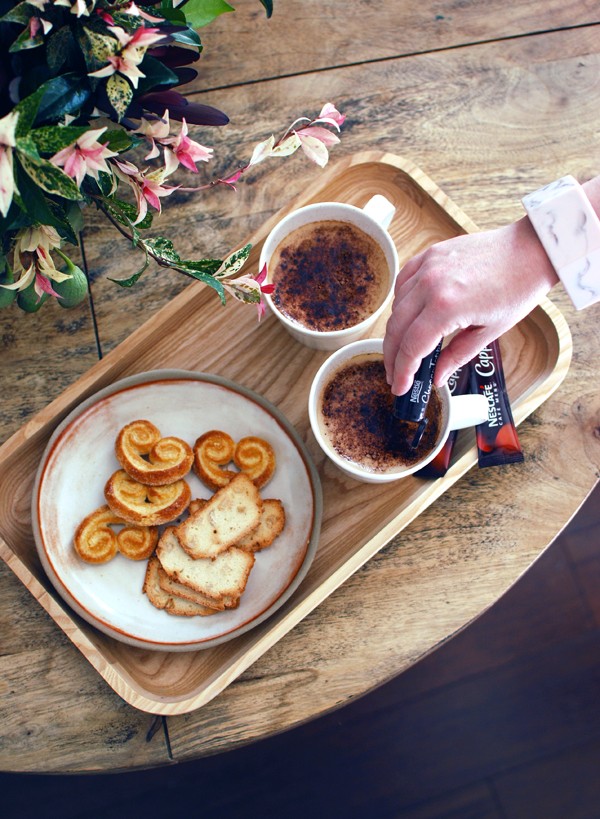 Editorial meeting! Rebecca's just popped over for our weekly editorial meeting, so coffee and biscuits are in order for a mid-morning pick-me-up and to get the ideas flowing.
We love NESCAFÉ's Cappuccinos because they are fast and easy to make, and it has a fantastic froth! It also comes with a handy little chocolate powder shaker, so we also get a delicious chocolate hit as well.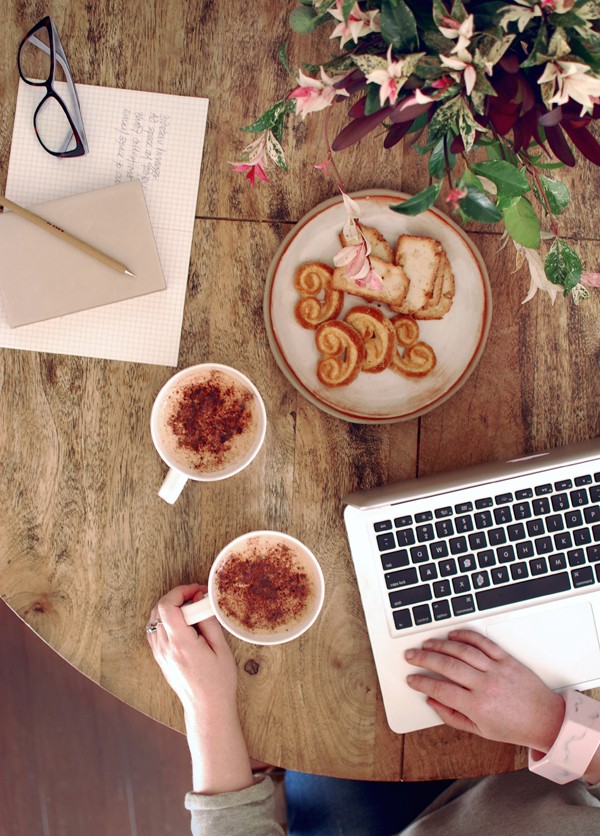 Rebecca always types her notes directly into her laptop, but I'm totally old-school and write my to-do list in my notepad. I always carry a notebook about so I can easily refer to it it, and I also use it to sketch out tutorial and design ideas.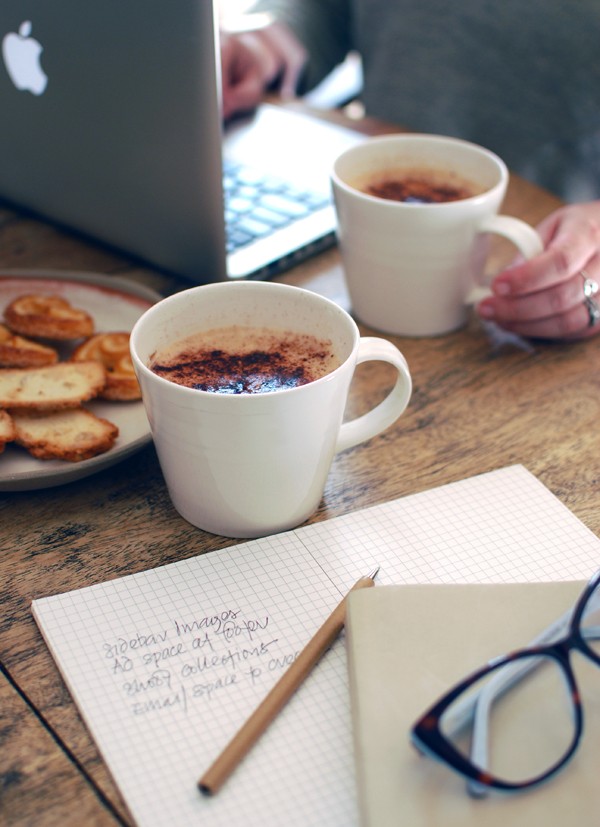 Mid-meeting, Rebecca takes a shot of our coffee and biccies for Instagram. As a blogger, all food is fodder for Instagram.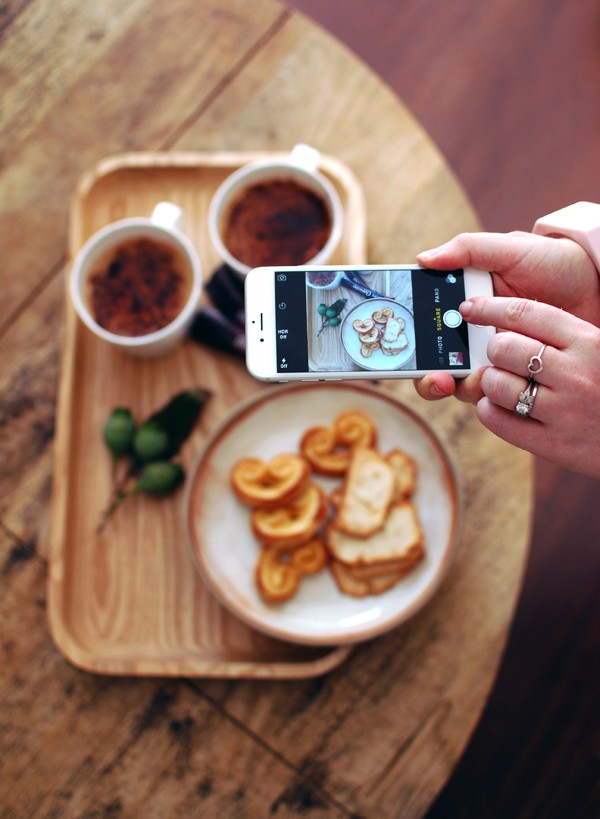 Now that we've finished our meeting, Rebecca gets on with blogging and I finish off the tutorial.
Let's get back to it.
Step 13: Finish the cosy by joining the ends together.
Take the tail from the last row of stitches and weave it across and down to join the ends.
Step 14: Tie a knot to join both the tails.

Step 15: Weave the tails through the stitches at the base of the cosy, making sure the ends are tucked inside.
Step 16: Pop the cosy on your cuddle mug and boil the kettle.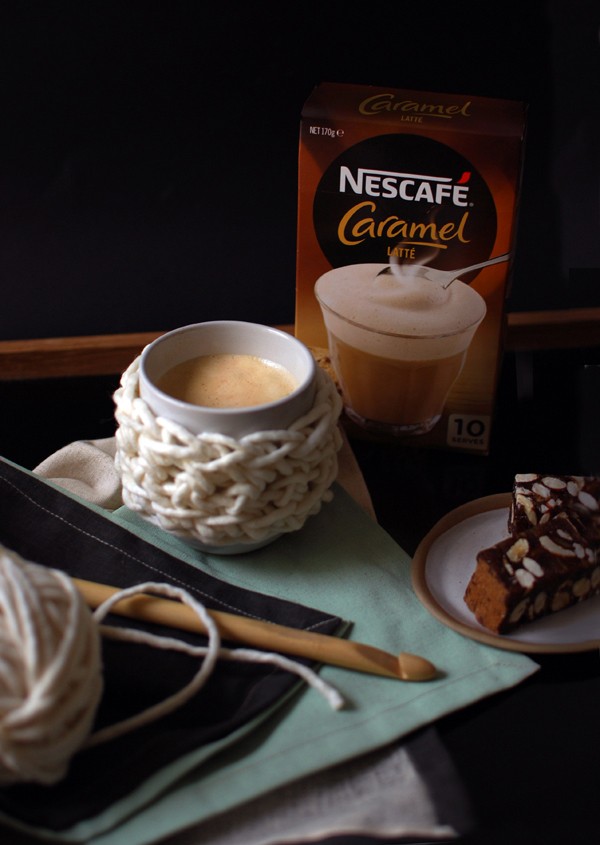 If you'd like to try the NESCAFÉ Café Menu for yourself, just head to the sampling app. Easy.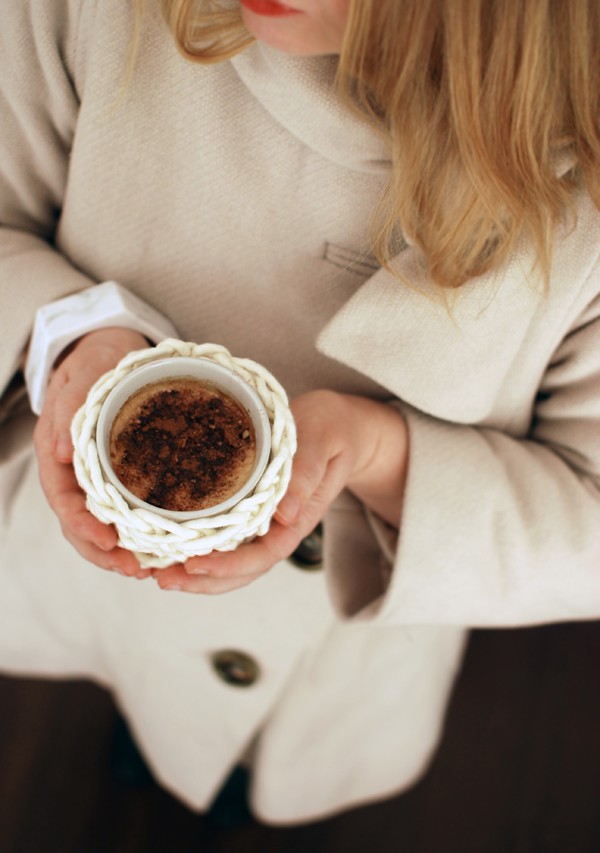 So how did you go with your crochet cuddle mug cosy? It's super-fast and easy to make, isn't it? Now you've made one, you might like to make some more for your friends. You could make a lovely gift for someone with your crochet cosy wrapped around a gorgeous artisan mug, along with some sachets of NESCAFÉ.
Disclosure: This is a sponsored post in collaboration with NESCAFÉ. We only partner with brands that are a good fit with our blog, our aesthetic and what you, our readers, enjoy. Content and concept, product selections, words and opinions are all our own.
By Rebecca Lowrey Boyd and Lisa Tilse for We Are Scout.
All photography and styling by Lisa Tilse, for We Are Scout.
Save