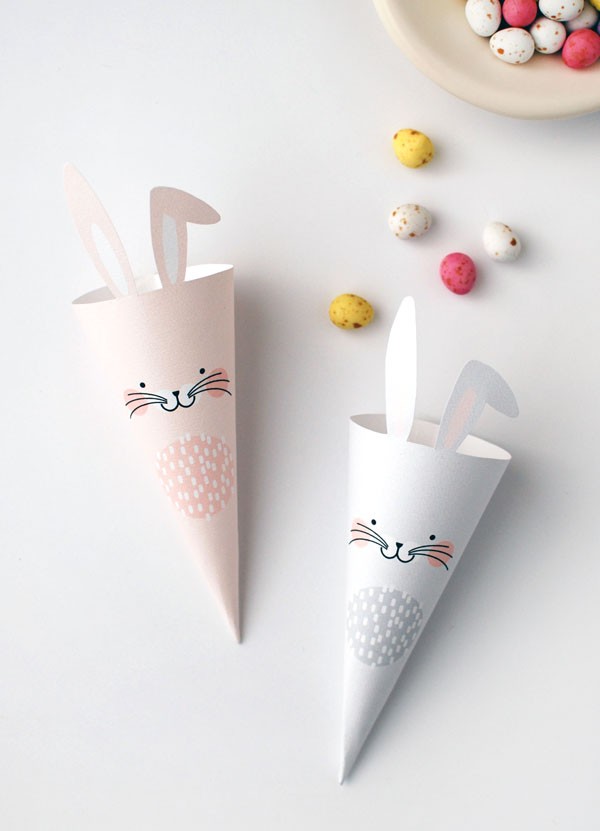 It's nearly Easter and our thoughts are turning to chocolate. Actually, we're usually thinking of chocolate anyway!
I've designed these free printable Easter bunny treat cones for you – just download the file and print it out, then follow the simple assembly instructions.
Fill your bunny cones with Easter treats, they make adorable gifts. You might also like to mix them up with my super cute Easter carrot treat cones.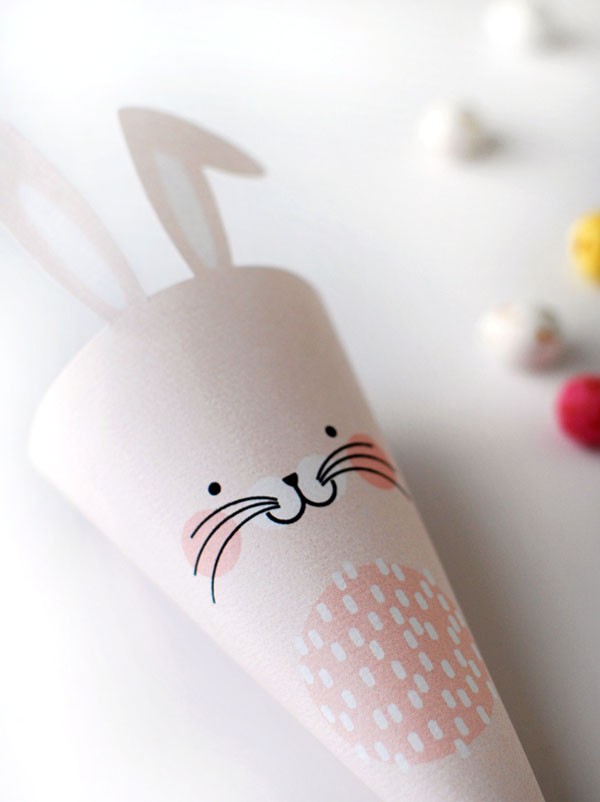 To make the bunny cones, you'll need
– Easter bunny treat cone free printable.
Click here to download the pink rabbit.
Click here to download the grey rabbit
– Mid-weight paper for printing
– Double-sided tape
– Tissue paper (optional)
– Ribbon, ric rac or mini pom pom trim (optional)
– Treats!
Start by downloading and printing out the two Easter bunny cones.
Cut one out and attach double-sided tape to the flap. Roll up the cone and stick it together. Now you can fill your cone with treats! If you want to make a sealed gift with tissue paper, keep going to the next step.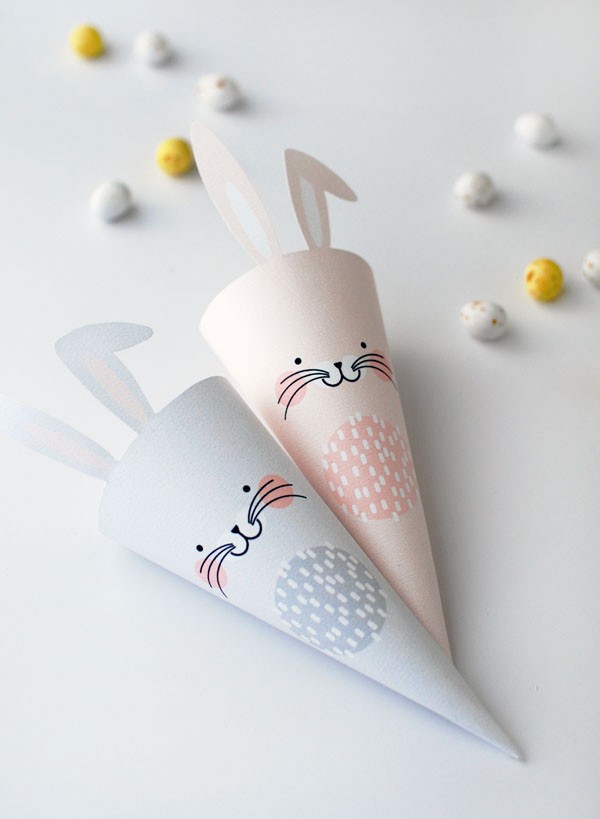 Cut two pieces of tissue paper – one roughly measuring 37cm (14.5 inches) square, and the other about 37cm x 42cm (14.5 x 16.5 inches).
Place them one on top of the other.
Make a little crease in the centre of the bottom edge. Start rolling a cone shape, with the crease as the bottom point of the cone.
Place the tissue paper cone inside the bunny paper cone, and loosen the top of the tissue paper so it fills out to the same size as the outer cone.
Fill your cone with treats. Then gather it together at the top and tie a ribbon around it. Fan out the tissue paper and cut one slit down the centre, then twist each side to create two bunny ears and tie with ribbon, twine or mini pom-poms.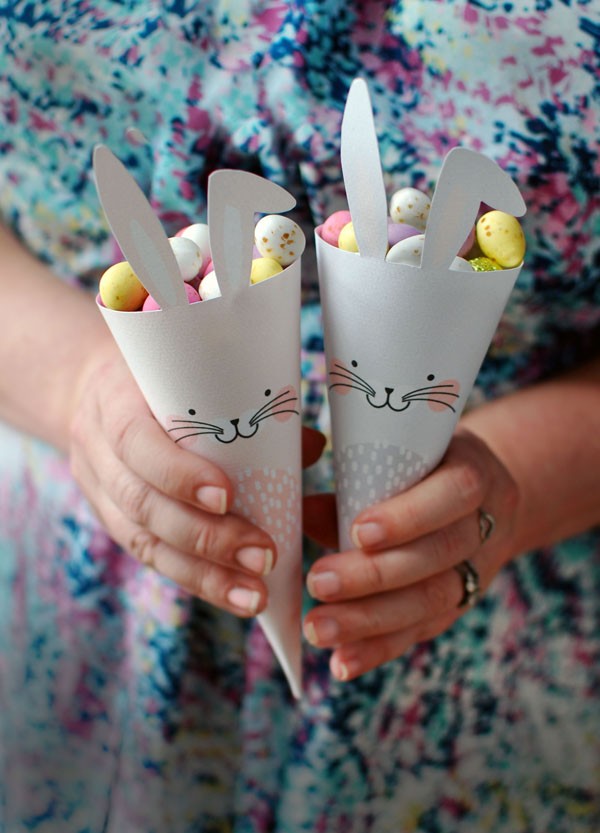 Don't forget to take a look at my carrot Easter treat cones and the free printable and tutorial.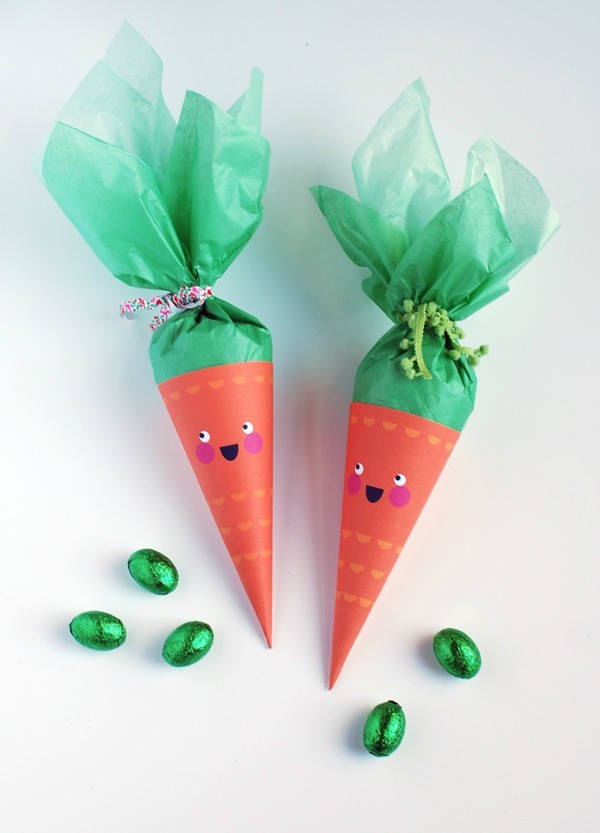 If you want Easter to be sugar free why not fill your Easter bunny treat cones with little gifts like cute erasers, nail polish, or figurines.
Happy Easter Scouts!
Printables design, styling and photography by Lisa Tilse for We Are Scout.

We Are Scout printables T&C: This printable is copyrighted by Lisa Tilse for We Are Scout. It's for personal use only – for yourself or for a gift. This printable may not be use for commercial purposes, or reproduced or shared, in part or in entirety, in print or electronic form. Thanks for your respectful use.
Save
Save
Save
Save
Save
Save
Save
Save