Freedom have recently released their new winter collection of covetable home wares and furniture and I'm excited to tell you that I've teamed up with them for an Instagram competition. There are 5 great prizes valued at over $1000 which I chose from the new collection. I was in store this week and there is so much to love in the collection's four ranges: graphik, rustic, coastal and sweet folk… something for everyone.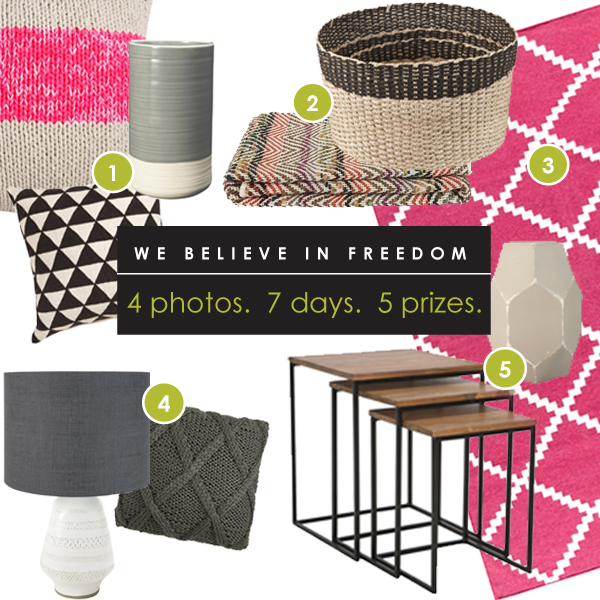 All you have to do to enter is post 4 photos on Instagram – one for each of the four themes: graphik, rustic, coastal and sweet folk – between Monday 25th March to Monday 1st April. Your photos can be of anything that fits within each theme. Be creative and imaginative and interpret the themes with your own style and content.
There'll be a prize for the best photo in each of four themes, plus a prize for the person who's four photos we love the most. The competition will be judged by me and Freedom and announced here on Friday 5th April.
The four theme prizes are:
neon knit cushion  |  rowan cushion  |  glaze vessel
verona throw  |  tricote set of three stacking baskets
symmetric floor rug in raspberry
character table lamp |  cambridge cushion
And the prize for the overall winner is:
maze nest of tables  |  vista faceted vessel
If you're not already on Instagram download the app onto your smart phone and join in. I have to say I'm a bit addicted it's a lot of fun and another great way to connect with like minded folk.
These are the basic rules:
– The photos have to be your original photos, and must be new ones taken during the competition period Monday 25th March to Monday 1st April
– Follow @freedom_australia and @theredthread
– Submit one photo for each of the themes: graphik, rustic, coastal and sweet folk
– Tag each photo with #webelieveinfreedom and the hashtag for that particular photo's theme – #webelieveingraphik OR #webelieveinrustic OR #webelieveincoastal  OR #webelieveinsweetfolk
– Tag your photos with @freedom_australia and @theredthread to make sure we see them
– The competition is open to Australian residents only
So, are you in? It's going to be fun and I can't wait to see how the themes are interpreted. Leave me a comment if you have any questions. See you on Instagram!