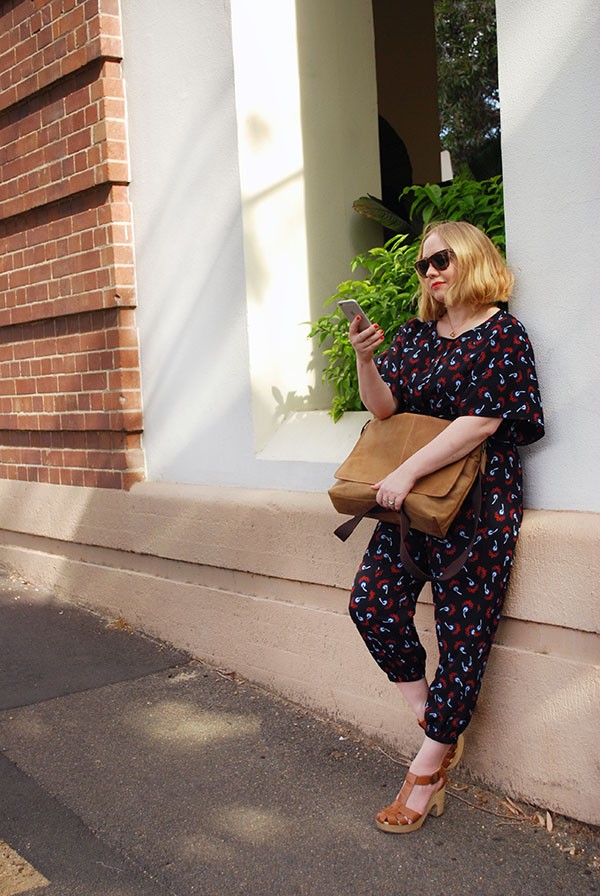 One of the best things about my job? I'm not tied down to the office. I'm constantly on the go and you'll find me working anywhere and everywhere – from a park bench in the botanical gardens to the front seat of my car, waiting for pre-school pick-up time. Here's an hour-by-hour insight into a day of my life on the go – and all the gadgets I use to make it happen.
1004
Arrived in the city and could kill for a coffee. I've got an hour until my hair appointment, so I set up office in a cafe down the road. I love the Paramount Coffee Project in Surry Hills. Fab coffee and the best window seats for watching the world go by.
I order a latte and spot two rather fabulously-dressed women. Resist urge to (a) do a Sartorialist-style Instagram post and (b) chase them down and demand fabulous fashion details. Upload images for a new blog post from my portable hard drive instead. Good job, too.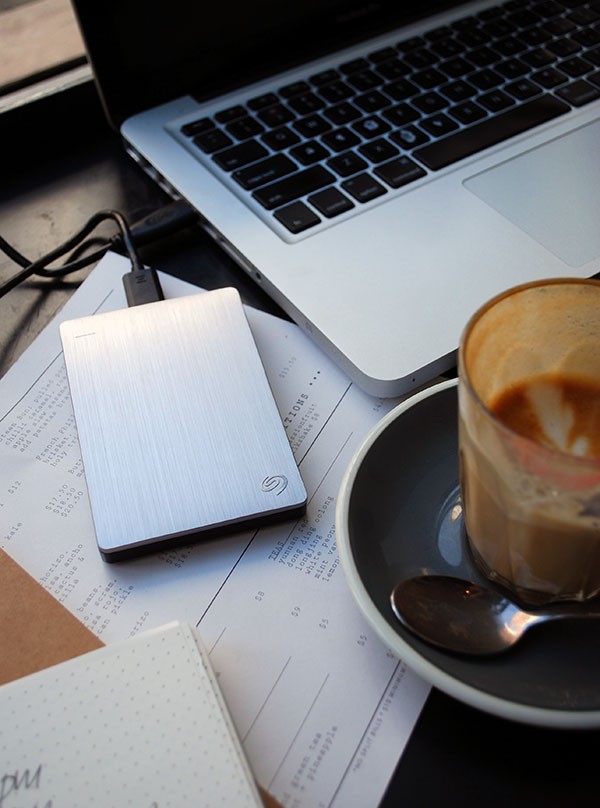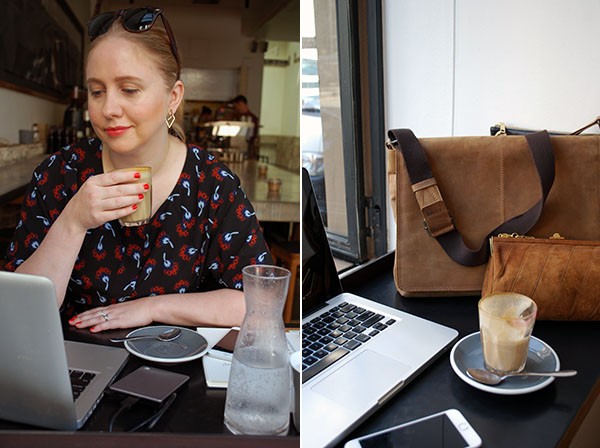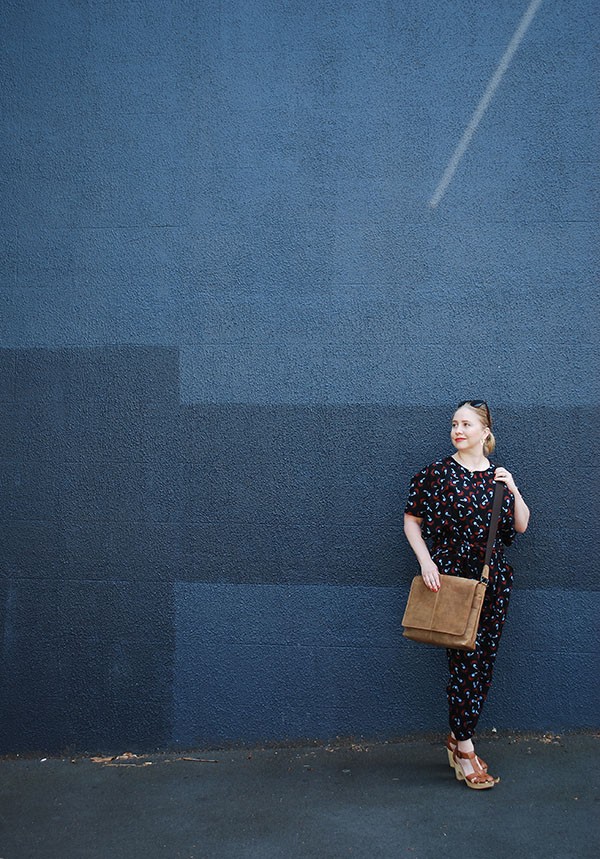 1101
I'm not a lady who lives by her blowdries. Or even regular haircuts. These days you'll find me doing the pre-school run with wet hair scraped back in a messy ponytail, before racing off to my first appointment.
So if I've got an event in the city coming up, I try to schedule a hair appointment on the same day. That way I get my haircut at my favourite city hairdresser, and I can turn up to the event looking groomed and fresh(er).
While Joshua at Raw Hair Salon in Surry Hills tames my tresses, I use the time to catch up on all of my social media and check my emails on the phone. Love Joshua. Love Raw. Love salon blowdries.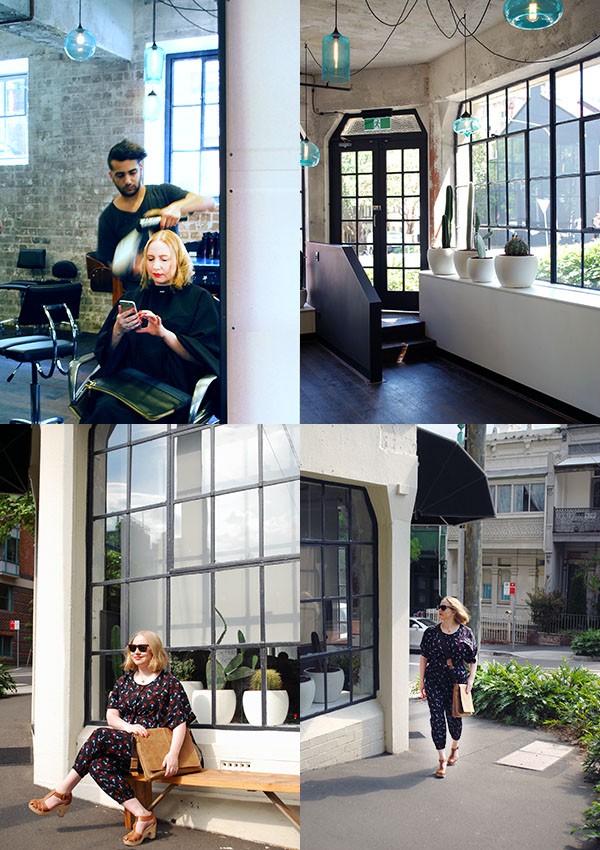 1200
Hair done. Make a beeline for the Art Gallery of NSW for a lunch with the Etsy Australia team. I plan to get some work done after the event, so I pop my laptop in my messenger bag and sling it over my shoulder. On the move.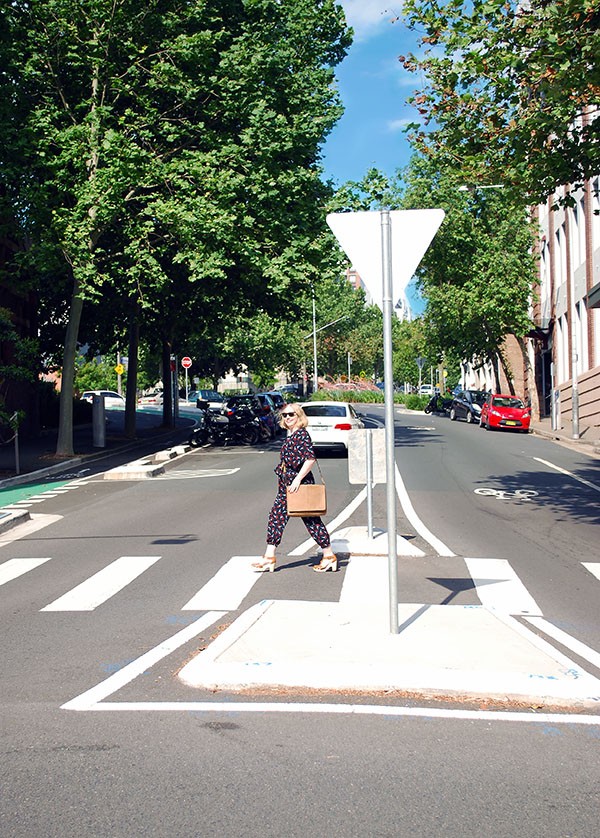 1211
Made it to Chiswick at the Gallery. 11 minutes late, but not too bad. It's a beautiful light-filled room overlooking Woolloomolloo. Fantastic.
Meet up with the lovely Etsy girls, who have popped up from Melbourne for the day to talk Christmas gifts and their Make for Good campaign. Somehow find myself with a glass of Champagne in my hand. Lovely.
1215
Meet Etsy seller Grace Wood, who shows me her gorgeous hand-felted textiles, using wool from the sheep on her family farm. Love meeting new designers and hearing the story behind the product. Grace is a talented bird and her delicate felting is a textural delight.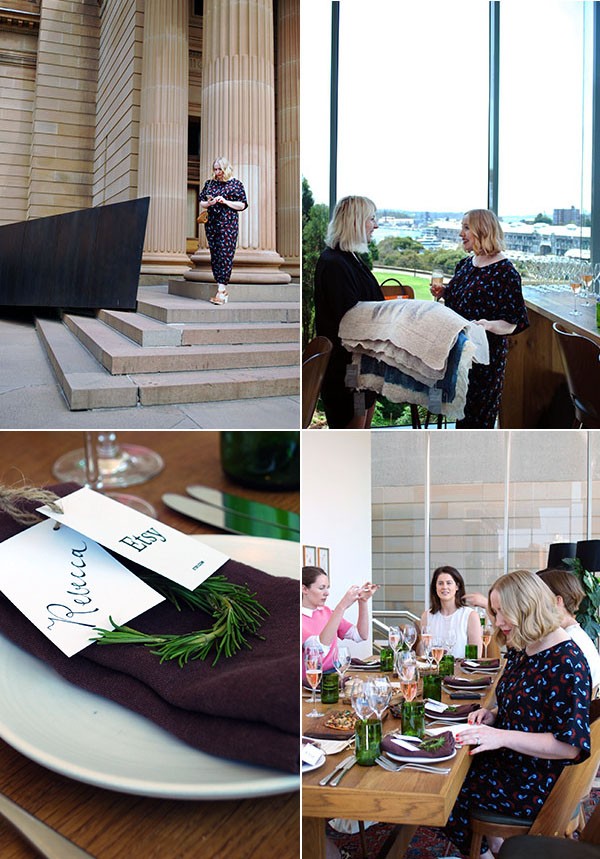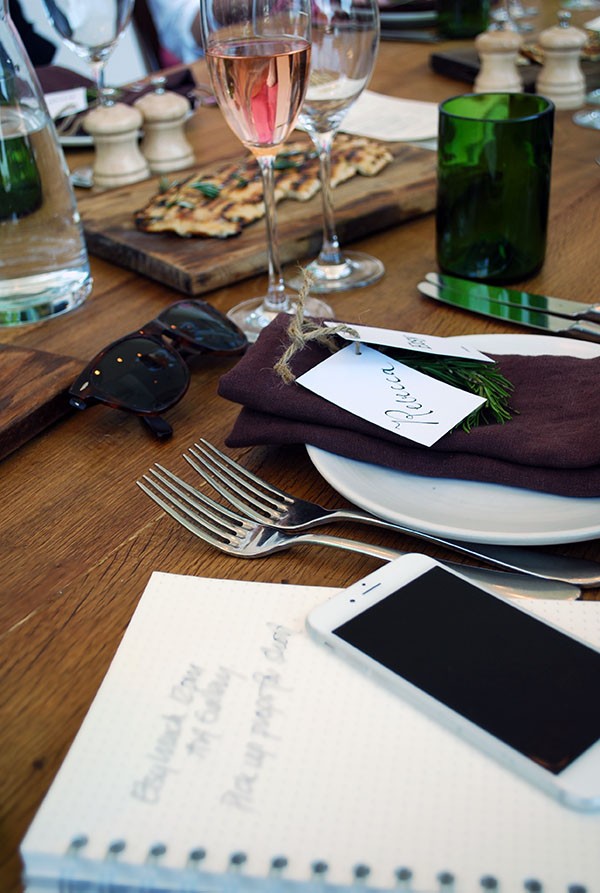 1230
Sit down to feast of roasted Petuna salmon tail; Moran family lamb; and Jerusalem artichoke risotto, with all manner of delicious starters and sides. Post two Instagram posts of place settings and food. Luckily, the Etsy ladies are completely used to bloggers whipping out their phones and taking photos of every morsel about to cross their mouths.
1300
Incredible dessert of coconut milk panna cotta, blood orange and sorrel. Looks like a work of art, which is rather appropriate, considering our setting. Naturally, it is immediately photographed and Instagrammed.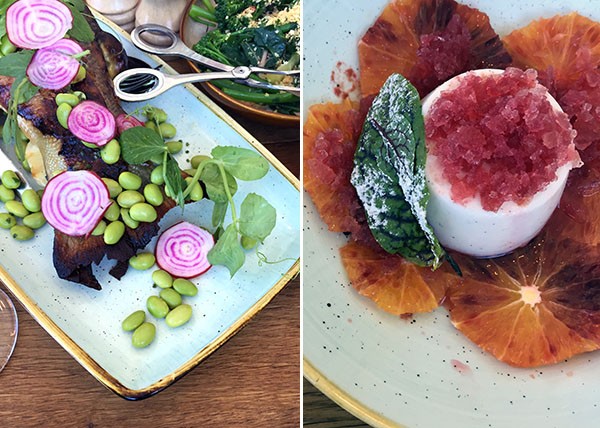 1402
On the go again. I'm heading to the State Library to knuckle down and do more work, but not before a walk through the gardens. Best thing about being a blogger? The world (and Botanic Gardens) is my office.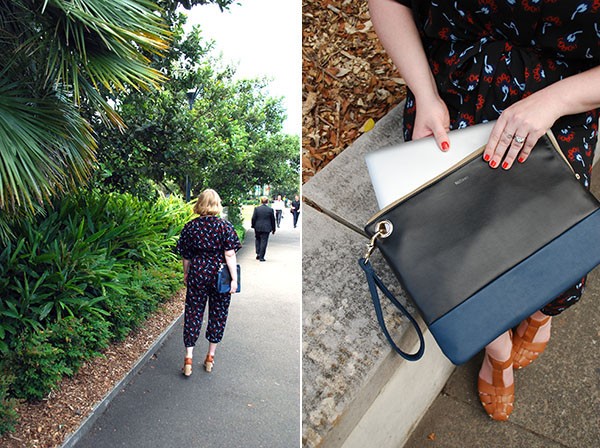 1404
Oops. Phone battery running low and I've still got loads of work to do. Recharge my phone on a park bench using my Comsol Ultra Slim Lightning Power Bank. I love this gadget. The slim design means I can carry it in my clutch bag, and I'm never stuck on the go with a dead phone.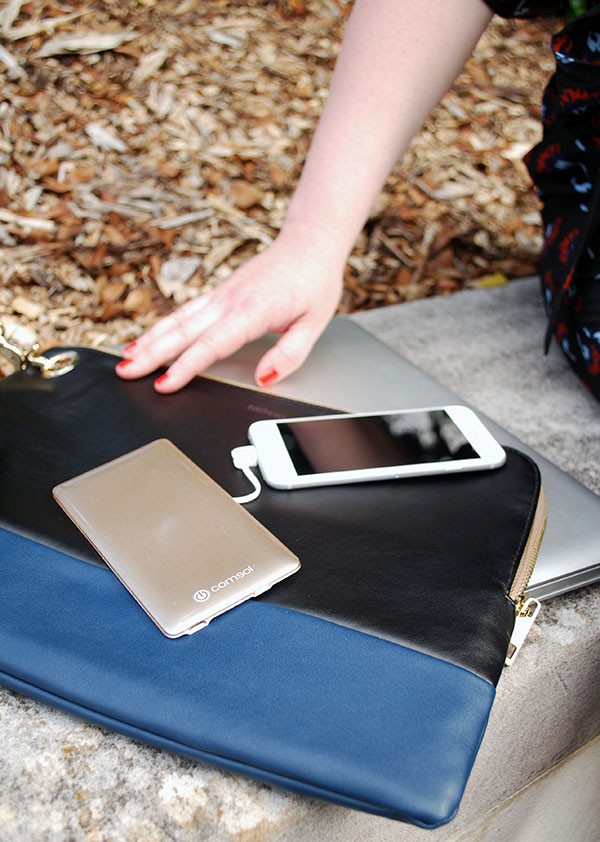 1714
Just knocked over a few hours of writing at the State Library. Time to head home.
Got some messages on my phone, so I return a few calls on my new bluetooth headset, which is a tiny piece of genius in my ear. I can talk on the phone while getting my GPS directions, because it's wirelessly paired with both devices. See? Genius.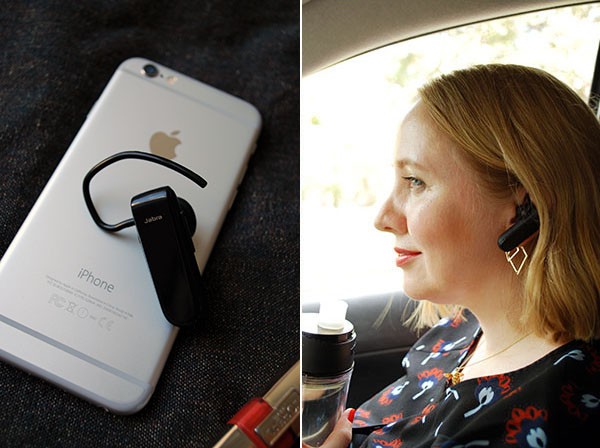 Rebecca's top 6 tips for working on the go
1. Kit yourself out with a wardrobe of office mobility products. I've discovered a world of gems that have changed the way I work.
2. I love writing blog posts in public libraries. I can focus on the task at hand without too many distractions, and I'm surrounded by resource material! I used to rely on the library's free wifi, but have found that many of them are way too slow. Invest in a dongle and keep it topped up.
3. Obviously, lightweight laptops are the way to go. But if, like me, you've still got a heavier model, get a great messenger bag and wear it cross-body so the weight is evenly distributed. Even better? Get a cool laptop backpack. Great if you're on a bike!
4. Keep an eye out for cafes that offer free wi-fi – and set up office. But if it's a small independent business and it's at peak hour, don't sit there hogging a table for hours on just one coffee. So order lunch, or go mid-morning or mid-afternoon.
5. If you've taken loads of photos at an event and you need more space, use a portable hard drive to back-up your photos (and access them for a lightning-speed blog post).
6. On the move for the whole day? Get a portable power bank so you can recharge your phone. Look out for ultra-slim models like the Comsol ultra slim lightning power bank which can fit inside your handbag.
Tell me: Do you work on the go, too? What are your top tips and favourite gadgets?
By Rebecca Lowrey Boyd/Wee Birdy for We Are Scout.
All photography and styling by Lisa Tilse, for We Are Scout.
Disclosure: This is a sponsored post in collaboration with Officeworks. We only partner with brands that are a good fit with our blog, our aesthetic and what you, our readers, enjoy. Content and concept, product selections, words and opinions are all our own.

Save
Save