A wee tour: My modern vintage baby's room
It's funny the things you forget. Like the little details in my son's room when he first arrived. It's been two years since these photos were taken, but since I'm running a week of all things related to babies and kids, I thought you might like to see how I decorated his room back then.
There was no real plan or theme, as you can see from the photos (although there are a lot of birds and bunnies, naturally). I was fiercely opposed to anything too matchy-matchy, or beige and neutral. I wanted a light, bright and happy space for my new baby – and me.
I've spent a lot of hours in this room – and now that it's home to a very busy two-year-old, quite a lot of things have changed. But one thing that hasn't changed is my love of print and pattern, and my magpie approach to decorating.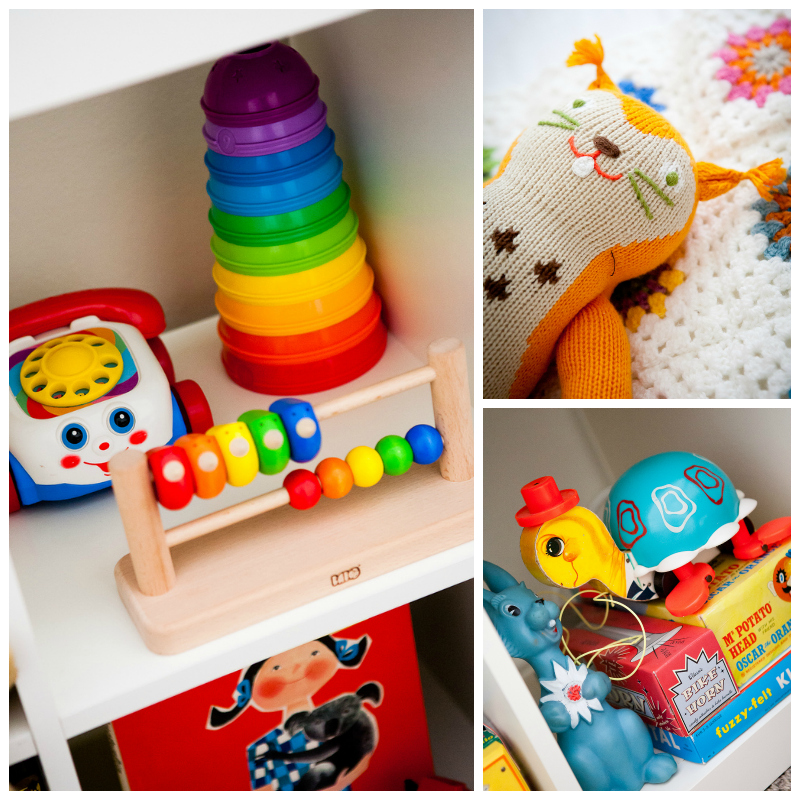 I guess you could call Harry's room modern vintage – but really, we were confined by a tight budget – and space. And like so many other new parents, we trotted off to IKEA for the requisite Expedit shelves and chest of drawers.
The rest of the space I filled with vintage and second-hand-stuff, like the Stokke cot I bought for a song on eBay. And I didn't want to splash out on a new rocking chair or anything that was marketed as a 'nursing chair', so I made do with a mid-century chair that I bought and had reupholstered by the brilliant A Pair of Chairs in Redfern.
The teak arms of the chair were instantly 'christened' by my son on the first day we brought him home, so I hastily covered it with a mix of second-hand granny blankets, quilts and cushions.
Budget and space were also major factors to consider when it came to buying baby furniture. So much in fact, that I was vehemently opposed to anything that had a sole 'baby furniture' purpose. So instead of buying a new nappy change table, we made do with a change mat on top of the IKEA set of drawers. And instead of a separate Moses basket or basinette, Harry slept in his cot from day one. I also decided against buying a bulky baby bath, so a baby seat in our bath did the job just as well.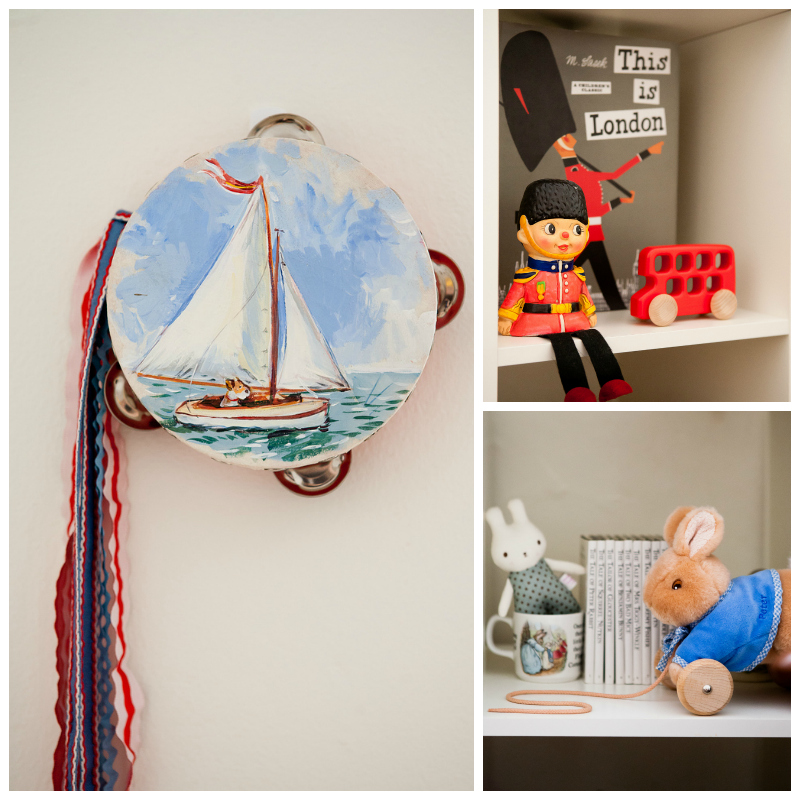 I introduced colour and texture into what was an otherwise plain white space with my own childhood toys, new finds, and the many generous gifts from friends. My beloved Little Wanderer by Japanese artist Yoshitomo Nara – a gift from a friend for my 30th birthday – found a new home on Harry's shelves.
You can also see the hand-painted cotton reel garland that my mum and sister made for me when I was born. And if you look carefully, you'll be able to spot my childhood copy of M Sasek's This is Sydney, along with my childhood Mr Potato Head, fuzzy felt board, red school case, wooden xylophone and Danish wooden fish puzzle. And like every other design blogger with a baby two years ago, I duly bought the IKEA spice racks and re-purposed them as rather nifty book racks. Ha!
To keep things fresh and to add a splash of greenery, I popped a pot plant on top of Harry's shelves – it's still there but it's now filled with dinosaurs.
Here's a wee list of some of the things you can see in his room. Most of these things were gifts but I've provided sources where possible.
Vintage fabric bunting by Hazy Jane from My Messy Room.
Babar print from a seller on the banks of the Seine, Paris.
Original Winnie the Pooh etching, from a bookshop in Cecil's Court, London.
White Expedit shelving unit (lying in its side) from IKEA.
Malm chest of drawers (with Cath Kidston nappy change mat on top) from IKEA.
Hen and chicks mobile by Flensted.
White crochet granny square rug by IDA Interior Lifestyle's Etsy shop.
Alphabet blocks, a gift from a friend, can be bought here.
Yoshitomo Nara's Little Wanderer.
Heico rabbit lamp, kindly gifted by Caravan Interiors.
Small hand painted tambourine, trimmed with vintage ribbons by Claire Fletcher from Made in Hastings.
Vintage chair re-upholstered by a A Pair of Chairs.
Birdy cushions from Habitat, London.
Vintage wallpaper animal wall decals from Inke Heiland.
Bajo wooden bird abacus from My Messy Room.
Bajo red wooden bus from My Messy Room.
Old fairground wooden battleships from Pedlars' Notting Hill shop.
Much loved McNuttie the Squirrel, kindly gifted by BlaBla Kids.
Multibirds mobile, gifted by BlaBla.
Red bird dream ring, gifted by BlaBla Kids.
It's a week of babies and kids on Wee Birdy! Make sure you haven't missed:
Top 12 affordable art prints for children's rooms
Wee find: Laikonik once-a-year baby record books
19 clever ways to transform a kid's room with wallpaper
The 12 best presents for baby girls
A wee historic royal baby exhibition
The 12 best presents for baby boys