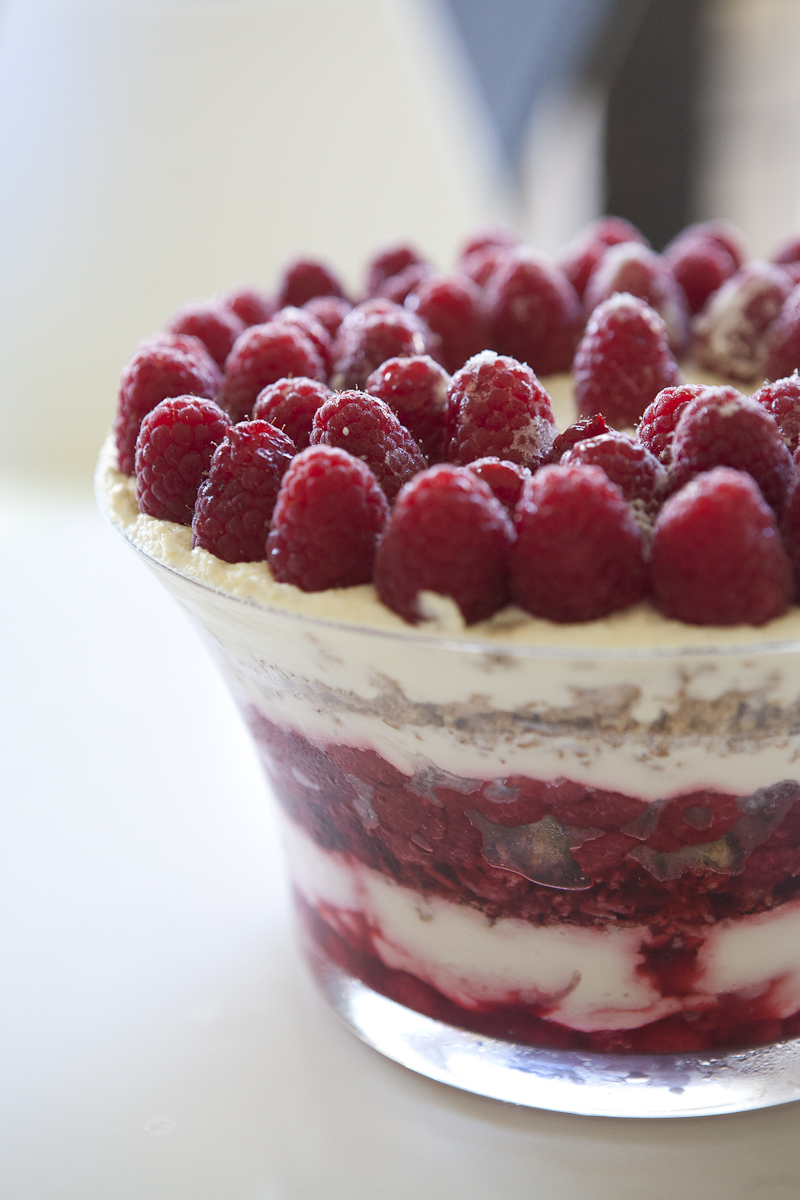 A wee Christmas recipe: My Raspberry Cream Macaroon dessert
This, my dearest birdies, is my favourite Christmas dessert. It's the perfect way to end a too-stuffed-to-eat-another-mouthful-Christmas-dinner, as it's relatively light (well, depending on how much you eat) and the raspberries offer an edge to the sweetness of the macaroons and cream.
I don't really use a "recipe" as such (apart from the coconut macaroon bit) because it's dead simple – and the amounts used depend on how big your trifle bowl is.
If you want the cheat's version, use shop-bought coconut macaroons. You'll be laughing at how dead-simple it is to put together, not to mention the 'big effort', maximum-impact results.
Now I'm not talking about French macarons of the Laduree variety, I mean rough coconut macaroons that are crispy and toasty on the outside with a deliciously gooey meringue-y centre. I like to make my own, but be careful not to overcook them as you won't get the gooey/sticky/toasty/crunchy texture that makes this recipe so lovely.
Ingredients
Freshly whipped cream (I use two cartons of whipping cream, but you may need more or less, depending on how big your bowl is).
Raspberries (I use a mixture of fresh and frozen. I use one whole box of frozen raspberries, together with four punnets of fresh raspberries. It's really nice to decorate the top of the dessert with a layer of fresh raspberries.)
Crushed coconut macaroons – either shop-bought or make them yourself, recipe below. Just pop them in a plastic bag and whack them with a rolling pin/mallet/other handy whackable object. Don't smash them to smithereens – you don't want a crumb-like texture. More of a mixture of crumbs and little chunks.
Method
1. Place a layer of crushed coconut macaroons (around an inch high) in the bottom of your glass trifle dish.
2. Usually a spatula, place a layer of freshly whipped cream (around an inch high) on top of the macaroons.
3. Now place a layer of raspberries on top of the cream.
4. Repeat the layers until you get to the top of the trifle bowl.
5. Finish with a layer of whipped cream and decorate with fresh raspberries. Either throw your raspberries on free-form or go for a retro design of concentric circles.
6. Keep chilled until you're ready to serve, then dust it with icing sugar (don't do what I did last year in a fit of Christmas-induced madness and toss a heap of castor sugar on top. I misread the label. Not nice. Gritty. Oh dear.)
7. Wow your guests – they'll love it!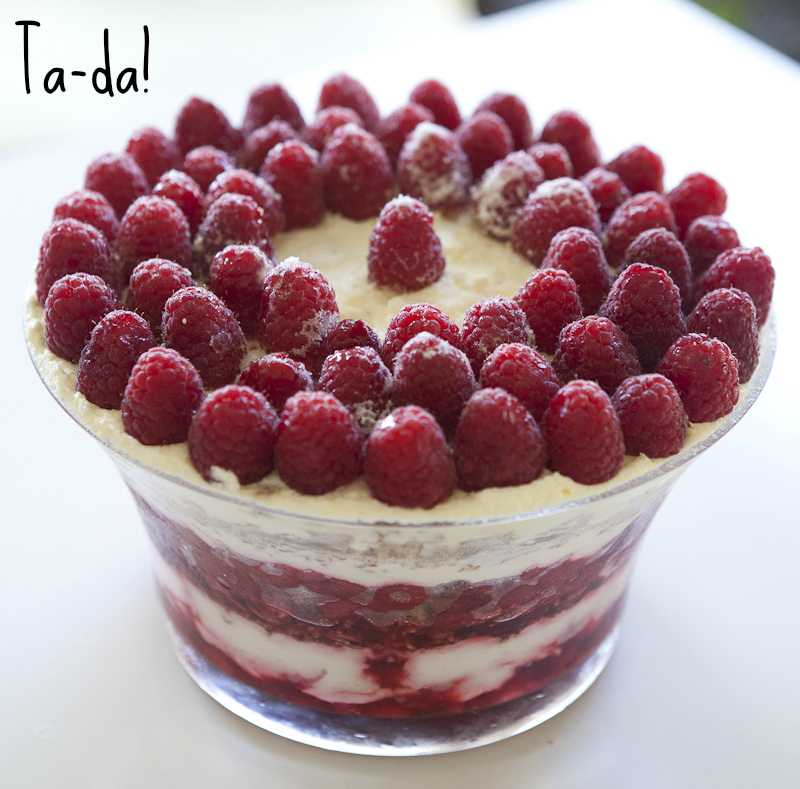 Coconut Macaroon Recipe (the non-cheat's version)
Ingredients
3 cups of shredded coconut
4 egg whites, at room temperature
1/4 teaspoon salt
3/4 cup of caster sugar
2 teaspoons of vanilla essence
Method
1. Preheat oven to 170 degrees celcius. Line three baking trays with non-stick baking paper. Spread the shredded coconut over two of the trays and cook in the oven, tossing occasionally for three to four minutes until lightly toasted. For the love of god keep an eye on it and don't let it burn! Remove from the oven and transfer to a plate. Your kitchen will now smell divine!
2. Whisk the egg whites and salt together with electric beaters in a scrupulously clean, dry bowl until soft peaks form. Make sure you don't have a speck of grease on your bowl or mixers or your meringue won't work.
3. Once you have soft peaks, add sugar a spoonful at a time. Go slow and steady here! Look at the mixture carefully and make sure all the sugar has dissolved before adding the next spoonful of sugar.
Once all the sugar has been added, whisk for a further two minutes or until your mixture is thick and glossy.
4. Add the vanilla essence and whisk to combine.
5. Add the toasted coconut and use a large metal spoon to carefully fold it in until just combined. (Use a bit of TLC here. If you overdo this bit or stir too vigorously, your macaroons will be flat.)
6. Spoon tablespoonful of mixture onto lined trays. Leave around 2cm between each macaroon. Bake in the oven, swapping trays halfway through cooking, for 12-15 minutes or until your macaroons are light golden and firm.
7. Leave them to cool for five minutes on the trays before transferring them to wire racks to cool completely.
8. Store in an airtight container for up to two days before you need them.
Do you think you'll have a go at making my dessert this year? What's your all-time favourite Christmas dessert?
You might also like Likkle Girl's Rummy Balls.