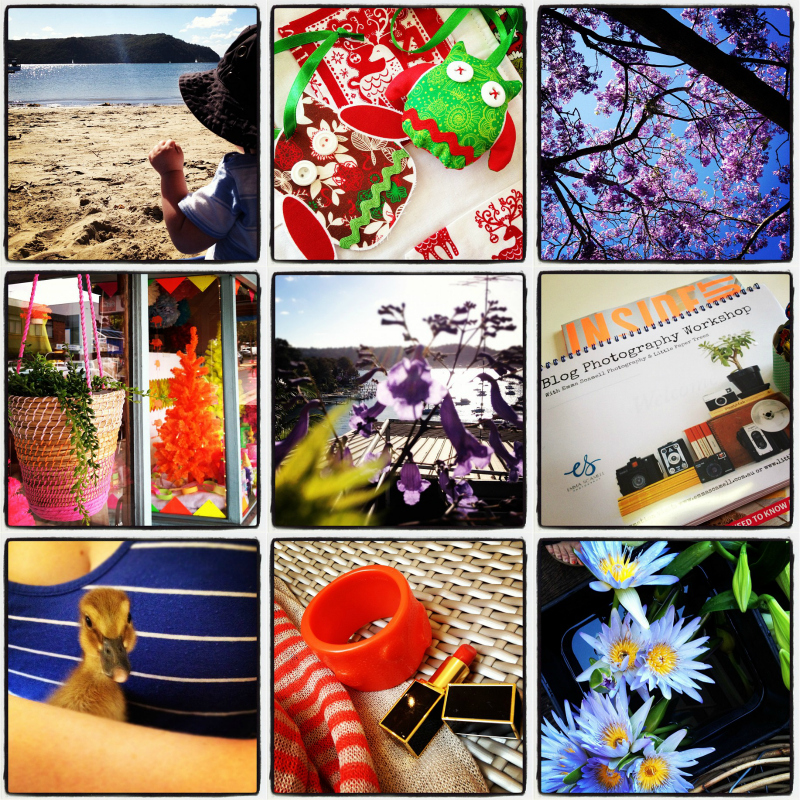 A wee birdy week, in pictures
According to Instagram, my week looked like this:
I went to the beach – again! That makes it two weekends in a row. Must be a record for me.
I attended my first ever Kids Business Bloggers Brunch – and found some quick and easy Christmas crafts from Spotlight. (Quick and easy being key words for me.) I'm on my way to Spotlight this afternoon!
I also met the girls from Brown Sugar at the Bloggers Brunch, who gifted me a beautiful coral striped scarf, which went fabulously with my coral Dinosaur Designs bangle and Tom Ford lipstick in Wild Ginger.
I'm still loving Sydney's magnificent show of jacarandas this year. Front lawns and footpaths everywhere are awash with jacaranda confetti. And the sight of backlit jacarandas in the warm glow of the late afternoon sun is one of my favourite Sydney sights. It means summer is just around the corner.
I went to an excellent Blog Photography Workshop to brush up on my DSLR skills. Hosted by the fabulous Little Paper Trees (check out her blog now) and led by lifestyle photographer Emma Scamell, we covered an incredible amount of skills in just one wee day. The workshop was held in the studios of one of my favourite Sydney shops, Little Paper Lane, so it was a day filled with lots of laughs, creativity and neon. It's a very neon Christmas this year at Little Paper Lane – check out the riot of colour in their window displays!
If you're in Sydney and you need some Christmas present inspiration, make the trip to Little Paper Lane in Mona Vale. Or check out their superb online shop. I dare you to resist pulling out your credit card! I shopped up a storm, and stocked up on Washi tapes, ribbons, an awesome extra-large alphabetical stamp set and neon gift cards. So lovely.
I also met a very cute duckling (it had just hatched in my friend's home incubator!)
I found the sweetest-smelling baby pineapples from the organic grocer in Avalon.
I stopped by The Boatshed in Palm Beach for some ice-cream. They always have the most magnificent displays of fresh fruit and flowers.
I took out 10 minutes to watch the Melbourne Cup, and decided to make a last-minute bet. Should have stayed at home.
I took delivery of a very sweet box filled with Chupa-Chups, and the latest candy-inspired collection of lip gloss, nail polish and eye-shadows from L'Oreal Paris.
I met the guys from Rust-oleum at the Bloggers Brunch and discovered a brand new world of magic paint and spray paints. I've got to get a can of their white matte spraypaint which gives your average jam jar a beautiful white ceramic-like finish. Genius.
Phew, what a week. Did I mention that I also launched a brand new craft tutorials website, Crafttuts+? More on that very soon!
Tell me, what did you get up to? You can follow me on Instagram here. I'd love to see your Instagram pics, too!
p.s. I made 2000 'likes' on Facebook! Hooray! Thanks everyone for following me. X