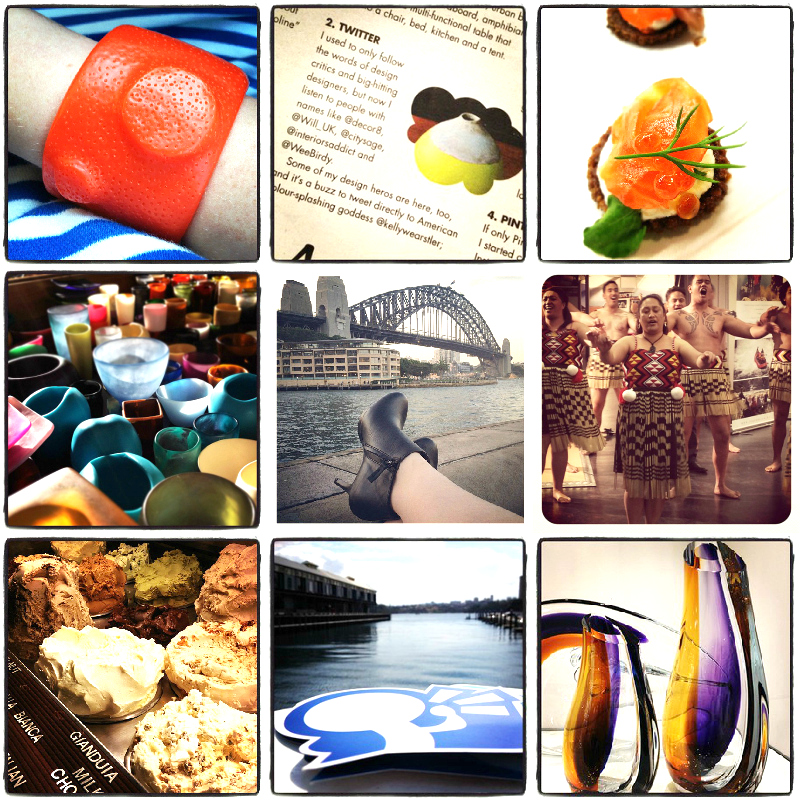 A week in the life of Wee Birdy – in pictures
According to Instagram, this is what the past week in my life looked like.
I went to the annual Dinosaur Designs garage sale in Sydney and snapped up this amazing coral resin bangle. I've wanted a wide DD bangle for ages and I love the coral-like texture as well as the amazing colour. It POPS and it looks fab with my ever-growing collection of Breton stripes.
Amanda Talbot mentioned that she's a Wee Birdy follower on Twitter in Sunday Life magazine, along with some other brilliant bloggers including @Will_UK, @decor8, @citysage and fellow Aussie @interiorsaddict. Check out Amanda's excellent design and interiors blog, Snoop.
This delicious New Zealand rainbow trout with horseradish cream on toasted rye was just one of the canapes I feasted on at a Tourism New Zealand reception at Sydney's Overseas Passenger Terminal. There was also an incredible performance of the Haka. Afterwards, I watched the sun go down over Sydney harbour and showed off my new Country Road booties.
I also met Swedish glassmaker Göran Wärff at David Jones, where he is currently exhibiting some of his stunning limited edition pieces for Kosta Boda. His use of colour throughout his work is legendary, and these purple and orange vases were two of my favourites.
I was also invited by Nuffnang to secret squirrel launch about a brand-new blogging product. Follow NuffnangX to find out more.
And we had one of those rare evenings out with our 18-month-old toddler who happily accompanied us out to an early dinner in Darlinghurst. We headed to Gelato Messina for dessert, arguably Sydney's best ice-cream. We shared a tasting plate of 'Schmeckel' (peanut butter and white chocolate-coated pretzels); salted caramel and white chocolate; dulce de leche (milk caramel); milk chocolate and peanut butter fudge and chocolate fondant ice-cream. Oh boy.
What have you been up to? Do you love Instagram? I'm addicted – I love scrolling through the lives of Wee Birdy readers around the world. Find me on Instagram – I'm @WeeBirdy.