Shopping in London: James Smith & Sons
You couldn't call James Smith & Sons one of London's hidden gems – after all, it's been standing proudly on New Oxford Street with its handsome Victorian signage for 140-odd years. But there's no way I could omit this veritable jewel from my ongoing project of collating the best shops in London.
James Smith & Sons is not only a London institution and one of its most esteemed heritage brands, it's also a unique and wondrous shopping experience. But unless you're on a bus heading down New Oxford Street, it's easy to forget that it's there.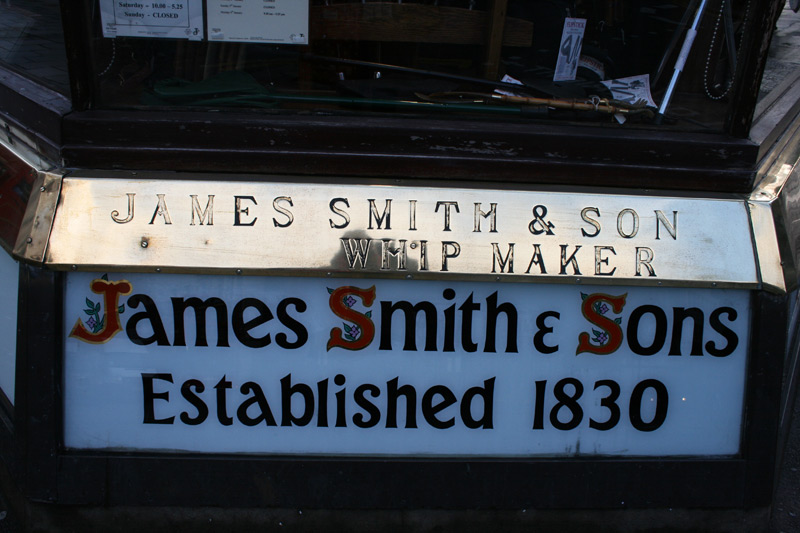 Turn the brass handle, step over the well-trodden threshold and in an instant you're transported to Dickens' London, who incidentally lived nearby on Doughty Street in the late 1830s.* I like to imagine he glanced at himself in the mirrored panels on the shop's exterior as he strolled down the street, cane in hand.
All manner of the most exquisitely crafted umbrellas, walking sticks and canes are tucked away in tall wicker baskets or displayed on the original cabinetry, which was custom-designed and made by a fitter to Mr Smith's exacting specifications. If you dig a bit of London history, you could stand and gawk forever.
But enough about the impressive shopfront, let's consider the wares on offer. This is the place to buy a quality brolly that will stand the test of time. The dodgy £2.99 plastic job you purchased in a panic would blush in shame compared to the fine examples on sale here, many of which are handcrafted in the basement workshop. The brand's reputation for fine umbrellas is legendary, and James Smith was amongst the first to use the sturdy English Fox Frame structure, which has hardly changed in design over the years.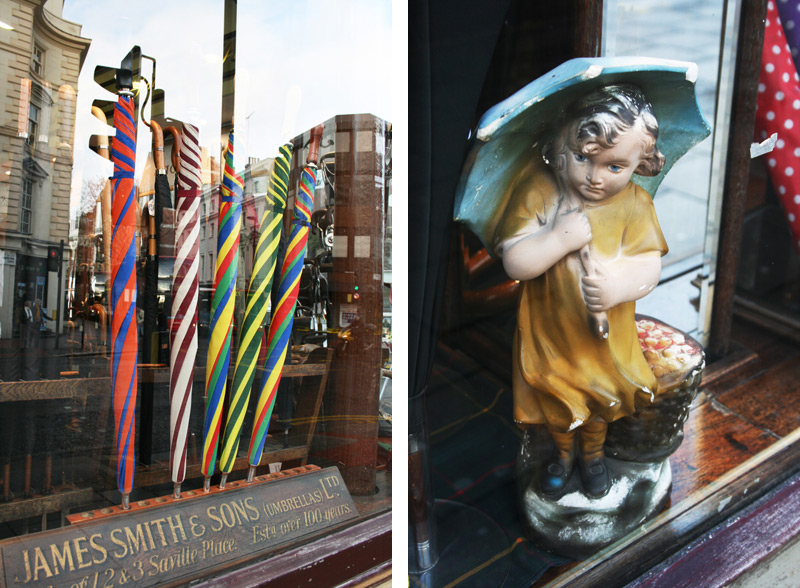 The umbrellas are charmingly divided between ladies and gents; pencil length and walking length; city and country. Take your pick from brollies with beautifully turned beechwood handles (a joy to hold), long leather handles with metal-tipped ends, and folding umbrellas with the most rustic of hazel root handles.
You pay for what you get, so prices aren't exactly cheap, with a classic ladies city umbrella starting at £65. I love the wonderfully eccentric animal-head brollies – a beautiful ladies Fox Frame with a resin parrot handle will set you back £75. They also stock the most glorious ruffled French parasols by Pierre Vaux in myriad rainbow colours for £58.80 (not bad, considering I've seen them elsewhere for £100).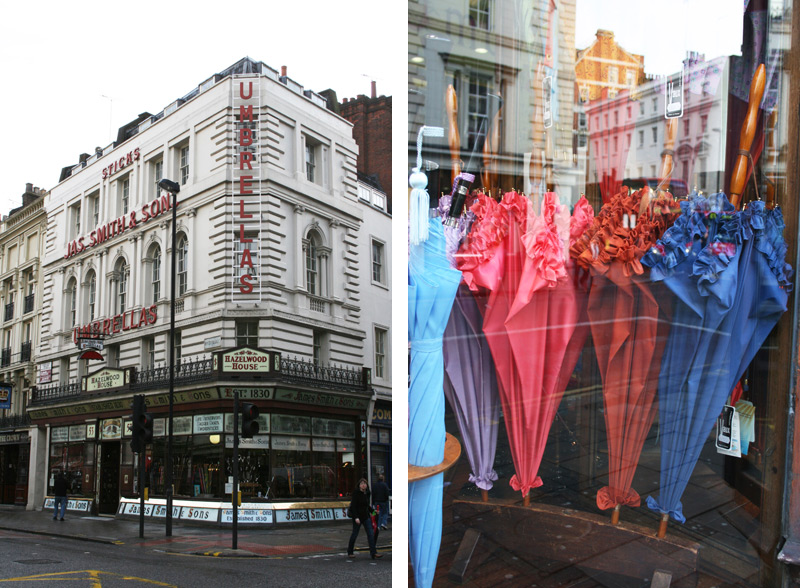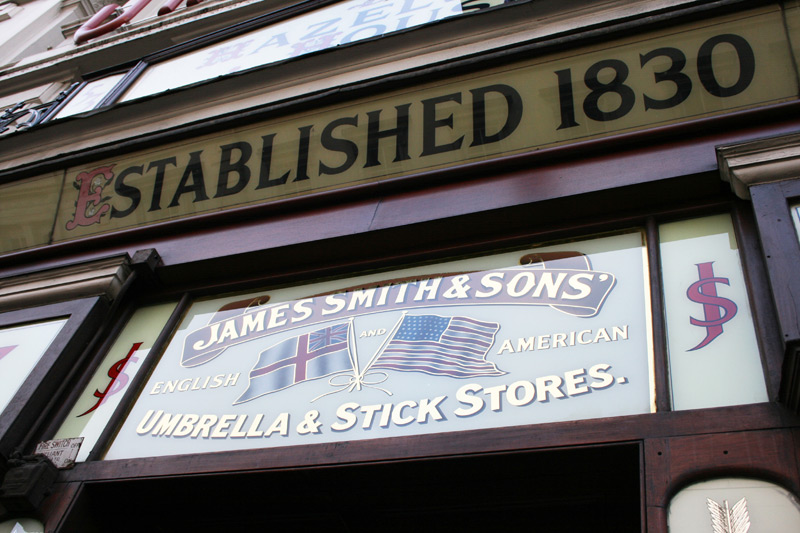 There is also an extensive range of walking sticks and canes, stemming back to those times when an English gentleman wouldn't leave home without being properly accessorised with a hat and cane. The country collection includes some particularly wizened hiking staffs that Gandalf would have been happy to call his own. Don't miss the collection of walking sticks with secret compartments for a pipe, dice, corkscrews or flasks. For £95 you can take home a maplewood walking stick which conceals two silver-plated cups and a glass flask for your favourite tipple. So very civilised.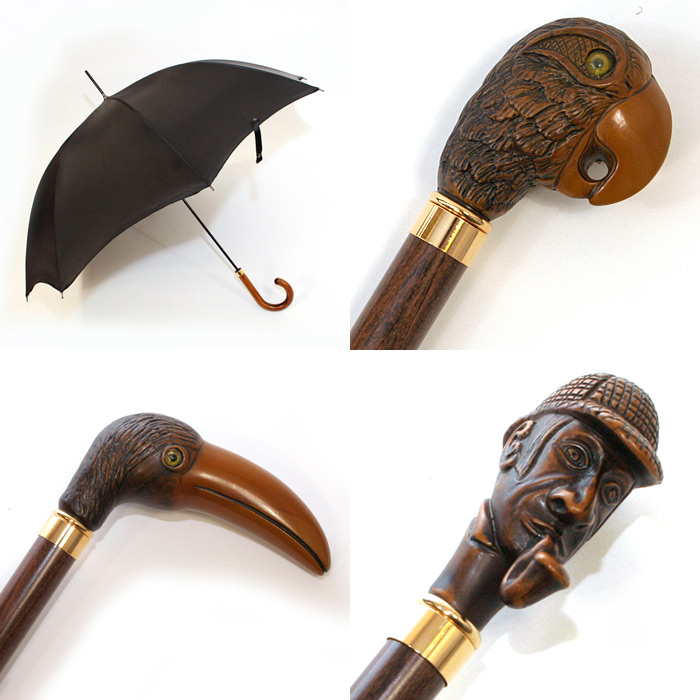 My top five picks:
1. Gent's traditional slim rolled umbrella with a 'needle' end and moulded resin Sherlock Holmes head handle, £75.
2. Smaller Sized Ladies Sun Umbrella, £65.
3. English 'Fox Frame' ladies umbrella with a resin parrot handle, £75.
4. Frilly Vaux umbrella, £58.80
5. Ladies classic city walking length umbrella with malacca cane crook, £65.
James Smith & Sons
Hazelwood House
53 New Oxford Street
London WC1A 1BL
Tel. 0207 836 4731
Nearest tube: Tottenham Court Road
Click here for a Wee Birdy map.
Click here for more Wee Birdy reviews in this area.

Opening hours:
Mon, Wednesday, Thursday, Friday 9.30am-5pm
Tuesday, Saturday 10am-5pm
Closed Sunday.
* Charles Dickens lived at Number 48 Doughty Street between 1837 and 1839. It's the author's only-surviving residence in London, and it's since been restored and turned into The Charles Dickens Museum which holds over 100,000 items including manuscripts, rare editions, paintings and personal items. It's on my to-do list the next time I'm in town.
Shop interior photo and product photos courtesy of James Smith & Sons. The rest of the photography is by Wee Birdy.