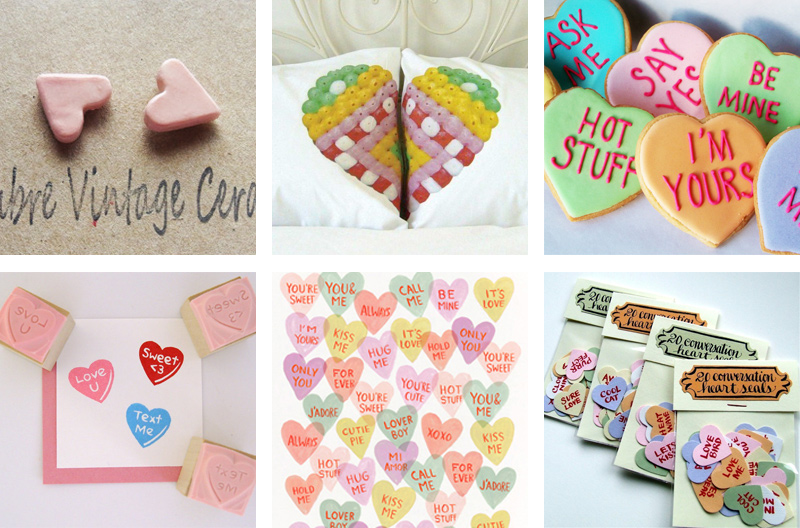 Wee Valentine's finds: Sweet hearts
Is anyone celebrating Valentine's Day today? To be honest, I don't actually know anyone who's marking the occasion. I've spent the day putting together a mega 5×5 IKEA Expedit book shelf in our kitchen, filling it with all my stuff, and trying to catch my almost-one-year-old son's urine in a specimen jar. Ahem. Moving along…
I like old-school conversation sweet hearts. I really do. I love the powdery pastel hues, the bleeding red font and the frisky phrases. So I've rounded up some clever and rather lovely little things that are inspired by this sentimental sweet. Best of all, you can dig them out and bestow upon your sweetheart at ANY time of the year. Who needs Feb 14?
Top row, from left to right:
Ceramic heart studs, AU$18 from Follow Store.
Union pillowcases, £22, from Twisted Twee.
Valentine Conversation Heart cookies from Linda's Edible Art Etsy shop.
Second row, from left to right:
Conversation Heart personalised stamps, US$10 for a set of three, from Cupcake Tree's Etsy shop.
Valentine's Sweethearts Card, US$4 by Rifle Paper Co.
Conversation heart seals, US$8.25 by K is for Calligraphy's Etsy shop.