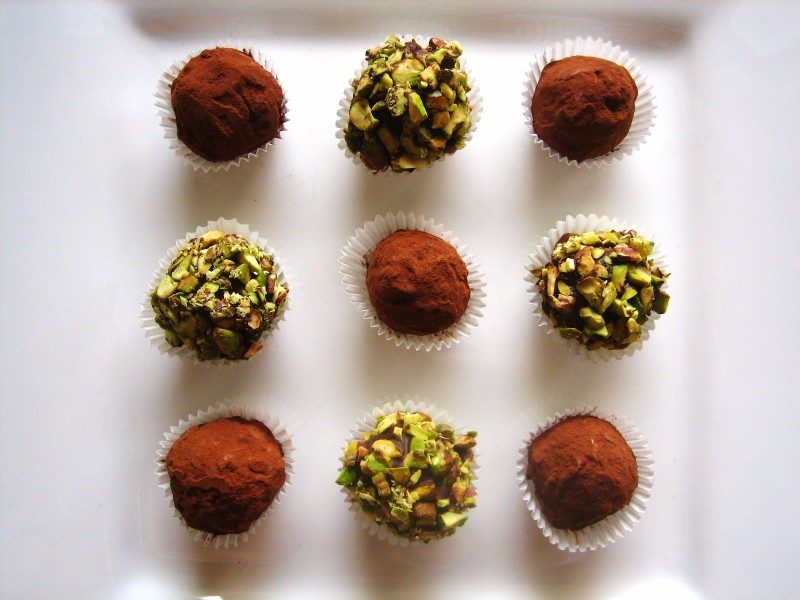 Wee Christmas recipe: Likkle Girl's rummy balls
We've got balls! Oh yes indeedy we do, and they're pretty boozy, too. These delightful likkle bits of heaven are courtesy of my blog pal Likkle Girl, who is a bit of a clever bird in the kitchen.  She was one of the earliest readers of Wee Birdy back in ye olde blogging days of 2007, and she's a damn fine blogger, too. Go on and have a sticky, you'll fall in love with her life, I promise.
I like this recipe because it up-cycles leftover bits of Christmas pudding. Which, let's face it, isn't always everyone's cuppa tea. And it's pretty easy, too! Anyway, over to Likkle Girl…
Rummy Balls
~ The post-Christmas turkey sandwich of the leftover-Christmas-pudding world. However, if you have a slot free on your long holiday season to-do list, I think they will make delicious stocking stuffers and canapés/petits fours at your Christmas lunch or dinner. ~
What you'll need:
For the balls:
400g Christmas pudding
50g hazelnut meal (or almond meal)
50g dried cranberries (sour cherries are good too!)
50g lightly toasted slivered almonds (or your favourite nut(s) – chopped them up if they come whole)
50ml rum (a dark one!)
50g melted chocolate (preferably couverture chocolate instead of compound – it really makes a difference)
For coating:
300g melted chocolate (the quantity is a guess-timation because I usually just melt a whole load of chocolate for coating other things too and couverture again, if you can)
300g lightly toasted chopped nuts (I like pistachios because the green is so Christmas-y. Long coconut threads are pretty too. The most fuss-free finish would be a generous dusting of Dutch cocoa powder.)
Let's get started:
1. Lightly toast all the nuts (coconut threads too, if you're using them) in the oven. Don't burn them!
2. In a large mixing bowl, break the Christmas pudding into small bits. Add hazelnut meal, cranberries, almond, rum and melted chocolate. Give them all a good mix with your hands.
3. Now, the balling fun begins! Line a baking tray with greaseproof paper. Take a small amount of the mix (some people like their balls a petite bite-size while some like hefty ones…you make them how you like them) and roll it into a tight ball. Place on tray and continue until you've used up all the mix.
4. Plonk tray of balls into fridge while you melt the chocolate for coating.
5. Place chopped nuts (or coconut threads or cocoa powder) in a deep baking tray.
6. Remove rummy balls from fridge, coat them with melted chocolate and place them in tray of chopped nuts/coconut threads/cocoa powder and roll them around to ensure an even coating.
7. Place fully-coated balls back on the first tray and back to the fridge they go until chocolate is firmly set (doesn't take long). Store in airtight containers. You now have yummy rummy balls to give away or serve at parties. YAY!
I hope you'll have fun making them!
Thanks Likkle Girl. If you're in Sydney, you MUST order some of Likkle Girl's incredible hand-crafted chocolate truffles. She's got a wee business called Your Local Dealer. I've got a serious addiction to the Almond Crunch Chocolate Truffles. Oh my. Creamy gooey  chocolate ganache spiked with handmade crunchy almond praline. You'll be coming back for seconds, I promise.