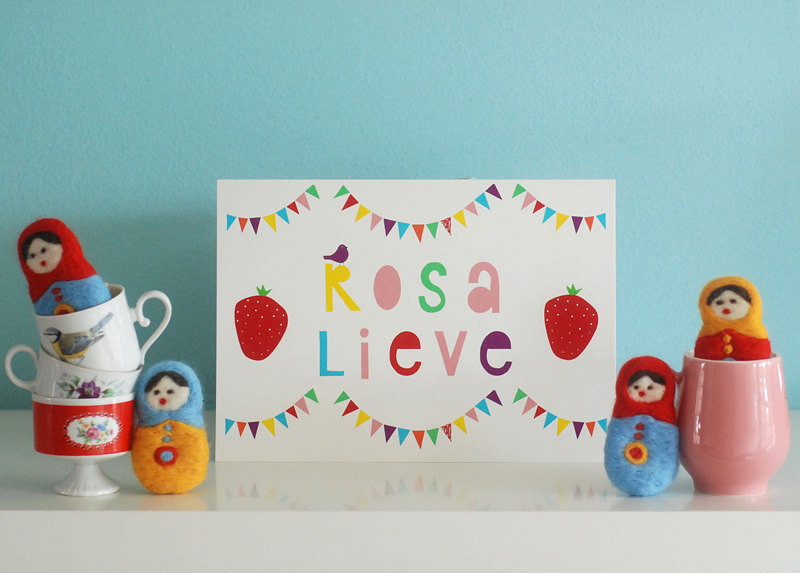 10 Best Bespoke Presents for Babies and Kids
If you're shopping for a baby or child this Christmas, there are few presents lovelier than something custom-made. Parents love the whole idea of a treasured keepsake and pre-schoolers get quite a kick out of having something with their name – or even better, face – on it. But tread warily when it comes to personalised baby stuff. The web is literally stuffed with naff bears with machine-embroidered names and dodgy 'nappy cake' novelty gifts (seriously, can we just ban the whole concept of a 'nappy cake'?). You also need to allow enough time for production and delivery – so now is a good time to order online.
Here are some really lovely ideas to get you started…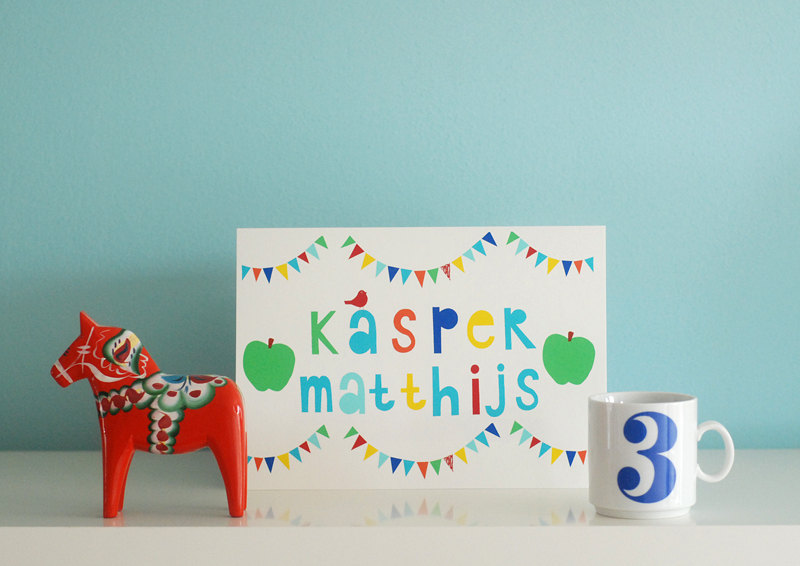 1. Custom-made name print
It's been a few years since the world discovered the charming work of Dutch designer Nina Invorm, and I'm still as nuts about her bright folky stuff as ever. These custom name prints for girls (with strawberries, top of page) and boys (with apples, above) feature colourful bunting with the child's name in Nina's inimitable handcut alphabet. You can also order extra prints and postcards of your design. US$38.82 from Nina Invorm's Etsy shop.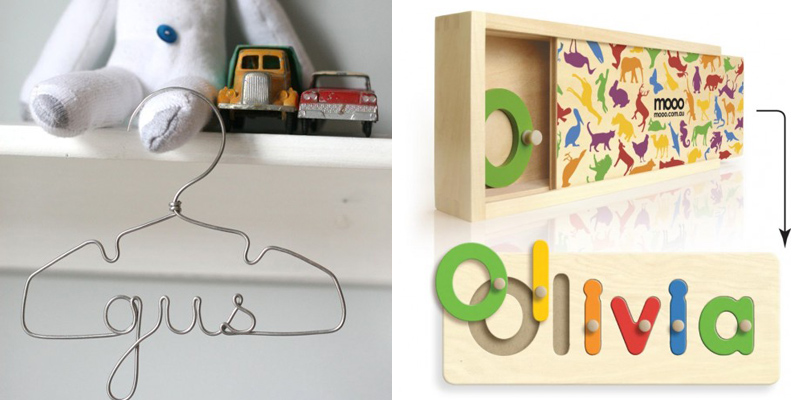 2. Personalised Wire Hanger  (above left)
A fabulously original present – and a lovely way to display baby's special outfit in their bedroom. US$15 from Lila Frances' Etsy shop.
3. Personalised Wooden Name Puzzle (above right)
Wooden puzzles look great, last forever and are wonderfully tactile in tiny hands. A wooden name puzzle? Even better. AU$26.95 from Mooo.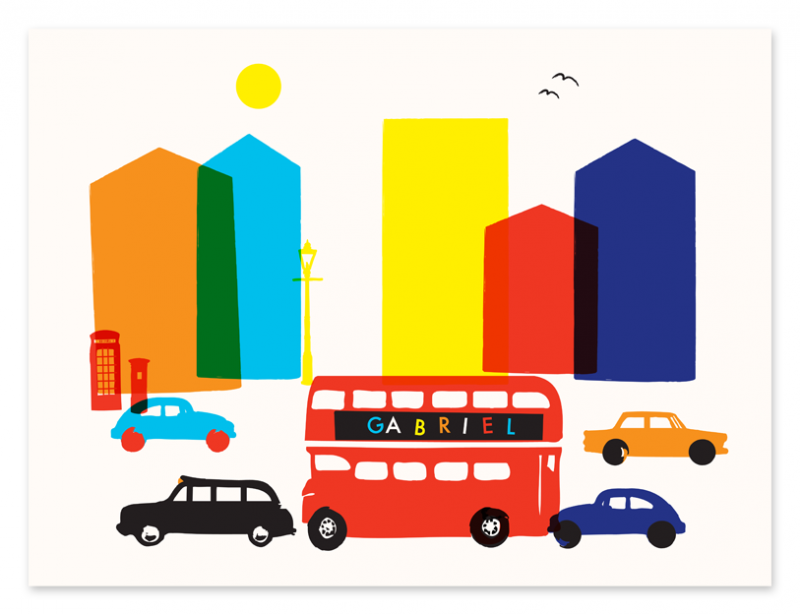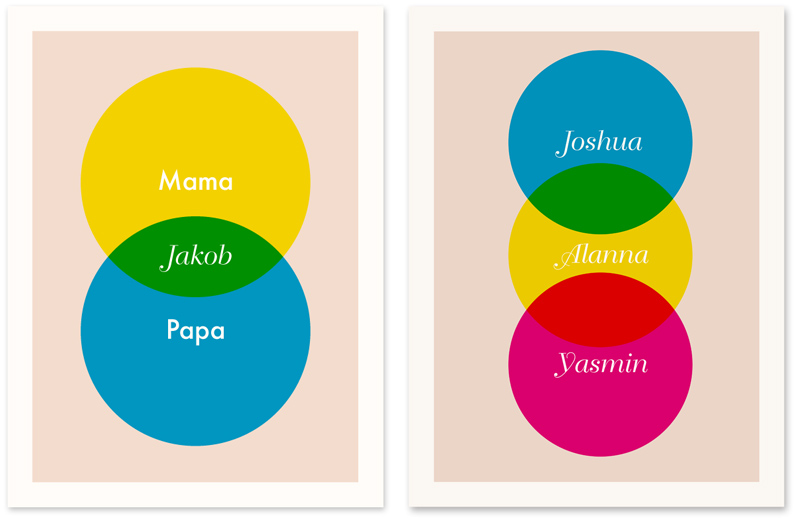 4. Personalised art print
Who wouldn't want their name on a red double-decker bus? These bold and bright prints by London-based design studio Ruka-Ruka feature retro-inspired illustrations in big bold colours, and would make a fun addition to a little person's room. The Venn diagram prints in different variations of CMY are also very clever. New parents would love the mama, papa and baby print. £25 from Ruka-Ruka.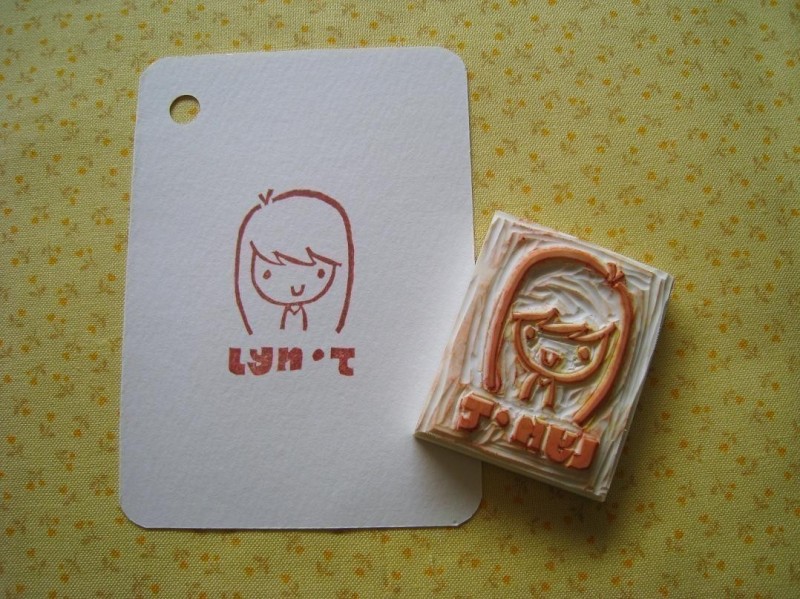 5. Personalised stamp
Kids will love having a rubber stamp in their own likeness, which they can use as an ex-libris or to sign off on thank-you cards and letters. US$15.50 from Love Sprouts' Etsy shop.
6. Custom boy and girl dolls
Super-adorable dolls for boys and girls can be customised with your choice of skin and hair colour and style, and can be further personalised with an initial on the front and the child's name on the back. From US$35 from Sophi and Lili.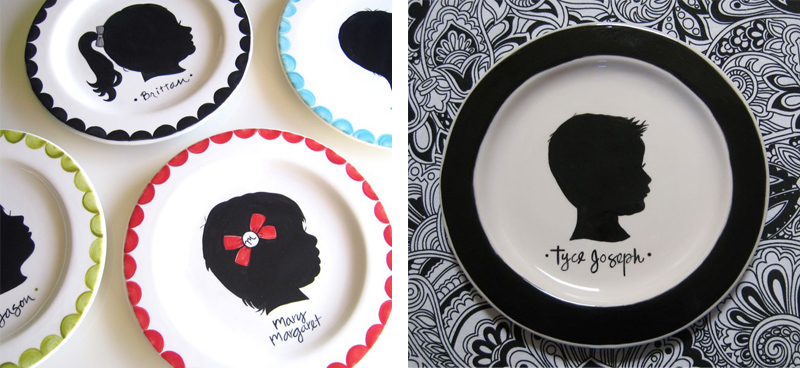 7. Custom silhouette plate
These beautiful silhouette plates are hand-painted and feature the child's name along with bows or ribbons and a scalloped rim in your choice of colour. The large plate is US$55, from Aedriel Originals' Etsy shop.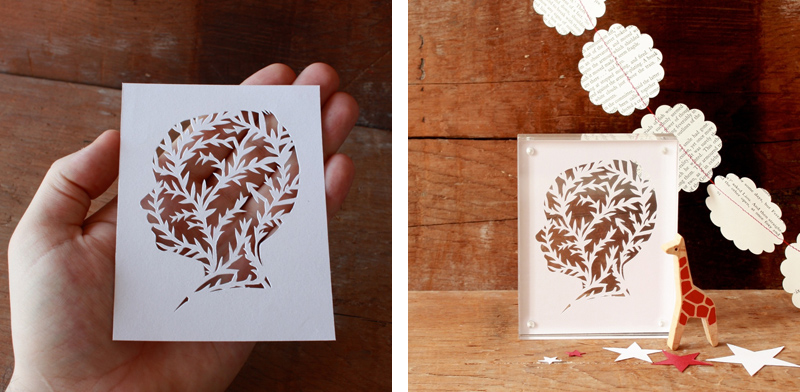 8. Framed personalised paper-cut silhouette
This beautiful hand-cut botanical silhouette is a whimsical take on the traditional portrait, and is drawn from a photo you supply. £50 by Mr Yen.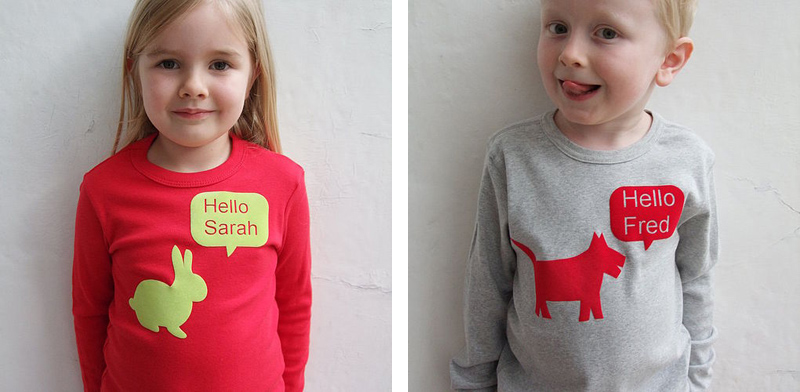 9. Personalised T-shirt
These sweet rabbit and dog T-shirts can be personalised with your child's name in the speech bubble. £20 by Littlechook from Not on the high street.com.

10. Personalised birthday cupcake stand
These sweet ceramic cake stands in milky pastels make the perfect keepsake for baby's first birthday cake. US$34 from Jeanette Zeis Ceramics' Etsy shop.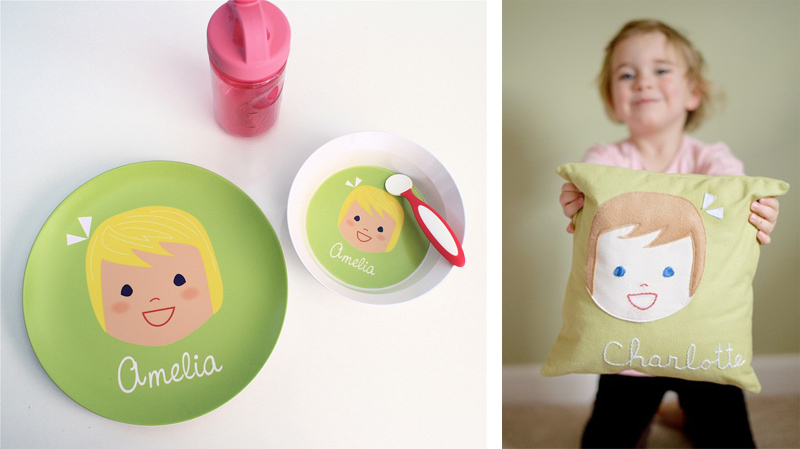 p.s. The custom-made plate, bowl and cushions, above, are by Etsy seller Olliegraphic. Her Etsy shop is on vacation at the moment, but it's worth signing up for notification once she's back. I also love PZMac's charming customised Liberty print cushion, which is made using your child's photo as a reference and features their name in hand-stitched felt lettering on the back. Bookmark them for next year's birthday presents.
UPDATE: Olliegraphic now has her very own online shop, Sarah + Abraham, which is packed with all manner of custom-made goodness for kids (think stationery, stickers, cupcake toppers and water bottles) as well as a personalised Christmas card service. Thanks to Wee Birdy reader Emma for the super tip!
Want some more bespoke baby present ideas?
How about a…
Personalised child's apron
Personalised English oak swing
Personalised Russian doll 'This Book Belongs To' stamp
Personalised Santa sack
Personalised Baby's First Christmas ceramic bauble
Personalised lamp
Customised hair clip
Personalised name and picture stamp
Personalised custom teepee